The wunderbars of Düsseldorf

Show all 2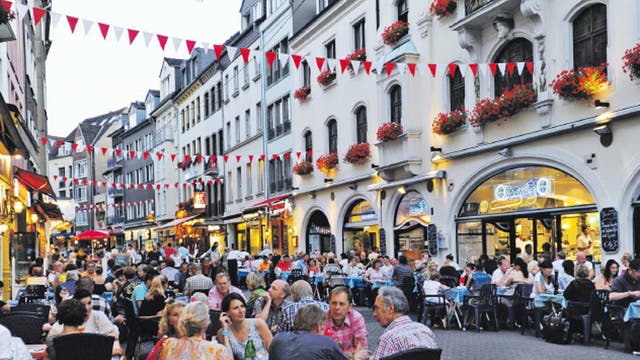 The wunderbars of Düsseldorf
As its carnival-loving citizens attest, there's more to this affluent, arty city than meets the eye. Christian Koch embarks upon a crawl of "the longest bar in the world"
In Düsseldorf, the notion of "going for a quiet drink" is anathema. In fact, it's nigh-on impossible. At breweries such as Zum Schlüssel, tray-lugging waiters plonk a fresh glass of beer on your table whenever they spy an empty, whether you ask for it or not. Request a glass of water and you'll get a sardonic: "Do you want a towel and soap as well?" Even Düsseldorf's City Pissoirs – sleek, metallic street-urinals – seem to have been built with drinkers in mind.
For a city that purports to have the "longest bar in the world", you'd expect nothing less. But rather than an infinite mahogany-upholstered drinks counter, this moniker actually refers to the 260-or-so bars, pubs and breweries sardined into 1sq km of Düsseldorf's cobblestone-and-church-spired Altstadt [old town].
"Seems like a canny place," said Jimmy Nail's brickie, Oz, in Auf Wiedersehen, Pet. And despite the 1980s comic-drama depicting Düsseldorf as a less-glamorous Middlesbrough (its first series was set here), he was right.
Defying its international reputation as an industrial conference hub, most Germans regard the city as chi-chi and haughty, thanks to its prosperousness (the only debt-free city in Germany), high living standards (sixth in Mercer's 2012 survey) and the boutique-lined Königsallee, where Claudia Schiffer was discovered by model scouts and Russian tourists head for weekend Gucci-snaffling shopping sprees. As for alleged boringness, Düsseldorf's got Carnival. Adopted by locals in the 19th century as a way of subverting the reigning Prussians' love of punctuality, the five-day frenzy is held every February and features a gargantuan parade plus women slicing off businessmen's ties in exchange for kisses.
Düsseldorf has cultural cachet, too, with over 100 galleries (not bad for a city of 600,000 people) and imaginative "starchitecture" (see Frank Gehry's oddly-shaped Medienhafen office buildings and Daniel Libeskind's forthcoming Kö-Bogen shopping centre). Plus it also spawned Kraftwerk – the emotionless techno-pioneers bringing their "folk music of the factories" to Tate Modern from today until next Thursday (demand for their eight concerts broke the gallery's website).
However, if one thing can be blamed for the Altstadt's hedonism, it's Altbier. A ubiquitous local beer which tastes of bacon, it's served in tiny, 200ml glasses (it apparently deteriorates quicker in larger tumblers).
I first sampled it in Zum Uerige – one of five pubs in the Altstadt that brew it on-site – alongside German pensioners of the singing-songs-and-clinking-glasses-variety. Such is the parochial pride in Altbier, I spotted everybody from chicly-attired businesswomen to grisly-looking Rammstein fans supping the refreshing sharpener over the course of a weekend.
Afterwards, I squeezed into matchbox-sized parlour Et Kabüffke to sample Düsseldorf's other local elixir: Killepitsch, a 42 per cent liqueur made from 98 different berries and herbs that tastes like Jägermeister-infused Ribena.
At first glance, the Altstadt brims with one-euro-a-shot joints and Ibiza-aping bars, booming out Rihanna at cochlea-perforating volumes. But upon drifting away from boisterous Bolkerstrasse (the main thoroughfare), I stumbled across chanson bars, urbane cocktail bars such as Melody and incongruously, a jazz club called Doc Music housing an Elvis Presley museum. The Altstadt also has a high hipster quota, especially at skinny-jean-heavy Stone Club or starkly furnished brewpub Brauerei Kürzer.
Then there's Salon des Amateurs. Squirreled away inside the cuboid Kunsthalle (art gallery), I found the electroclub thronged with geometric-fringed arty overspill. The DJ was spinning "Cosmic Disco" (African-inspired Italo-disco) – curious enough – but on other nights, the Salon hosts even more outlandish events such as the annual festival where musicians play pianos using ping pong balls, barbecue skewers and vibrating sex toys. The Salon has drawn comparisons with the avant-garde "happenings" at the now-defunct Creamcheese club where local artist Joseph Beuys (a man so bonkers he once imprisoned himself in a gallery with a coyote for a week) would hold court doing Handaktion (hand movements) for three hours. Andy Warhol regularly swooped by Düsseldorf to visit Beuys up until the German artist's death in 1986.
Ever since Palatine ruler Johann Wilhelm built an art gallery in the 1690s to appease his Italian wife (homesick for her Florence opera house), Düsseldorf has been in thrall to the arts. Paul Klee lived here during the 1930s, teaching at the Kunstakademie, the art institution responsible for both the world's top-selling living artist (Gerhard Richter) and the artist who snapped the world's most expensive photograph (Andreas Gursky). There's a panoply of modern-art institutions, ranging from K20/K21 to Kunst Im Tunnel, a passage underneath the Rhine promenade displaying art so cutting-edge it should really come with a box of plasters.
But back to the nocturnal Altstadt. By now I was on my, what, eighth Altbier (it was difficult to keep count of the miniscule glasses). I decided to join the hepcats from Beuys' era at their current home, Em Pöötzke jazz pub. Chalk-haired citizens in cravats and trilbies watched a flatulent-sounding New Orleans-style jazz quartet while an octogenarian Leslie Phillips-a-like flirted at the bar, later belting out an German-accented version of "Route 66" onstage. It brought to mind the jazz cellars of 1950s Düsseldorf described in Günter Grass's Tin Drum.
Given the city's industrious pub-crawling opportunities, booze-soaking food is essential. The stodgy fare at Zum Schiffchen fitted the bill perfectly. I lined my stomach with sauerbraten (braised beef with red cabbage) and himmel und Erde (black pudding with mashed potatotes), wondering who would ever order a plate of the "rustic aspic".
As I left Zum Schiffchen, a man walked past wearing luminous yellow trousers and a Napoleonic-era jacket. Four hours later, there was an entire batch of them queuing for 1am currywurst. It transpired that these were members from one of Düsseldorf's 60 carnival clubs.
At weekends from November until Lent, locals ready themselves for February's big blow-out by meeting up and gallivanting around in daft costumes. Judging by their swaying, it seemed the preparation was going well.
The following morning, there were few signs of Düsseldorf having been used as a giant slop tray. Fur-coated fräuleins and Chihuahua-toting Kö-Tussis ("Königsallee-bimbos") tottered towards the Armani stores. Container barges drifted down the sludge-coloured Rhine and herds of sheep grazed away on the Altstadt's opposite bank (Düsseldorf has sheep meadows in the middle of the city).
Then, emanating from a nearby kneipe (tavern), the strains of a bawdy beer anthem could be heard. At 11.10am. A few green-looking souls that morning might have grimaced, but the world's longest bar was open for business again…
Travel essentials
Getting there
The writer travelled as guest of Düsseldorf Tourism (duesseldorf-tourismus.de).
Flights to Düsseldorf are offered from a range of UK airports by Air Berlin, Ryanair, Lufthansa, British Airways, easyJet, Jet2 and Flybe.
Staying there
Holiday Inn Düsseldorf City Centre-Königsallee (00 49 211 38 480; holidayinn.com). Doubles start at €104, room only.
Click here to view German tours and holidays, with Independent Holidays.
Join our new commenting forum
Join thought-provoking conversations, follow other Independent readers and see their replies