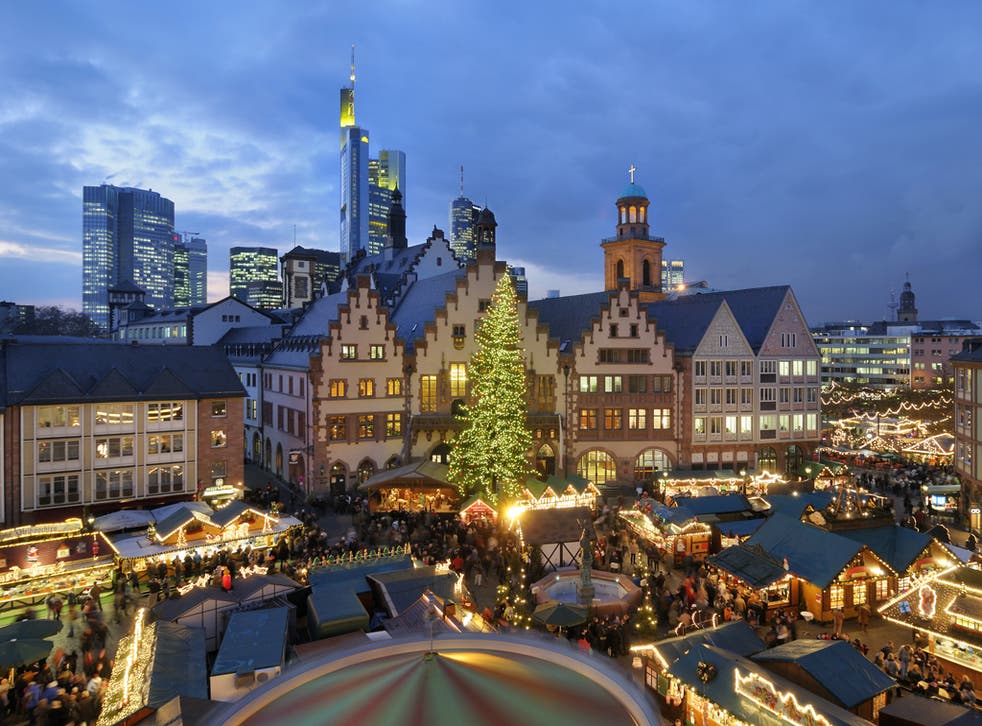 You can bank on a good time in Frankfurt
Why visit?
As the financial centre of Germany and continental Europe, Frankfurt suffers from an image problem.
Surely a visit to this city of Mammon will do little more than confirm all those dreary stereotypes about hard-working, financially prudent Germans, manacled to workstations late into the night. But while Frankfurt is home to the European Central Bank – currently acting as a life-support system for many of Europe's ailing economies – this is a city that manages to be both dynamic and homely.
Take a stroll around the base of its high-rise financial buildings – Frankfurt is the only German city to have a skyscraper skyline worthy of the description – and you will find snug bierkellers, family-owned restaurants and centuries-old bakers selling gingerbread.
And the banking industry – 218 banks (minus any recent collapses) are based here – contributes to a multicultural, cosmopolitan vibe that's most conspicuously expressed by the fabulously varied restaurants. A passionate commitment to the arts is exemplified by a cultural promenade of 13 museums that muscle up together along the south bank of the Main, overlooking thoughtfully landscaped river embankments.
Visit now and the stereotypes melt away even further, as Frankfurt's Christmas market unfolds, centred on a merry-go-round in the cobbled Römerberg square. Bulging with stalls, it straddles much of the Old Town constrained only by the riverbank.
Don't miss...
The Old Town (frankfurt-tourismus.de)
Apart from the Christmas market, it features many historical half-timbered houses. The sail-thin gables on top of the Town Hall are exquisite.
The Adolf Wagner pub (apfelwein-wagner.com)
Immediately to the south of the Main, the suburb of Sachsenhausen is the place to sample ebbelwei – Frankfurt's homely local grog, or apple wine, a Teutonic equivalent of cider. Try it at this convivial pub where you can also eat heartily at shared tables.
The Old Jewish Cemetery (altfrankfurt.com/Altstadt2/Judengasse/Fried hof/)
You can peek through the gate of this atmospheric 13th-century graveyard on Battonstrasse, now the resting place of Mayer Rothschild, founder of the financial dynasty. The medieval wall fronting the cemetery is lined with tributes to victims of the Nazis including, two-thirds of the way along to the east, Anne Frank, who was born in the city.
The Dom (frankfurt-tourismus.de)
Technically, St Bartholomew's is not a cathedral, but is so called on account of its medieval coronations of Holy Roman Emperors. It has the city's highest spire and you can climb all 328 steps – even then you must raise your eyes to the highest skyscrapers – and take in Frankfurt's unexpectedly bucolic, wooded hinterland.
Goethe's House (goethehaus-frankfurt.de)
Germany's premier author, poet and playwright was born in this four-storey house in 1749 and his masterpiece about Faust's deal with the Devil seems more relevant with every escalation of the financial crisis. Restored after wartime bombardment, it sits incongruously in the shadow of high-rise financial houses. It's a gem of a building – look out for the astrological clock and the fractured remains of Goethe's childhood puppet theatre.
What's new
Ostend
Frankfurt's own East End is emerging from its slumber, thanks to the relocation of the headquarters of the European Central Bank from the city centre. The new suitably futuristic building – swirly towers shaped like glass waves – won't be complete until 2014 but the migration of smart restaurants, swish apartments and nightlife has begun. Good watering holes include Vapiamo (vapiamo.de), a stylish Mediterranean fusion-food wine bar at 148 Hanauer Landstrasse. The best choice, though, is the superb diner, Sue's Soul Kitchen (122 Hanauer Landstrasse). There's no website, telephone, nor even a street number – and no ostentation. It's open only at lunchtimes, and offers just six dishes, all of them delicious, generous portions of homemade Thai and Indian curries. The lunchtime queue says it all. And it's time to trash another stereotype: Frankfurters' idea of a good time is not restricted to late-night perusals of the latest stock market moves. They know how to let their hair down, as you'll see if you visit any of the clubs along Hanauer Landstrasse. Try King Kamehameha Club at No 192 (king- kamehameha.de). It is set in a former brewery and offers house music, along with a resident band that plays 1970s and 1980s hits. To get to Ostend, take tram no 11 from the centre, or it's a 30-minute walk along the embankment.
Christmas market
You'll find all the classic ingredients: mulled wine, sizzling bratwurst and delicately carved wooden tree decorations. Look out for two local confections; bethmännchen, an almond and marzipan biscuit, and quetschemännchen, candied figures from dried plum. In financial speak, Frankfurt Christmas market is such a successful brand it's been exported to three cities in the UK. The market runs until 22 December.
Details: frankfurt-tourismus.de
Caricature Museum
Who says Germans have no sense of humour? The newest museum in the city is the Museum of Satire, featuring regularly changing exhibitions that lampoon current and past prominent figures and whose images manage to transcend any cultural or language barriers.
Details: caricatura-museum.de
Lohninger
One of the city's newest and most exclusive restaurants is run by the Michelin-starred chef Mario Lohninger. Smart furniture with soft lines provides the backdrop for imaginative plates featuring calamari, caviar and beef dishes based on Styrian cuisine – which generally means very hearty and flavoured with pumpkin seed oil – rounded off with apricot crêpes. Ask for a window seat, overlooking the embankment, and expect to pay about €80 per person, excluding wine.
Details: lohninger-restaurant.net
Jumeirah Hotel
The Middle Eastern chain's first hotel in Germany opened in late summer, based in the city's new landmark central Palais Quartier, a 26-storey tower designed to bulge out as it climbs upwards. Bedroom features include open bathrooms and original art from the Leipzig School. Televisions embedded in the bathroom mirrors are a cool touch in the top-range rooms. The elegant restaurant places emphasis on local food and uses honey from the hotel's rooftop beehives. Doubles from £206 a night, breakfast £27 per person.
Details: jumeirah.com/frankfurt
Insider Secret
Wiebke Singer, Financial Journalist
"The best coffee is at Café Wacker [9 Kornmarkt] one of the most traditional coffee shops in town. They've roasted their own coffee ever since Luise Wacker opened it in 1914. It's always crowded, especially on Saturdays. Don't miss the "affogato", an espresso with a scoop of vanilla ice cream. And you can't beat their chocolate almonds.
Compact Facts
How to get there
Rail Europe (08448 484 064; raileurope.co.uk) offers return train fares from £141 from London St Pancras to Frankfurt, taking Eurostar (eurostar.com) to Brussels, from where there are good connections for the three-hour direct journey to Frankfurt.
Further Information
Frankfurt Tourist Board (frankfurt-tourismus.de).
Join our new commenting forum
Join thought-provoking conversations, follow other Independent readers and see their replies