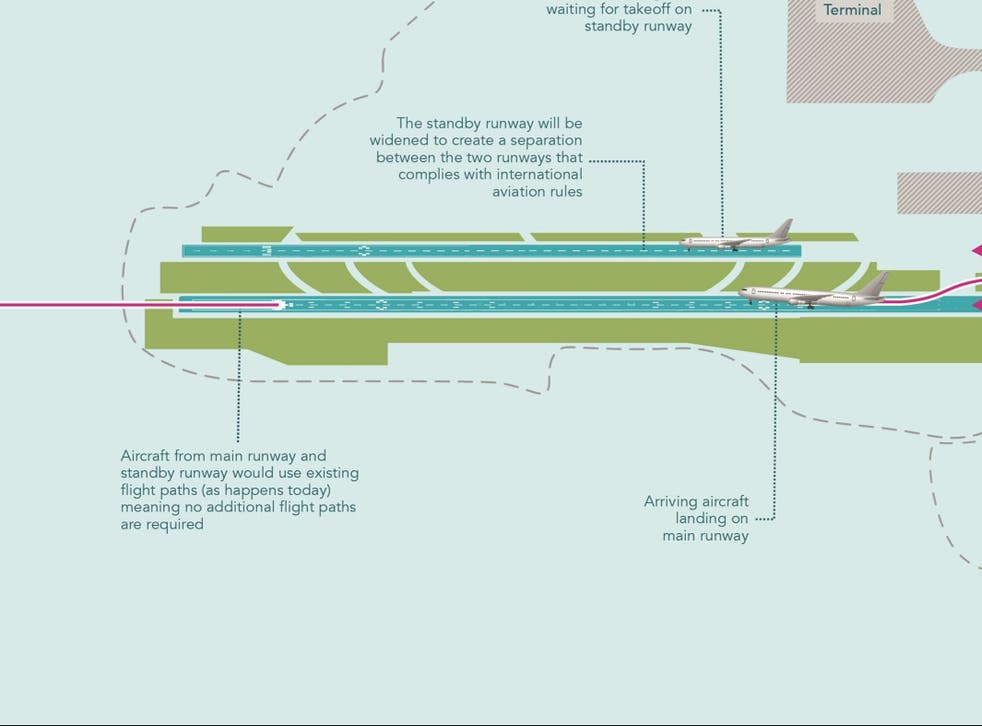 Gatwick plans second runway
Despite being worst hit in Europe by the collapse in passenger traffic caused by Covid, the airport believes expansion is essential
Gatwick, hardest hit of all the major UK airports by the coronavirus pandemic, is pressing ahead with plans for a second runway.
The airport plans to shift the current standby runway by 12 metres to the north – providing sufficient separation from the main runway to allow take-offs of medium-sized passenger jets such as easyJet's Airbus A320s and Ryanair's Boeing 737s.
Prior to the pandemic Gatwick handled more flights than any other single-runway airport in the world. But figures released by Eurocontrol show that Gatwick is by far the worst performer among the former top 40 airports in Europe, with traffic at just 24 per cent of 2018 levels. Heathrow and Manchester are next hardest hit, at 41 per cent.
The chief executive, Stewart Wingate, told The Independent he expects traffic to recover to pre-pandemic levels in 2025-26 – with improvements in air-traffic control procedures allowing expansion towards 50 million passengers per year.
"We expect technology to improve the peak rate from 55 to 60 movements per hour," he said.
Mr Wingate believes that with a second runway in place, Gatwick could handle up to 75 million passengers annually by 2038 – close to the 81 million achieved by Heathrow in its peak year of 2019. He estimates 18,400 new jobs would be created.
"This is a low impact way of unlocking new capacity from our existing infrastructure, much of which is already in place," he said.
"It's a runway that remains within the airport boundary."
The project is expected to cost around £500m – a fraction of the proposed third runway at Heathrow.
The controversial expansion plans for Heathrow's third runway involve taking over a significant amount of residential property.
But opponents to Gatwick's proposals say they "fly in the face of the climate emergency".
Communities Against Gatwick Noise and Emissions (Cagne), representing environmental campaigners in Sussex, Surrey, and Kent, said: "It is despicable for a company to ignore the emissions that planes in and out of Gatwick produce that is causing grave danger for future generations [who] will have to pay the price for today's greed of this leisure airport.
"This move can be for one reason only; shareholders seek to sell Gatwick with two runways."
The airport's chief executive said: "There are no plans to sell Gatwick."
The plan was first outlined by Mr Wingate in 2018. Despite the fall in traffic, the airport is pressing ahead with a consultation.
A taxiway was upgraded to become a standby runway in 1979. It is used in emergencies when the main runway is blocked, and during scheduled maintenance of the main runway.
The main runway is known as 08R/26L, and the standby 08L/26R. The centre lines of the two runways are 198 metres apart. International rules stipulate a minimum distance between the centre lines of parallel runway of 210 metres "when the runways are intended for use by medium or heavy aeroplanes".
Were the plan to go ahead, the existing main runway would be used for all arrivals and for departures of larger aircraft such as the Airbus A330, A350 and A380, as well as Boeing 787s and 777s. But because so many of Gatwick's flights are on A320s and 737s, many of the take-offs would use the "new" runway.
Originally it was hoped that the second runway would be operational by 2025. But the expected date is now 2029.
Join our new commenting forum
Join thought-provoking conversations, follow other Independent readers and see their replies