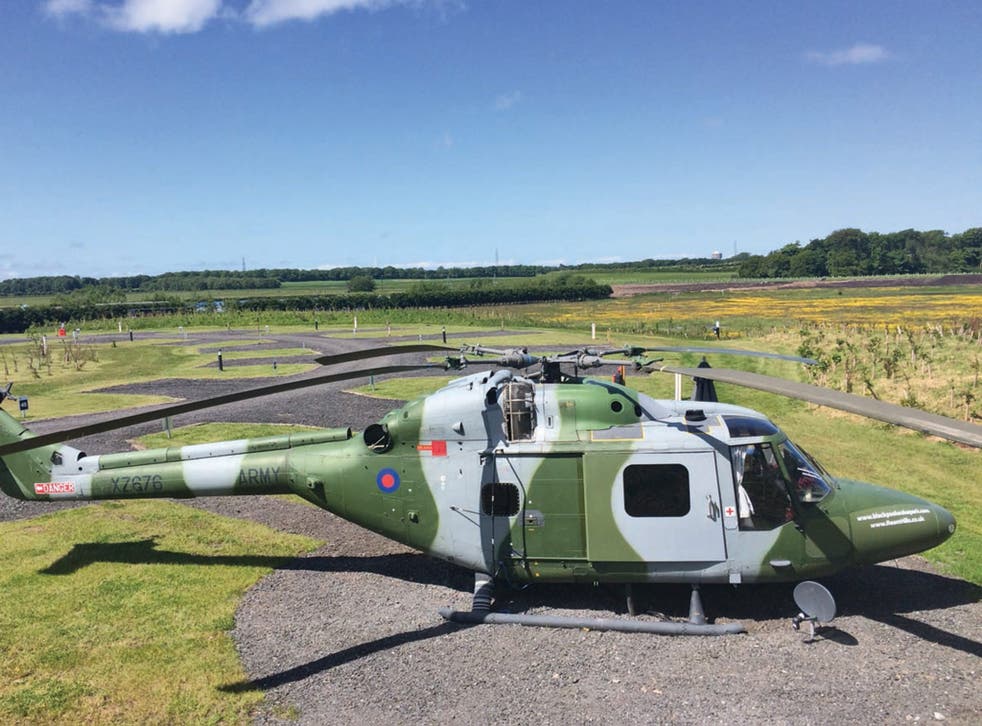 Heli-camping: A Lancashire caravan park takes caravans to a new level
The Ream Hills holiday park now has an on-site, fully habitable 1982 Lynx helicopter
The number of times I've been stuck behind a caravan and thought "if only I had a helicopter".... And then I find myself sitting in a helicopter, stuck behind a caravan. Thirty caravans, in fact.
Ream Hills Holiday Park, just outside Blackpool, recently decided to diversify, investing in a 1982 Lynx chopper and converting it into a static caravan sleeping four, complete with double bed and kitchen. Forget wigwams or camping pods, this is the future.
The rooms
The helicopter's cockpit has been taken out and replaced with a small, functional kitchen, including a fridge, microwave and sink, set within the open-plan (as much as it can be in a space this size) living area. Through to the rear is the second room, a sleeping chamber with a built-in wardrobe. There is heating, plenty of sockets for all your devices, and even digital television.
Outside, a decked area with table and chairs invites you to sit out in the evenings. It's difficult to imagine how you could need more. A loo perhaps? But that's a short walk away in a facilities block, reminding you that you are on a caravan site, albeit a posh one.
The helicopter sleeps four, and for maximum comfort I'd recommend limiting this to two adults and two children because the second bed is a pull out sofa job. But the draw for children is obvious and makes a starting price of £100 per night justifiable. As we were packing up and preparing to leave at the end of our stay there was a knock on the door. A little boy, staying with his grandparents from Nantwich in a nearby caravan, was entirely captivated, eyes wide with excitement. Exactly my first response, too. I mean, it's a helicopter, an actual helicopter!
Out and about
Once you've spent an hour or so streaming "Ride of the Valkyries" over the wi-fi as you pretend to swoop low over Vietnamese paddy fields, or else evacuate the last employees from the Saigon embassy, there is plenty going on on-site to distract you.
On the immediate doorstep is Ream Hills' "wakepark". For the uninitiated, wakeboarding is the centre of the waterskiing/snowboarding Venn diagram, and involves being dragged along with your feet strapped on to an oversized skateboard while you perform stunts on the ramps and obstacles in the lake. They've rigged up a series of pulley systems and provide all the equipment and training. My moment of temptation was quickly dampened when one of the wakeboarders fell in, yelping that it was "bloody freezing". There's also paddle boarding (new Venn, this time canoe/surfboard) or open-water swimming. I was happy to sit in the bar overlooking the lake, sipping a beer.
If sipping a beer is way too bland for you, then nearby Blackpool could be your tipple. That is, if your tipple is half a bottle of vodka plus a few pints for good measure. I have fond memories of going to see Blackpool's Illuminations as a child, along with the Tower, the three piers and the Pleasure Beach. Returning 20 years later, keen to catch the 'lluminations – a two-month-long light extravaganza – before they end on 8 November (blackpool-illuminations.net), I wasn't quite prepared for the rowdy Blackpool I found.
Thankfully, Ream Hills is a fine staging post for other Lancashire highlights, if you find Blackpool doesn't float your boat either. Readers may be happier spending a day in Lancaster, for example, with its castle, boutiques and parks. For the outdoorsy, the Forest of Bowland is on the doorstep, one of the country's most outstanding Areas of Outstanding Natural Beauty, it offers no shortage of hikes, strolls, or relaxation.
Food and drink
If you're heading to the Forest of Bowland then lunch at the Inn at Whitewell (01200 448222; innatwhitewell.com) is absolutely required; it serves hearty pub dishes, brilliantly done.
Blackpool has no end of fish'n'chip shops, perhaps the most famous of which is Harry Ramsdens (harryramsdens.co.uk), while just to the north of Blackpool, Morecambe's Art Deco Midland Hotel makes an excellent lunch spot (01524 424 000; bit.ly/MidlandMorecambe).
If you make it to Lancaster, try the fish at Quite Simply French (01524 843 199; quitesimplyfrench.co.uk) down on St George's Quay or tapas and live music at 1725 (01524 66898; bar1725.co.uk).
The essentials
Ream Hills Farm, Mythop Road, Weeton, Lancashire PR4 3NB (0345 498 6060; hoseasons.co.uk). The helicopter costs from £100 per night, and you must bring your own bedding and pillows. Dogs are welcome on site, but not in the helicopter or lodges.
Join our new commenting forum
Join thought-provoking conversations, follow other Independent readers and see their replies