24-hour Room Service: Jolyon's at No 10, Cardiff

Show all 2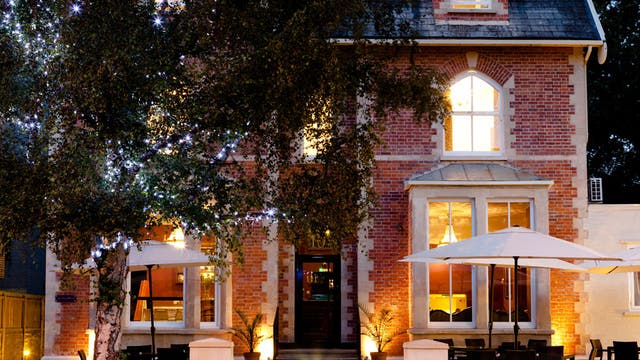 24-hour Room Service: Jolyon's at No 10, Cardiff
"You'll notice it gets a little livelier as we pull into Cardiff," a Welsh gentleman said with a chuckle as we hurtled across the River Severn on the train from London Paddington. And so it did, from Cardiff Central station – where the Friday night crowds were gathering – to the bustling bar of Jolyon's at No 10.
The hotel, which opened near the Millennium Stadium in August, is the second venture by affable hotelier Jolyon Joseph. His first foray – called, simply, Jolyon's – has just six rooms overlooking the revived docklands of Cardiff Bay. In his new city-centre address, Joseph has been more ambitious, sculpting 21 rooms and suites from a three-floor, Victorian building that had been abandoned for a decade. It's now revived, and its location on Cathedral Road – one of the city's main thoroughfares – means that it is also attracting plenty of locals to the bar: a concoction of louche red walls, crystal chandeliers, mismatched velvet armchairs and Pop Art prints.
It was packed when I arrived – a hubbub of chart music and chattering twenty-somethings – but my first impression was more hip hostel than the boutique hotel I'd been expecting.
The rooms upstairs were more soothing: a mixture of antique beds and vintage armoires sourced by Joseph from reclamation yards and auctions, then reupholstered to suit their new environment. But, as night fell, this labour of love felt somewhat undermined by music from downstairs thrumming through the floorboards of my third-floor room after midnight. A one-off, I hoped. But Saturday night brought more of the same.
The next morning I ventured downstairs to an altogether more peaceful scene. There is no formal restaurant. Instead, breakfast is served in the second-floor White Room, which also doubles as a function space for weddings and events. Although a little soulless, with whitewashed walls and a boxy feel, the offer of cereals, toast and croissants soon distracted me, with salmon and eggs or a full Welsh breakfast on the cooked menu. For lunch and dinner, hearty classics such as fish and chips and unfussy deli dishes are delivered on rustic wooden boards in the bar.
It is worth noting that the staff are a real asset: welcoming without being overbearing. During my stay, which coincided with Bonfire Night, they took a group of us to watch the fireworks in Bute Park. But as long as the bar of Jolyon's at No 10 remains as much of an attraction as the rooms, this hotel would be better positioned as a stylish crash pad, rather than a "boutique" retreat.
Location
The hotel is positioned on the south-west edge of Bute Park, overlooking a corner known as Sophia Gardens. The leafy banks of the River Taff are a short walk from the back door; the Millennium Stadium and Cardiff Castle are five minutes away. The city centre has Victorian shopping arcades running off either side of the high street. A water-taxi takes you along the Taff and down to Cardiff Bay in 15 minutes. Here, the former coal docks have been transformed by an ongoing £2bn development and now host the imposing arch of the Welsh Assembly, plus a string of harbour-side restaurants.
Comfort
The 21 rooms fall into three categories: compact, deluxe and suites. Some are decorated with grand walnut wardrobes and opulent Italian beds; others are more gaudy with splashes of leopard print, gold armchairs and Japanese-style plunge baths.
My deluxe room had a large four-poster bed, rustic dressing table and a small TV. It was comfortable and stylish but the view was slightly deflating: a pebble-dashed office building.
But a sense of humour pervades – the suites are named after ducks (Harlequin, Drake, Venetian, Saxony) and one features a wardrobe that opens to reveal a cunningly concealed mini-kitchen. The other suites also feature self-catering facilities, but if you're hoping for a private hideaway, bear in mind that several sit directly above the bar.
Jolyon's At No 10, 10 Cathedral Road, Cardiff, Wales (02920 091 900; jolyons10.com)
Rooms **
Value ***
Service ***
Double rooms start at £75, including breakfast
Join our new commenting forum
Join thought-provoking conversations, follow other Independent readers and see their replies