24-hour room service: The Naka Island, Thailand

Show all 3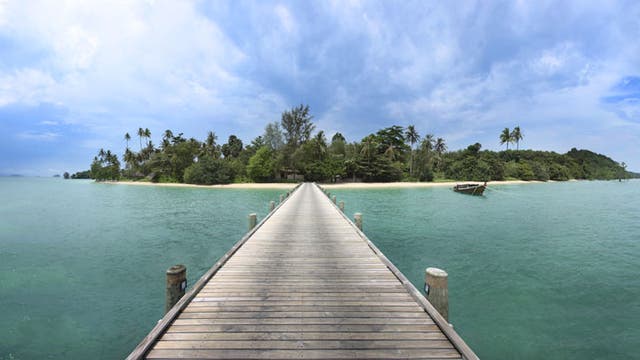 24-hour room service: The Naka Island, Thailand
Barefoot luxury with Thai flair
Stepping off a gleaming speedboat is a pretty glamorous way to arrive at a hotel. For this tiny private island resort, off the coast of Phuket, it's the only way to arrive. Shades on, windswept hair, twinkling seas beyond ... it's a fabulous prelude to The Naka Island resort.
The isle of Naka Yai is a five-minute swoosh on the seas from Phuket, but it feels a world away from Thailand's biggest island. While Phuket is brash, noisy and neon, tiny Naka Yai is serene, secluded and star-lit, home only to this newly opened resort and a small fishing village.
Guests stay in one of the 67 villas dotted around the main communal buildings, which house the restaurants, bar, library and spa. Despite the high-octane arrival, the ambience is pleasingly laid back. There's a stripped-back, natural feel here, with bare floorboards, thatched roofs and rough-hewn walls, rather than the pristine, starched-collar approach of other five-star resorts. It's the kind of place where you can mooch around barefoot, without being bothered by anyone.
To see what Naka Yai has to offer beyond the resort, each guest is given a vintage bicycle – personalised with a wooden plaque carved with your initials – to explore the 2.5sq km island. Pedal out to the small fishing village and the stunning beaches. But it's probably best to do this before you discover the Naka Spa. Once ensconced there, the thought of doing anything more strenuous than lifting a cup of herbal tea seems preposterous.
Treatment rooms are housed in peaceful pavilions set on "islands" surrounded by gentle, lapping waterways. The piped Thai music felt a bit laboured, but the hydrotherapy room, watsu pool, ice room and kanieep pool (for foot massages) are deeply pampering. A must, of course, is a Thai massage – taken very seriously here.
As is the food. British executive chef Ian Thomason is overseeing operations across the two main restaurants – My Grill offering Thai food with a European twist (squid tentacle confit and lemongrass chicken are stand-out dishes) and Tonside for more casual, lobster-on-the-barbecue kind of dining. Freshly caught fish and seafood play a starring role in both.
Location
Naka Yai, off the north-east coast of Phuket in the Andaman Sea, has covetable views towards the lush Phi Phi Islands that rise out of the emerald waters of Phang Nga Bay. Also, close by is the top-heavy limestone rock, Ko Tapu (or "James Bond Island"), made famous in The Man with the Golden Gun.
Naka Yai also has a nearby sister island, Naka Noi, home to a pearl farm. Normally off bounds to visitors, it does occasionally open its doors; it's worth checking times with the concierge.
Comfort
There are five types of villa to choose from, some on the beach, others with gardens or sea views. A Tropical Villa was my shelter. As the name suggests, it is built around its own lush garden. A crooked gate opens up to polished stepping-stones, which trail up to your room.
Inside, the scene is simple yet cosy with exposed beams, white linens and brightly coloured Thai silk yoga mats and pillows.
Sliding doors reveal a private plunge pool, while another door takes you to the al fresco bathroom, where teeth are brushed as insects whizz by, centipedes parade while you soak in the bath, and using the loo in a tropical downpour gives a new meaning to being at one with nature. (There are plans to cover these.) Safely inside, there are enough mod cons to keep you happy – iPod docking system, music library, Bose sound system and free WiFi (although only in the public areas). It's perfectly wild at heart.
The Naka Island, Tambol Paklok, Naka Yai Island, Phuket, Thailand (00 66 76 371 400 luxurycollection.com/nakaisland)
Rooms ****
Value *****
Service ****
Villas start at 8,910 baht (£184) B&B, with transfers.
Join our new commenting forum
Join thought-provoking conversations, follow other Independent readers and see their replies