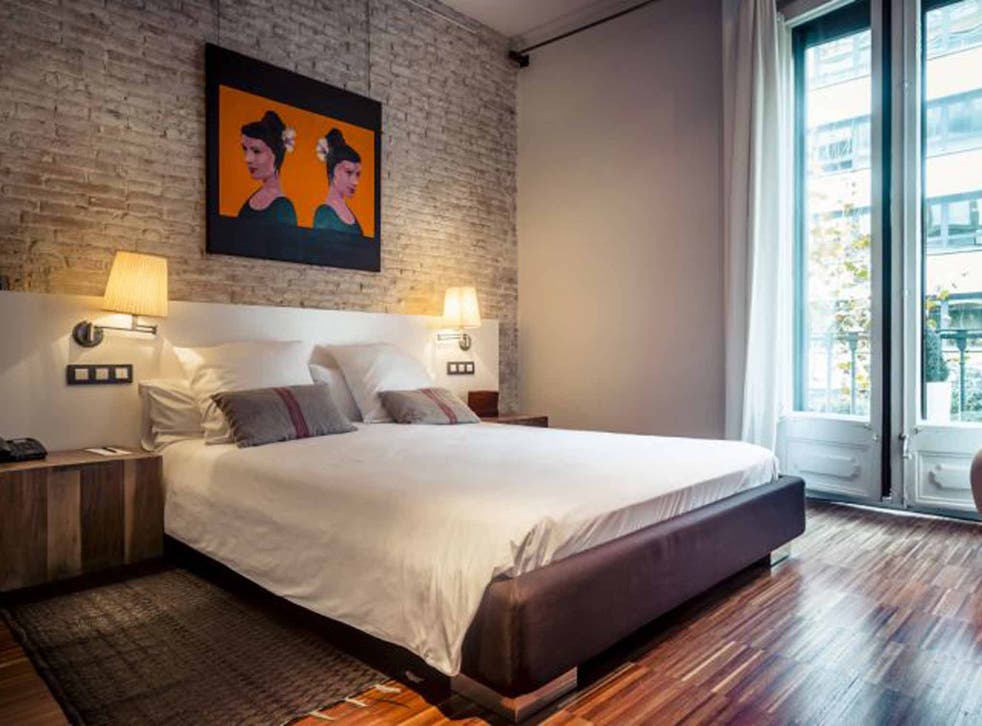 The 5 Rooms, Barcelona: Take five and live like a local
This Barcelona pad started with a handful of rooms, but its popularity has seen it grow. Christopher Beanland checks in
Barcelona is a city that always lives up to the hype, whether you're there for the food, the festivals, or anything in between.
And at The 5 Rooms, you're in a handy location to make the most of it. This handsome fin de siècle pile is on a well-to-do street in chi-chi central Barca (for a taste of local life you can just look out of the windows, across the courtyard, at the block's residents). It's on the fringes of the Eixample neighbourhood and within spitting distance of tongue-twisting Metro stop Urquinaona and Plaça de Catalunya, where George Orwell documented snipers in his book, Homage to Catalonia.
The bed
The 5 Rooms is converted from two floors of flats and there are, err, 12 rooms. Having expanded from the original five, there are now nine doubles and three junior suites – and over in another building on the same block are two self-catering apartments, also run by the B&B.
The interior aesthetic is of the usual minimalist-meets-hip-coffee-shop variety seemingly mandated by international law these days: Ikea furniture, Polaroids and paintings on the walls, quirky knick-knacks and mismatched furniture. My room was very comfortable though, with a low, solid bed, a couple of nice pieces of art, and clothes hangers dangling from a chunk of pipe someone must have found at a builders' merchants. The calm communal areas, meanwhile, are filled with books and sofas that beg to be enjoyed.
The breakfast
If you're after a big cava and tortilla brekkie blowout you're best off checking into one of Barcelona's bigger hotels. Here, the continental spread is minimal but made with care: you get a little cheese, cold meats, fruit, bread and cereal. It's to be enjoyed on communal tables where you can shoot the breeze with other guests.
The hosts
The brains behind the business is former fashion designer Yessica Delgado Fritz, who opened The 5 Rooms in 2004. She and her small team of staff run the place day-to-day, and while initial email exchanges with some of them were a little frosty, the two I met in person, Tatiana and Caterina, were as professional and hospitable as you could possibly wish. Caterina was also happy to dispense sage advice on the coolest parts of town for a night out.
It's worth noting that there aren't staff on duty 24/7 so you need to advise of arrival times. You'll also be given a mobile number to call in case you get locked out or need to contact them at night.
The weekend
Gaudi's tourist-magnet Catalan Modernist houses are all within strolling distance, but if you're a Barca veteran in search of something different, jump on the Metro to Glòries, where the city's busiest and maddest road junction has just bitten the dust. A huge public plaza is emerging and around it, and the shiny new Els Encats Vels flea market is already open (Monday, Wednesday, Friday and Saturday), as is the new Design Centre, which contains a café and the Design Museum (00 34 93 256 68 00; museudeldisseny.cat). Its architecture is not without its detractors, though; locals have taken to calling the Design Centre "The Stapler".
Closer to The 5 Rooms is a brutalist Corte Inglés department store (elcorteingles.es), two minutes' walk away, which remains comically, wonderfully stuck in the 1970s – with a food hall in the basement for all your snacking needs.
The pit-stops
There are plenty of serviceable restaurants right down on Pau Claris, but far better is to head to hipster Plaça del Sol in Gràcia, where you can find students and 20-somethings hanging out in the dozen bars and simple restaurants around this small square, with a bizarre car park underneath.
New takeaway The Pastas And The Salsas (00 34 933 48 81 42; facebook.com/thesalsasandthepastas) proffers budget-friendly portions of pasta (€4.50-€7.50/£3-£6), which you can munch on the square between brews at places like Bodega del Sol (00 34 932 18 51 21; facebook.com/bodegadelsol1) which is bringing craft beers from around the world to Barca's drinking denizens.
The essentials
The 5 Rooms, Calle Pau Claris 72, Barcelona (00 34 93 342 78 80; the5rooms.com). Doubles from €149 (£114) per night, including breakfast. The writer travelled with Voyages-SNCF (0844 848 5848; voyages-sncf.com), which offers rail travel from London St Pancras to Barcelona, via Paris, from £236 return.
Join our new commenting forum
Join thought-provoking conversations, follow other Independent readers and see their replies