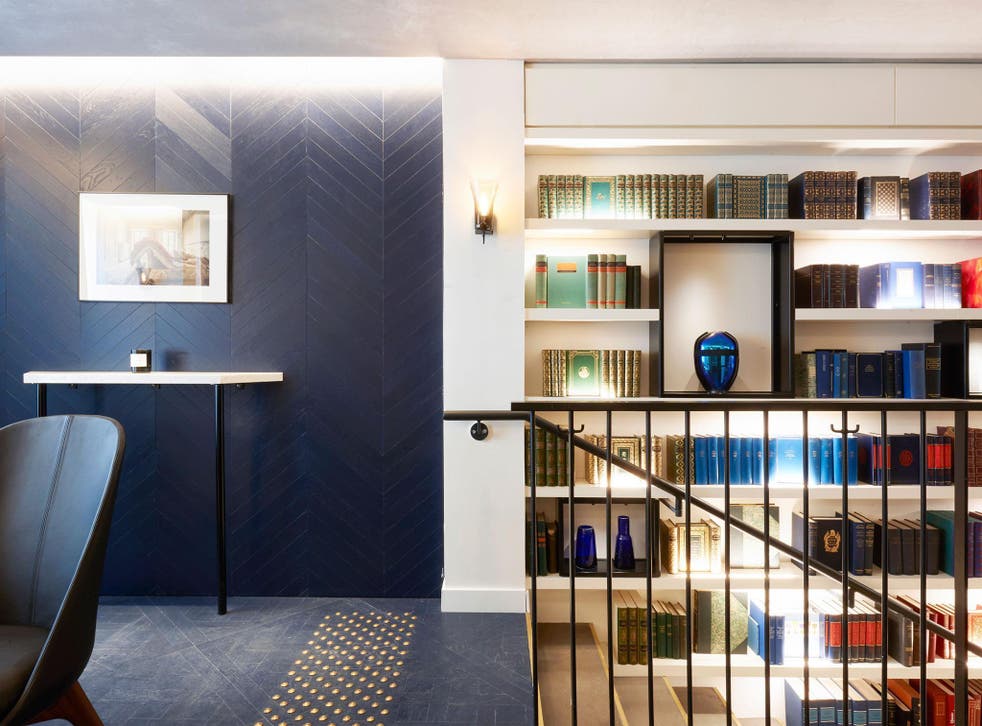 A boutique gem with its own art gallery: Amastan Paris reviewed
With quirky interiors and a cool cocktail bar, this new hotel in the French capital is the ideal home from home
There isn't exactly a shortage of stylish boutique hotels in Paris, but few manage to combine chic urban design with a distinctive homely style like Amastan.
Opened this summer, it's the flagship of a new urban brand from young entrepreneur Zied Sanhaji, whose aim is to reimagine the hotel concept as a more residential space. Cosy and comfortable, the hotel contradicts the old-world opulence that dominates many of the city's top hotels.
Interiors come courtesy of French design studio NOCC, whose urban and minimalist style plays to a cool crowd – think local hipsters and young professionals. Striking design touches include walls clad in blue parquet, and a bespoke tapestry by German designer Jan Kath: a rug that appears to be draped from the wall, over the seating and on to the floor of the lobby.
Amastan's 24 guestrooms are spread over six floors, and you'll also find a leafy courtyard garden and an art gallery, Pop-In, which shows fashion and design projects.
The Anouk lounge and bar, which opens out on to the walled garden, serves a breakfast buffet, from miniature croissants and pains au chocolat to fruit, before switching to tapas-styles sharing plates for lunch and outstanding craft cocktails in the evening. The infused gin and tonics are a must.
Location
The hotel is conveniently located in the heart of Paris, in the elegant 8th arrondissement, just around the corner from the Champs-Élysées.
For art exhibitions, Petit Palais and Grand Palais are a both a 10-minute stroll, while fashionistas will find themselves just a few streets away from the luxurious boutiques of Rue du Faubourg Saint-Honoré.
For dining out, try Kinugawa, a Japanese restaurant known for its sushi and sashimi. The menu focuses on prime raw ingredients, with offerings such as tuna tartare with caviar and grilled shrimp and minced king crab with algae, cucumbers and ponzu sauce.
The closest metro station is Franklin D Roosevelt (lines 1 and 9), and Gare du Nord is around half an hour away for travellers arriving with the Eurostar.
Comfort
The subtly calibrated style of the Amastan adeptly pairs style with comfort. Lighty and airy, the rooms range from Classic to Superior, Deluxe and Premiere, and – thanks to Amastan's location in a converted old building – each is a unique shape. However, they all have a cosy vibe – think leather-bound books, framed photographs and walnut furniture. These features are complemented by high-quality details such as hand-crafted brass light switches, statement lamps, crisp white linen and marble bathrooms.
Tech-savvy travellers will also be happy to find free wi-fi, iPod docking stations, TVs and espresso machines. iPads and iPhones can also be borrowed from reception.
A handful of guest rooms at the back of the hotel have balconies with views over the walled garden.
Essentials
Amastan Paris, 34 Rue Jean Mermoz, 75008 Paris, France (00 33 149 52 99 70; amastanhotels.com). Double rooms from €300, B&B.
Wi-fi: free
Accessibility: Two wheelchair-accessible rooms
Rooms: ****
Service: *****
Value: ****
Join our new commenting forum
Join thought-provoking conversations, follow other Independent readers and see their replies