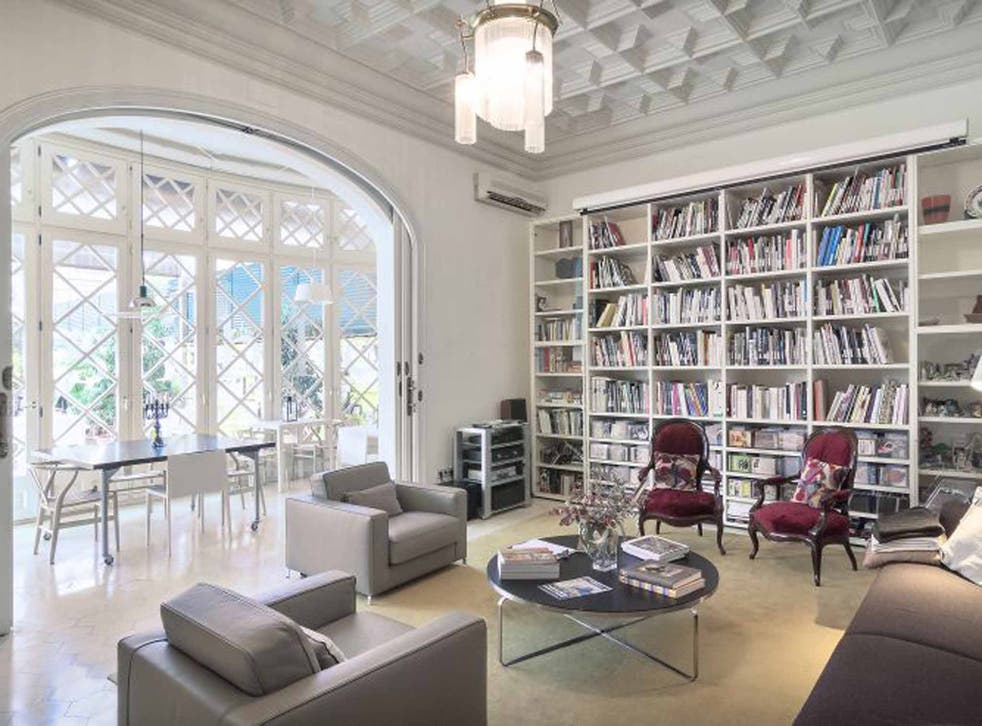 Ca La Maria, Barcelona: A taste of life on the 'first floor'
Barcelona's Ca La Maria is a palace of art, Modernism and high living. Darren Loucaides went up in the world
With nothing at street-level to give it away except for a label next to the buzzer, you wouldn't know Ca La Maria was there unless you were looking for it – but it's a place certainly worth finding. This boutique bed and breakfast lies on a relatively quiet street in the heart of Eixample, an exclusive district of straight boulevards that are the yin to adjacent Ciutat Vella's old town yang. And with the air of a grand home, Ca La Maria lets you believe for a night or so that you're a member of the petite bourgeoisie from Barcelona's golden age of Modernism.
The bed
Ca La Maria occupies the once much-prized piso principal (first floor) of a 1920s building, whose sculpted façade and elegant balconies are typical of a period that's still remembered as a cultural high-point of Catalonia. At the time, Catalan-Modernist architecture pioneered by the likes of Antoni Gaudí was all the rage.
The piso principal was typically the most elaborate and spacious of all the floors, and this one now houses six guest rooms. With high ceilings and large shuttered windows overlooking the street, my room – the Montjuïc Suite – didn't disappoint. There are two bedrooms, a living room and a large bathroom (totalling a huge 60sq metres), with antique furniture including a gorgeous leather-topped writing desk. But the theme isn't just traditional Catalan. Note the armless white-leather sofa and a garish purple rug, among other quirky touches. Then, there's the art – Ca La Maria houses more than a dozen contemporary works. A photograph by Spencer Tunick is the inspiration for my room's name; in it, 8,000 nudes lay prostrate on Montjuïc, Barcelona's famous hill in front of Palau Nacional.
The breakfast
Everything in the morning buffet is lovingly crafted, from the homemade cakes, yogurt and jam to the artisan bread and delicate pastries bought daily from a small bakery nearby. There are also slices of nutty manchego and fuet, a kind of potent Catalan salami.
Opting to breakfast in the sun, I took a selection of the above on to the terraza interior. This is another classic feature of Eixample from the days of Modernism; a large interior square between buildings, shielded from the street and remarkably peaceful.
The host
Hailing from a small town near Barcelona, owner Maria Inglada Figueras is keen to transmit her knowledge of local history and culture to her guests. For this reason, she chose the peculiarly Catalan name, Ca La Maria, which roughly means "Maria's place".
"It's almost impossible to translate," she told me. "Catalan culture is very important to me; and that name is a very traditional way of representing all the legacy behind a place. For example, my father's house is called Cal Cego, House of the Blind, because at one point someone blind must have lived there." Cal Cego is also the name of the art collection belonging to Maria's parents, which can be seen at Ca La Maria and at select exhibitions (calcego.es).
The weekend
Ca La Maria is just off Passeig de Gracia, one of Barcelona's grandest streets, full of architectural treats, the most staggering of which are both by Gaudí. Nearest is Casa Milà (00 34 902 20 21 38; lapedrera.com), known as La Pedrera ("the quarry") for its curvaceous, sand-coloured façade resembling a rock-face.
Further down the street is the even more extraordinary Casa Batlló (00 34 932 160306; casabatllo.es), whose colourful exterior is made up of countless broken ceramics. With the façade's lower section of gaping jaws and an undulating rooftop that evokes dragon scales, the building looks almost alive, while there's hardly a single straight line throughout the rippling interior.
The pit-stop
On the border between Eixample and Gràcia, Santa Gula is one of Barcelona's most interesting new restaurants (00 34 931 857649; santagula.es). Opened by two locals, Nacho Nuñez and Xavi Grau, with Uruguayan chef Martin Marchese, it has a laid-back setting and serves small, market-style dishes combining Latin-American, Catalan and Mediterranean influences. The menu changes every fortnight, but on my visit the courgette carpaccio (€9.50/£6.70) and prawn ravioli (€12.50/£8.80) smothered in suquet al Parmesano (fish sauce with Parmesan) were both delightfully original, while the picanha – a cut of beef favoured in Brazil – was luscious (€17.50/£12.40).
The essentials
Ca La Maria, Carrer de Còrsega 284, Eixample, Barcelona (00 34 93 218 24 53; calamariabarcelona.com). Doubles start at €150 (£106), including breakfast. The Montjuïc Suite is €230 (£163).
Join our new commenting forum
Join thought-provoking conversations, follow other Independent readers and see their replies