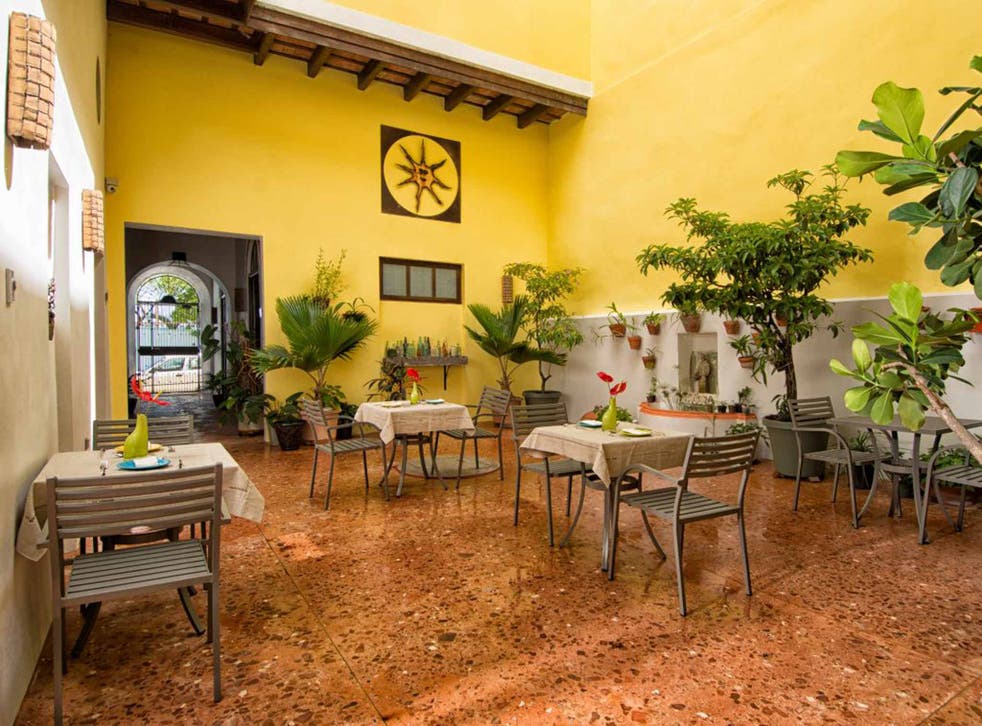 Casa Sol, Puerto Rico: B&B and beyond
Once a base for Spanish soldiers, this colonial house in Puerto Rico's capital makes a unique B&B, says Sarah Gilbert
Like a scrubbed-up Havana, diminutive Old San Juan's perfectly preserved cobbled streets, parks and plazas are lined with pastel-coloured mansions, their balconies festooned with tropical blooms. Founded by Spanish conquistadors in 1508, it's one of the oldest settlements in the Americas. But this is no museum piece. Puerto Rico's party-loving capital – it's the birthplace of the piña colada and home to Bacardi's "Cathedral of Rum" after all – is full of life.
The island may be vying to become the USA's 51st State, but away from the tourist shops its Spanish, Caribbean, African, and Taino Indian roots are all alive and well in its crafts, food and the salsa rhythms that drift from hole-in-the-wall bars. Now, it has its first true Puerto Rican-owned B&B, set in a painstakingly restored colonial house. Once a base for Spanish soldiers from the nearby fortress of San Cristóbal, it is now the embodiment of mi casa es tu casa.
The Bed
The original lofty brick-and-beam ceilings, window grills, and thick wooden doors have been kept, within which five rooms have been created – two at the front and three around the patio – each with its own style and each named after San Juan neighbourhoods. Walls are decorated with local art and vintage posters; the brightly coloured bedspreads, wardrobes and lamps were all made by Puerto Rican artisans. La Muralla is the largest, with a living space, mezzanine-floor bedroom and a claw-foot bathtub. The other rooms all come with powerful showers.
The Breakfast
Breakfast is served al fresco in the sunshine-yellow, plant-filled patio. Out of the open kitchen comes tropical fruit from local farmers. There's freshly baked bread with local cheeses and tamarind jam, eggs-to-order, French toast and delicious pancakes smothered in carambola (star fruit) syrup. It's all washed down with a just-squeezed juice – perhaps pineapple or papaya – and Finca Cialitos coffee, direct from the owner's brother's farm.
The Hosts
Opening a B&B has been a long-held dream for Tisha Pastor and Eddie Ramirez, and they've spent several years – and much of their savings – restoring Casa Sol. They make genial hosts – their own apartment is on the top floor – and they're always happy to tell you about off-the-tourist-track places and arrange excursions.
The Weekend
The atmospheric old city is best explored on foot, from its three impressive fortresses to Casa Blanca, an early 16th-century "strong house" that's now a museum (001 787 725 1454), and the fascinating exhibitions at Museo de las Americas (001 787 724 5052; museolasamericas.org). Beyond Old San Juan, it's worth exploring gritty Santurce's galleries and Condado, a mini-Miami with golden beaches and marinas.
Many of the island's attractions are within easy reach of San Juan. Castillo Tours (001 787 791 6195; castillotours.com) runs excursions all over the island. To experience the rare and fragile ecosystem of a bioluminescent bay – there are only five in the world and Puerto Rico has three of them – go night kayaking from Fajardo, where the water sparkles as you touch it. Less than an hour's drive east is El Yunque (www.fs.usda.gov/elyunque), the only tropical rainforest in the US National Forest Service system. En route, stop off at Luquillo Beach's kioskos, selling everything from crab-on-a-stick to the island's quintessential dish, mofongo – mashed fried green plantains with fish or shrimp.
The Pit-stop
Puerto Rican, Michelin-starred chef Juan Jose Cuevas works with local farmers, fishermen and foragers to produce fine-dining dishes such as fluke crudo, rock shrimp risotto, and grass-fed beef, at the newly restored Condado Vanderbilt 1919 (001 787 724 1919; 1919restaurant.com; four-course dinner menu $70/£42; mains around $40/£24).
Locals' favourite El Jibarito (001 787 725 8375; Calle Sol 280; mains around $15/£9) serves up comida criolla, traditional Puerto Rican cooking. Don't miss the chicken stew with breadfruit tostones.
At industrial-chic La Factoria (001 787 594 5698; Calle San Sebastian 148) there's a DJ most nights, artisanal cocktails on the blackboard menu and a speakeasy-style wine bar. Or if you're in the mood for live music, you can salsa until the sun rises at the Nuyorican Café (001 787 366 5074; nuyoricancafepr.com).
For the cup of gourmet coffee the morning after, head to Espresso Art by Finca Cialitos (Calle San Justo 150), a genuine farm-to-cup operation owned by Tisha's brother.
The Essentials
Casa Sol, Calle Sol 316, San Juan, Puerto Rico 00901 (001 787 980 9700; casasolbnb.com). Double rooms from $183 (£114), including breakfast.
Join our new commenting forum
Join thought-provoking conversations, follow other Independent readers and see their replies