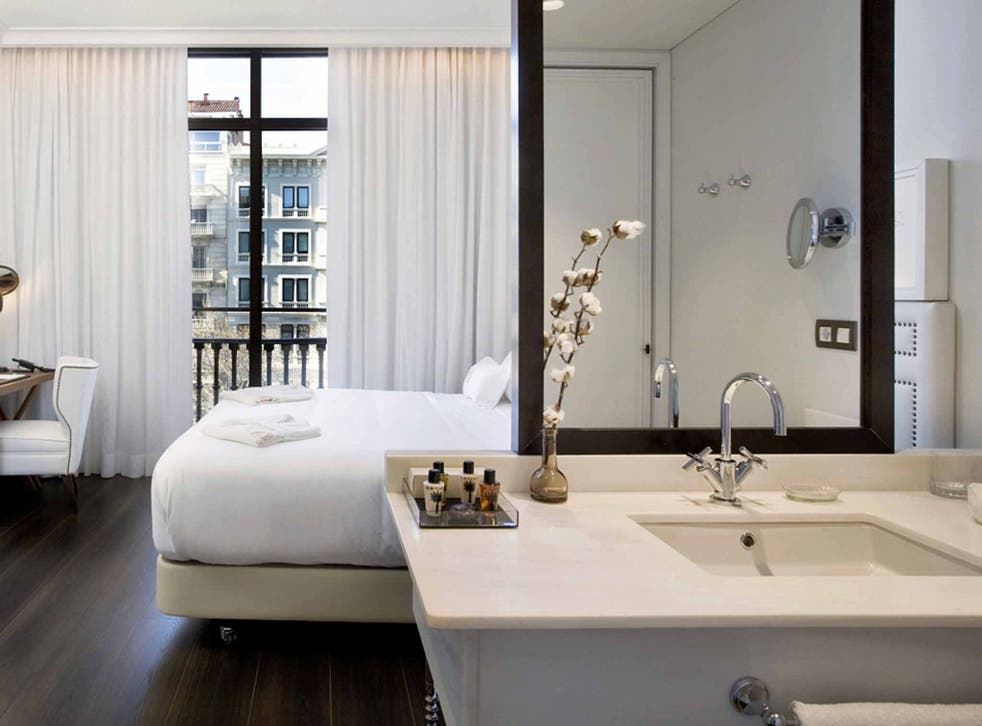 Cotton House Hotel, Barcelona: Cotton on to those good things in life
The bedrooms are all named after different types of cotton, from Panama to Madras
I'm standing at the top of a six-storey spiral staircase which is suspended from the ceiling by industrial-looking metal rods. My head spins as I stare down the shaft, blinking rapidly at the tiny square of floor below. Somewhere to my right, Alfredo, the hotel's general manager, is telling me that this staircase is the only one of its kind in Europe. The structure – though perfectly stable to walk on – actually hangs in the air, held only by thick, steel cord. It's all fairly remarkable, not to mention beautiful. I just wish I didn't feel so queasy.
Housing this extraordinary flight of steps is the Cotton House Hotel in Barcelona, the latest addition to Marriott's Autograph Collection. The building, an imposing, 19th-century Neoclassical creation, was the headquarters of the Cotton Producers' Guild at a time when Barcelona's textile industry was thriving. The Spanish designer Lazaro Rosa-Violan, who took on the restoration project in early 2013, has been careful to preserve intrinsic elements of the building's former life.
The entrance hall is large and airy with an intricately panelled ceiling and geometric floor. Tradesmen used to park their horse-drawn carts here while unloading their wares. Alfredo tells me that tailors used to stay at Cotton HQ, measuring and fitting Barcelona's elite. This neat tradition has been adapted for the modern day, with a cosy snug, next door to the hotel's small library, that provides a quiet spot for well-heeled guests to be measured and dressed by some of the city's top tailors.
Location
You're never going to be short of things to do in Barcelona, from the culture to the coast to the mountains beyond. If the weather is kind to you, the hotel can organise boat trips or helicopter tours of the city. If it's more windy than warm, however, there's plenty of fun to be had on land. I highly recommend eating your way around the city. The hotel is a few minutes' walk from La Rambla, home to La Boqueria market where you can guzzle everything from olives to oysters. Opposite the main entrance to the market is the mysterious Jamón Experience, a rather theatrical venue where a specialist carver slices up different types of jamón for you to sample. It's all washed down with a glass of palate-cleansing Catalonian cava. Delicious.
Comfort
Unsurprisingly, cotton is king here. Cotton flowers, light and fluffy, are dotted throughout the building and the hotel's specially designed scent is intended to mimic that of the sweet-smelling plant. The bedrooms are all named after different types of cotton, from Panama to Madras.
I stayed in "Egyptian". The first thing I noticed was that someone had been scribbling on my mirrors. "You look gorgeous!" was emblazoned across the top of one. Of course, they're on everyone's mirrors, but I'm a sucker for a personal touch and couldn't help but smile. The king-size bed, with its gloriously soft, cotton sheets, didn't disappoint.
There was a slightly awkward sofa taking up space in the "living area", as well as an enormous TV that I found impossible to figure out. A rather cute touch, however, was the dainty cotton flower nestled in a plant pot on my bedside table. There was also a sweet little balcony in my room, complete with wicker chair to recline in. Although there's no view to speak of, had the weather been nicer it would have been easy to while away an evening people-watching from above. In fact, had the cloud broken, I'd likely have spent the weekend lounging by the hotel's small rooftop pool, soaking up the views as well as the sun. Or possibly even on the garden terrace, supping a tasty gin cocktail made by one of the hotel's expert baristas.
Travel Essentials
Cotton House Hotel, Gran Vía de les Corts Catalanes 670 Barcelona, Spain (0034 934 50 50 45; hotelcottonhouse.com/en).
Rooms ****
Value ***
Service ****
Doubles start at €200, B&B.
Join our new commenting forum
Join thought-provoking conversations, follow other Independent readers and see their replies