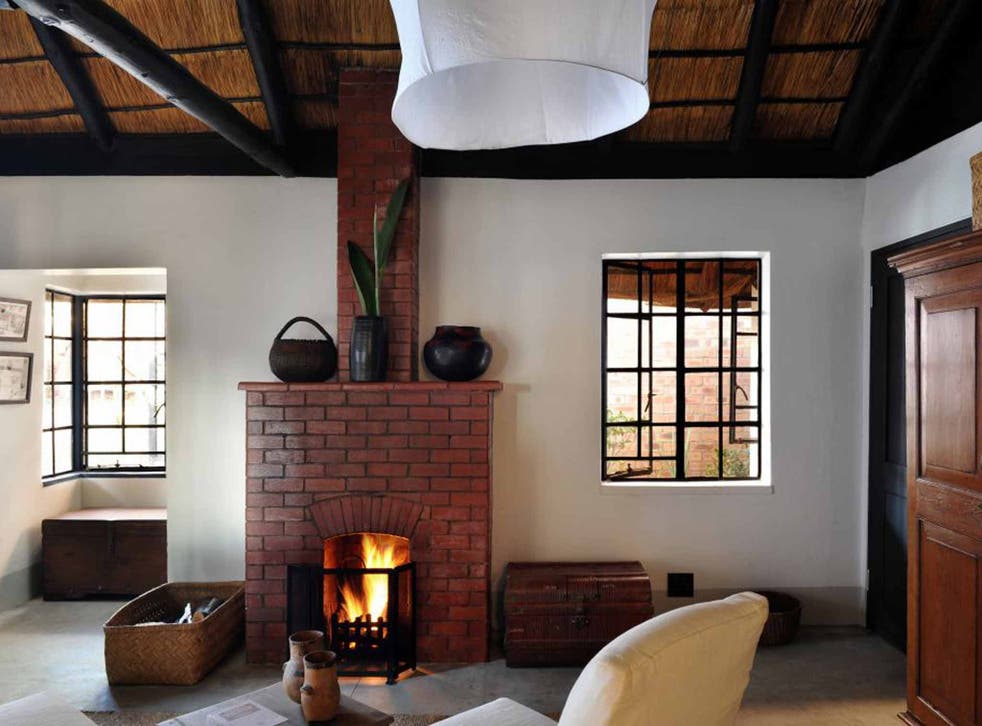 Satyagraha House, Johannesburg: B&b and beyond
A little corner of South Africa will be forever India, thanks to a new B&B in an old haunt of Gandhi's, says Sarah Khan
It's a little unexpected, to be sure, to stumble upon French and Indian influences combining in the heart of Johannesburg, complete with staff scurrying about in starched white kurtas, bearing freshly baked baguettes. But that's just what guests find at Satyagraha House, an elegant French-owned ode to Mahatma Gandhi secreted away in the Orchards neighbourhood.
Gandhi spent 21 years in South Africa, from 1893 to 1914, arriving as a prim England-trained lawyer in tailored suits, and leaving a civil rights champion enrobed in simple Indian garb. Two of those years were spent here, at the home of Hermann Kallenbach, a German-Jewish architect.
Today, the 1907-built kraal (farmhouse) serves two purposes: first, a quaint bed-and-breakfast with rooms named for members of Gandhi's inner circle at the time (Thambi Naidoo, Henry and Millie Polak, and his wife Kasturba among them); second, a thoughtfully curated museum tracing Gandhi's journey through South Africa, where his struggles for upliftment of Indians and blacks inspired his celebrated philosophy of nonviolent resistance: satyagraha.
THE BED
The compound's original thatched-roof farmhouse has three bedrooms; a further four modern rooms resembling glass cubes are scattered in the grounds. Each is a Gandhian dream: sparse, with worn concrete floors, swathed in crisp white linens, and fitted with old-fashioned touches sourced from India — teak almirahs (cabinets), simple desks, wicker charpoys, vintage trunks serving as nightstands. But don't let the spartan environs and lack of televisions concern you, for the rooms are equipped with underfloor heating, the low beds are immensely comfortable, the spacious bathrooms are done up in sleek black stone, and a selection of tomes by or about Gandhi are helpfully placed at the bedside.
THE BREAKFAST
Unsurprisingly, all meals cooked at Satyagraha House are vegetarian. For breakfast, that translates to a simple but delicious meal of scrambled or poached eggs, yogurt, fresh papaya, pineapple, and melon, coffee and a selection of teas, and jam and baguettes made on-site.
The lettuce, tomatoes, mint, spinach, and herbs used in the kitchen are sourced from the property's small but lovely organic garden. Meals can be taken in the courtyard, along a huge wooden table in the dining room, or, on a crisp winter morning like ours, in front of a roaring fireplace in the cosy living room.
THE HOSTS
Jean-François Rial, CEO of French tourism company Voyageurs du Monde, has long been a Gandhi admirer; when he read that a house once inhabited by him was on the market, he purchased it within three weeks. After two years of refurbishments – enlisting the help of a preeminent Gandhi historian, a museum curator, and a heritage architect – Rial was ready to open his passion project to the public in 2011.
THE WEEKEND
Gandhi's teachings inspired South Africa's freedom movement; learn all about Nelson Mandela and the struggle to end apartheid at the nearby Apartheid Museum (00 27 11 309 4700; apartheidmuseum.org; ZAR70/£4).
The neighbouring Rosebank district is home to a clutch of contemporary art galleries, of which one of the best-regarded is the Goodman Gallery (00 27 11 788 1113; goodman-gallery.com), showcasing some of the continent's best contemporary artists.
Have a stroll through the botanical gardens surrounding the Emmarentia Dam – in the summer (October-February), the grounds host a series of open-air sunset concerts.
Each Sunday Jo'burg's trendiest converge on the weekly Market on Main (marketonmain.co.za; 10am-3pm), set in the artsy Maboneng Precinct, where stalls teem with empanadas, pies, coffee, art, and vintage accessories. For a bird's-eye view over the city, sign up for Mainstreetwalks' Picnic in the Sky (mainstreetwalks.co.za; ZAR200/£11 per person) every Sunday: you'll get a basket to fill up with goodies of your choice procured from the Market on Main, after which you take an elevator 50 floors to the top of the Carlton Centre skyscraper to set up your spread.
THE PIT STOP
To continue the Satyagraha House's theme, head to Thava indian restaurant (00 27 11 728 2826; thava.co.za), less than a three-minute drive from the guesthouse. The simple dining room serves some of the city's best Indian food. Also nearby is The Schwarma Company (00 27 11 483 1776; schwarmacompany.co.za), a pint-size Mediterranean restaurant whose falafels have earned them a cult following.
THE ESSENTIALS
Satyagraha House, 15 Pine Road, Orchards, Johannesburg (00 27 11 485 5928; satyagrahahouse.com). Rooms start from ZAR1,735 (£97), including breakfast. The family cottage starts at ZAR4,850 (£271).
Register for free to continue reading
Registration is a free and easy way to support our truly independent journalism
By registering, you will also enjoy limited access to Premium articles, exclusive newsletters, commenting, and virtual events with our leading journalists
Already have an account? sign in
Register for free to continue reading
Registration is a free and easy way to support our truly independent journalism
By registering, you will also enjoy limited access to Premium articles, exclusive newsletters, commenting, and virtual events with our leading journalists
Already have an account? sign in
Join our new commenting forum
Join thought-provoking conversations, follow other Independent readers and see their replies