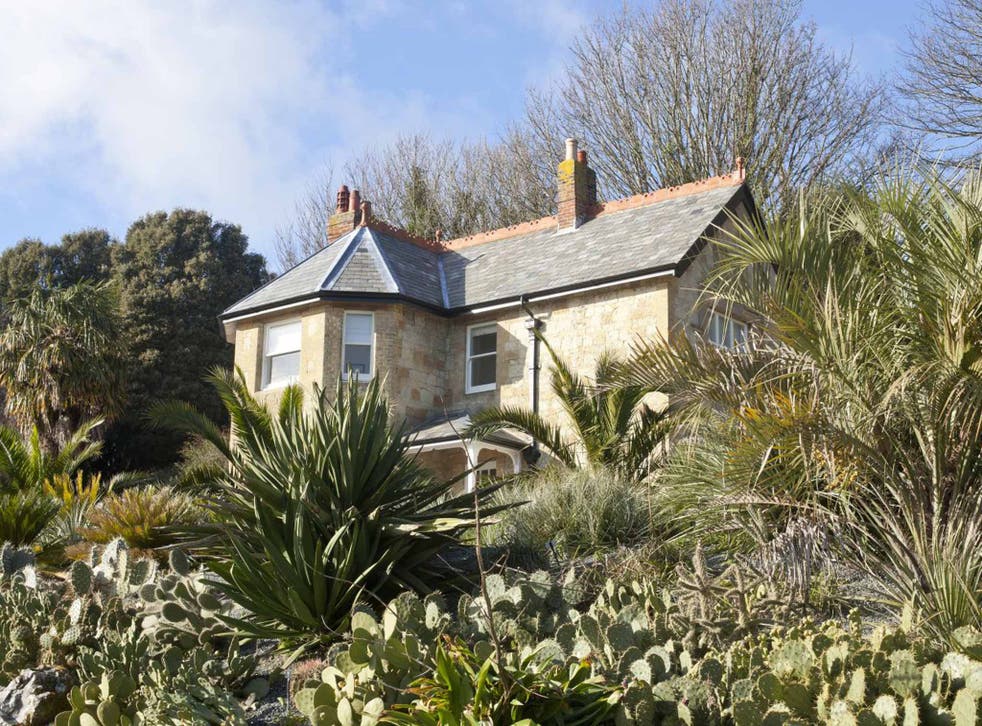 Signal Point Cottage, Isle of Wight: Stay the night
A newly renovated cottage offers visitors the chance to bed down in Ventnor Botanic Garden, says Juliet Kinsman
Wind your way along country lanes, past farms and through villages, to the Isle of Wight's southernmost point, and tiers of grey-stone Victorian villas hint at Ventnor's history as a 19th-century seaside resort. Exotic oversized blooms and tropical fronds flourish in its mild, sunny climate, nowhere more noticeably than at the Ventnor Botanic Garden.
Beautifully maintained and now privately owned, the grounds have come a long way since belonging to a Royal National Hospital for Diseases of the Chest, and then until more recently, the council. Just over a century ago, tuberculosis sufferers were wheeled out to this salubrious microclimate in their wicker loungers. If you're wondering if any ghosts rattle around the prickly pear cacti, aloes and agave, ask the party of ghoul-trackers who surprised us at 9pm on Saturday night as they trooped past our solitary holiday house on one of Mark Tuckey's ghost tours (ghostisland.com).
Happily, Signal Point Cottage, originally the doctor's quarters, felt anything but haunted. The stripped wooden floors and pristine whitewashed walls of this just-renovated accommodation were so fresh we wouldn't have minded the house feeling a little more lived in. What gives the cottage soul are piles of gardening books; heavy, fern-print Sanderson curtains and Lewis & Wood botanical wallpaper based on William Curtis's 1787 illustrations – and, of course, the dramatic views over the foliage and the vast white-roofed Tropical House.
THE ROOMS
The Victorian two-up, two-down dimensions have been refurbished to a spec higher than your average seaside self-catering stay, enhanced with a gentle, stylish horticultural theme to the decor. Having three bathrooms and a free-standing roll-top bath, digitally-controlled wet room and a walk-in shower to choose from felt like pure luxury, especially for the affordable rate; still, a scrap of soap would have been nice.
Billed as sleeping up to six, it's best suited to four if you want to be comfortable; the two upstairs bedrooms have a queen-size bed in the master bedroom and twin beds across the hall. As fresh as the linens, duvets and fluffy pillows are, you'd have to draw the short straw to get the sofa-bed with an old exercise bike as companion, instead of an airy room above. There's only a small sofa in the sitting room which opens to the small kitchen, so maybe don't plan to squeeze in and watch TV or enjoy a fireside drink together.
On balmy days though you'll feel like royalty as you dine on a terrace overlooking the huge potting shed of a Tropical House, perhaps with a peep of the English Channel beyond the foliage.
OUT AND ABOUT
Tour the globe via the greenery on your doorstep: Ventnor Botanic Garden (01983 855397; botanic.co.uk) showcases lovingly tended plants in zones signposted as being themed around the Mediterranean, New Zealand, South Africa and beyond. Amble just out of VBG's impressive grounds and follow the Coastal Path to Steephill Cove and you'll discover a time warp of seaside kitsch. The Boathouse here (01983 852747) is about the cutest wood cabin you could eat at, but assume the handful of tables has long since been booked up, and settle for a deck chair and an ice-cream stop.
Ventnor is 20 minutes' walk east along the coast. Balancing retro and chic bric-à-brac shops with traditional bucket-and-spade, amusement arcade and island-map paddling pool, it has an authenticity and charm that many seaside spots struggle to preserve.
FOOD AND DRINK
A top tip if you're self-catering at the cottage is to stop at a farm shop en route from the ferry terminal at Cowes. Pause at Briddlesford Lodge Farm for full-fat milk (briddlesfordlodgefarm.co.uk); or try out the new Brownrigg Farm Shop closer to your final destination – it offers a well-priced range of organic goods and gourmet souvenirs (brownriggmeat.co.uk).
For eating out, the Plantation Room is VBG's onsite café. We didn't experience the British-menu restaurant, Edulis, which works with local and seasonal ingredients, but word is that guests will soon be able to order meals to enjoy at Signal Point Cottage from here.
Ventnor Haven Fishery's clapboard shack on the jetty promises take-away fish'n'chips at their best (01983 852176). At the Scandinavian-accented Hillside Bistro on Pier Street (01983 853334) Danish owner Gert Bach uses the finest local ingredients. The Hambrough (01983 856333; thehambrough.com) may not have its Michelin star any more, but when chef Darren Beevers' dishes include surprises such as sea bass with rhubarb, who cares?
THE ESSENTIALS
Signal Point Cottage, Ventnor Botanic Garden, Undercliff Drive, Ventnor, Isle of Wight PO38 1UL (01983 855397; bit.ly/StayBotanic). Three-night breaks from £276; damage deposit of £200.
Join our new commenting forum
Join thought-provoking conversations, follow other Independent readers and see their replies