The Big Six: Igloo stays

Show all 6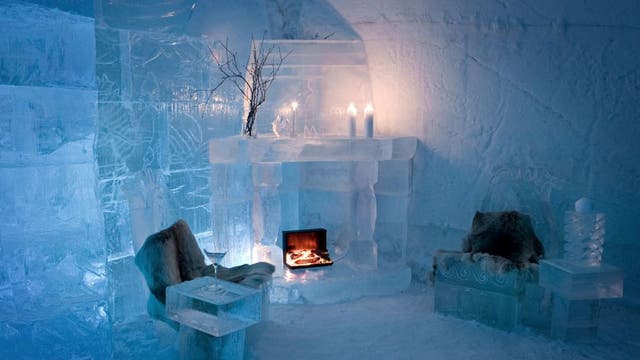 The Big Six: Igloo stays
Sorrisniva Igloo, Norway
This vast single-structure igloo in Finnmark is constructed each winter. Inside, you'll find an ice bar, ice chapel, intricate ice sculptures (tables, chairs, fireplaces), plus bedrooms where the temperature is a steady -4C to -7C. Snowmobiling and husky safaris are offered during the twilit winter days, while a heated restaurant and sauna are close by when the cold gets too much.
Sorrisniva Igloo, Sorrisniva, Alta, Norway (00 47 784 33378; sorrisniva.no). Rates start at Nkr1,995 (£225) per person, including breakfast and transfers from Alta.
Kakslauttan, Finland
Way above the Arctic Circle in Finnish Lapland, Kakslauttanen's log cabins, glass domes and igloos offer distinctive accommodation that make the most of the wintry setting. After a husky or reindeer safari or a day's ice fishing or show-shoeing, there's a log-fired sauna, restaurant and ice bar to enjoy, plus the chance of witnessing the Northern Lights. Guests sleeping in the igloos get expedition sleeping bags, as well as socks and hats to keep them warm through the night.
Kakslauttanen, Saariselka, Finland (00 358 1666 7100; kakslauttanen.fi). Rates start at €195 per person, half board.
Igloo Village, Slovenia
In the foothills of the Julian Alps, the resort of Kranjska Gora offers picturesque views and excellent value skiing. And for anyone who doesn't get enough snow during the day, there's also the option of sleeping at the Igloo Village. Five domes are created each winter, each sleeping six in spare but atmospheric style. Additional "romantic" options sleep just two. Guests can warm up with fondue in the restaurant, while sheepskins, rugs and thermal sleeping bags keep things toasty through the night. Meanwhile, "bar inuits" serve perfectly-chilled drinks.
Igloo Village, Kranjska Gora, Slovenia (00 386 1 232 2364; eskimska-vas.si). Rates start at €89 per person, half board.
Iglu Village, Switzerland
Fifteen years ago, Adrian Gunter built himself an igloo in Engadine – he wanted to spend the night on the mountain to get a head start in finding untouched snow to board on in the morning. Friends started to join him, and today he runs seven camps of Iglu Villages in Switzerland and Andorra that offer paying guests luxuries that range from sheepskins to saunas. One of the latest is in Zermatt, with majestic Matterhorn views and a romantic heated igloo for two.
Iglu Dorf Zermatt, Riffelberg, Zermatt, Switzerland (00 41 41 612 27 28; iglu-dorf.com). Rates start at Sfr149 (£105) per person, half board.
Snow Village, Austria
Set in the Austrian Tyrol, the Snow Village offers an alternative to traditional mountain lodgings. Rooms are basic: two double beds with sleeping bags. The experience includes mulled wine and fondue, plus the chance to stay on the mountain after the ski crowds have gone. There's also the opportunity to take part in an igloo construction workshop.
Schneedorf, Hochoetz, Oetz, Tyrol, Austria (00 43 52 52 20 157; schneedorf.com). Rates from €109 per person, half board.
Mon Village Igloo, France
This French Alpine experience starts with a guided snowshoe walk up to the igloo village, from the resort of La Plagne. Guests sink into a deck chair for aperitifs by the open fire before tucking into a Savoyard dinner inside the dining room, where the guides recount local folklore and explain the history of Inuit igloo living. There are four sleeping domes, decorated with candles and faux-fur throws. A hot breakfast awaits in the morning.
Mon Village Igloo, La Plagne, France (00 33 6 62 13 52 00; monvillageigloo.com). Rates start at €65 per person, half board.
Register for free to continue reading
Registration is a free and easy way to support our truly independent journalism
By registering, you will also enjoy limited access to Premium articles, exclusive newsletters, commenting, and virtual events with our leading journalists
Already have an account? sign in
Register for free to continue reading
Registration is a free and easy way to support our truly independent journalism
By registering, you will also enjoy limited access to Premium articles, exclusive newsletters, commenting, and virtual events with our leading journalists
Already have an account? sign in
Join our new commenting forum
Join thought-provoking conversations, follow other Independent readers and see their replies