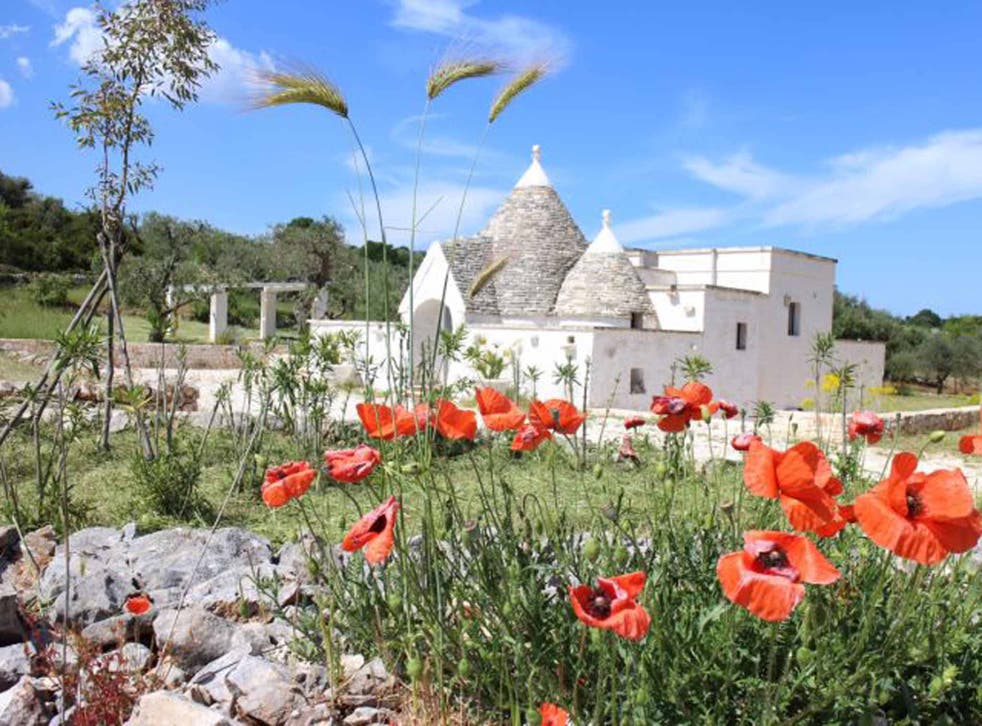 Trullo Terrabronzata, Puglia: Not down at heel in southern Italy
Trullo Terrabronzata offers a taste of traditional Puglia with plenty of modern luxury, as Nicola Trup discovers
When a stranger tells you "Meet me at the graveyard", you do wonder what to think. But in Cisternino, a small Italian town where street names have little meaning and there are few landmarks, the graveyard is a perfectly sensible rendezvous point and – as it turns out – very close to our destination.
Trullo Terrabronzata is tucked away in gated grounds along a winding dirt track just outside town, and arriving late at night, as my friends and I did, you stand little chance of finding it yourself (hence the macabre meeting instructions). But it's this seclusion that's the main attraction. In the pitch black we couldn't tell if there were any neighbours, but on waking up the next morning we discovered we were surrounded by olive groves and beautifully kept gardens, with just a couple of rooftops visible beyond the trees.
Peculiar to Puglia, the south-eastern region that makes up the heel of Italy's boot, trulli are whitewashed stone homes with conical grey roofs. You'll spot countless numbers of these curious constructions in the area, but Terrabronzata is a trullo with a difference.
London-based interior designers, Stephen and Mark, bought this 17th-century structure in 2010, when it was little more than a shell. It has since been restored, extended and given a high-drama makeover: a Buddha statue headstands by the front door, miniature gilt-edged mirrors adorn one wall, and a red faux-snakeskin toilet and sink have been installed in the ground-floor shower. It's totally over the top, and totally wonderful.
The rooms
The three bedrooms are in the basement, so they tend to keep cool, even in hot weather. Each has been decked out differently: the moss-green master bedroom has a four-poster and an en suite, the second double is a vision of purple, while the twin is almost Provençal – powdery blue, with ornate bed frames and framed prints. There's another bathroom down here, that's a total of three.
On the ground floor, the very well equipped kitchen (complete with dishwasher, cafetière and enough dishes to throw a multi-course dinner party) adjoins an open-plan living area with sofas, a TV and dining table. There is wi-fi, but with what's outside you hardly need the distraction.
As well as the garden, there are two terraces; on the upper is a huge table (ideal for sunny breakfasts) and cushioned seating, while the lower has a barbecue and another dining table. The pièce de résistance, though, is the pool. Deep enough for proper swims, it's completely private (save for the odd lizard) and has glorious countryside views. After a dip you can recline in one of the sun loungers or retreat to the shade of the cabana.
Out and about
I did mention the pool, didn't I? You could easily spend a whole week swimming, reading and eating at the trullo, but if you must leave, you can walk 25 minutes (or drive five) into the centro storico of Cisternino. The cobbled streets of the historic centre are lined with shops selling everything from locally made leather sandals to vintage knick-knacks – just don't visit mid-afternoon when everything closes for a few hours.
You're not near a beach, but if you feel the call of the sea, the soft sand at Torre Guaceto nature reserve is pretty, uncrowded, and for the moment underdeveloped – although there were signs of building work during our visit. It's about 45 minutes' drive away; be sure to pack a picnic and plenty of water because there are no shops nearby.
The food and drink
Basics such as olive oil, salt, pepper and bread are provided (as well as cleaning products) and there are plenty of places to stock up on everything else. Incredible focaccia, cheese, and ham can be found at La Bonta del Fornetto (Via Ostuni, 46), while for drinks and other essentials stop off at supermarket Meta (Via Ceglie, 19). If you're here on a Wednesday, make the 20-minute drive to the nearby town of Martina Franca, where the market offers cheap, fresh fruit and veg.
For a small town, Cisternino isn't short of places to eat out. Our favourites included Il Cucco (Corso Umberto I 137/141; 00 39 80 444 9064) a wine bar with delectable charcuterie and cheese boards; L'Era Glaciale (Via Santa Lucia, 9/11) for gelato; and Porta Grande (Via Basiliani 3; 00 39 080 444 9814) a restaurant serving hearty local dishes such as donkey stew.
The essentials
Trullo Terrabronzata, Cisternino, Puglia, Italy. From £1,500 to £2,700 a week through Further Afield (07850 907979; furtherafield.com); sleeps six.
Register for free to continue reading
Registration is a free and easy way to support our truly independent journalism
By registering, you will also enjoy limited access to Premium articles, exclusive newsletters, commenting, and virtual events with our leading journalists
Already have an account? sign in
Register for free to continue reading
Registration is a free and easy way to support our truly independent journalism
By registering, you will also enjoy limited access to Premium articles, exclusive newsletters, commenting, and virtual events with our leading journalists
Already have an account? sign in
Join our new commenting forum
Join thought-provoking conversations, follow other Independent readers and see their replies