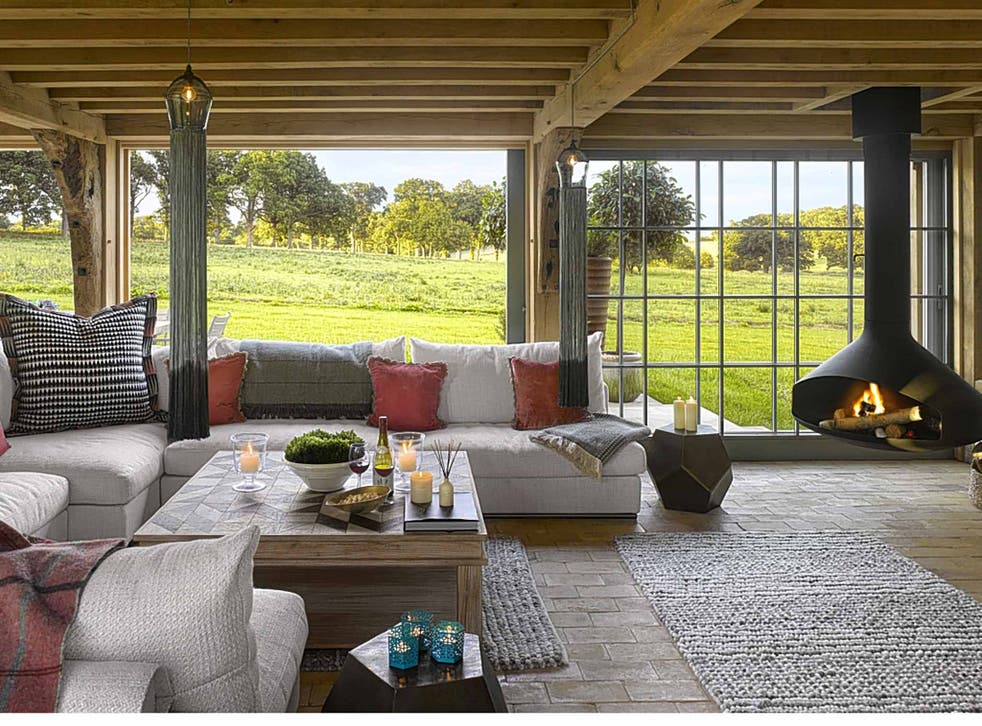 Wilderness Reserve, Suffolk - hotel review: From real estate to country estate
Owned by a property entrepreneur, Wilderness Reserve is a smart Suffolk address that feels like home
The word "wilderness" generally brings to mind moorland and rain and twitchers and an absolute absence of posh supermarkets. The Wilderness Reserve in Suffolk is just about as far from that as you can get. It is manicured and calm and pretty – and our Waitrose delivery is already in the fridge when we arrive.
The estate is owned by Jon Hunt, he of the Foxtons London estate agency, who cashed out in 2007 for £370m before the crash. It is a Gainsborough-esque 4,500-acre stretch of pastoral land on which sit seven properties. All for rent, they range from a chunky Grade II-listed Georgian manor house – the 12-bedroom venue for Alexa Chung's last birthday party – to the tiny Hex cottage, which purposefully has neither electricity nor wi-fi and which may have escaped from the front of those biscuit boxes your granny used to have.
The latest property to be refurbished is the Cartshed, where we are staying. It sits on the edge of a congregation of the less-rustic properties, though you wouldn't know it: it has been designed so you never feel over-looked. Wellies are provided and there is housekeeping every day. It is a country house for those who like their rolling acres to be within easy reach of London.
The rooms
The Cartshed is a restored 19th- century barn, which means high ceilings and plenty of oak and elm beams. It is spacious, yet welcoming and cheery, with under-floor heating, a wood burner and tasteful blankets and cushions piled high on a generously sized, U-shaped sofa – perfect for recovering from a day's walking.
Downstairs, sliding glass doors run the length of the building, opening on to the parkland and a terrace with built-in barbecue. The open-plan kitchen and living room make it child friendly – you can keep one eye on the kids while preparing dinner. It feels like a well-appointed family home.
There are four double en-suite bedrooms, with vast Hypnos double beds, TVs, walk-in showers, freestanding copper baths, and Neal's Yard toiletries. The master bedroom is approximately the size of Northern Ireland. All the rooms have fabulous views, so at no point do you forget you are surrounded by natural beauty, even when in the deep baths.
Out and about
The estate is chock-full of distractions. You can explore the grounds, borrow a boat to tackle the ornamental lake, or while away a few hours beneath an oak which is said to have sheltered Elizabeth I while out on a day's hunting. You can ride a horse, practise archery or play tennis on the two courts. If it's sunny, head to the swimming pool. It is bloody gorgeous, kidney shaped and sunk into the hill in a sort of grassy amphitheatre, which means no one can see or hear you splashing about. And the boiling Jacuzzi is good, whatever the weather throws at you.
Otherwise, it's walk, walk, walk. The countryside is absolutely charming in this part of England, and around every bend hides another pub. There are innumerable churches of various vintages to explore too. The Church of St Peter in Yoxford is particularly worthy of a short diversion to appreciate the beautiful 18th-century headstone epitaphs.
Food and drink
We arrive to a well-stocked kitchen and a welcome feast (available at extra cost), including a platter of charcuterie, cheese, pork pies and handsome loaves of bread from the Two Magpies bakery in Southwold.
For another additional fee, you can hire the resident chef, Matthew. His braised pork belly and – separately – sticky toffee pudding are famous on the estate. There's also a sommelier on site, who is happy to guide you through the contents of the cellar.
If you can bear to leave the house, The Anchor in Walberswick (01502 722112; anchoratwalberswick.com) serves unpretentious food from £20 a head, with an old-world wine list. The Butley Orford Oysterage (01394 450277; pinneysoforford.co.uk; from £18 a head) specialises in superb seafood and bivalves.
Nearby Aldeburgh is full of good lunch options, local bitters and fresh fish'n'chips, while Yoxford has two pubs – The Kings Head and The Griffin – serving traditional food and locally brewed beer.
The essentials
Wilderness Reserve, Yoxford Road, Sibton, Saxmundham, Suffolk, IP17 2LZ (020 7484 5700; wildernessreserve.com). The Cartshed costs from £495 per night; sleeps eight. Well-behaved pets are welcome. The closest station is Darsham.
Register for free to continue reading
Registration is a free and easy way to support our truly independent journalism
By registering, you will also enjoy limited access to Premium articles, exclusive newsletters, commenting, and virtual events with our leading journalists
Already have an account? sign in
Register for free to continue reading
Registration is a free and easy way to support our truly independent journalism
By registering, you will also enjoy limited access to Premium articles, exclusive newsletters, commenting, and virtual events with our leading journalists
Already have an account? sign in
Join our new commenting forum
Join thought-provoking conversations, follow other Independent readers and see their replies