The Independent's journalism is supported by our readers. When you purchase through links on our site, we may earn commission.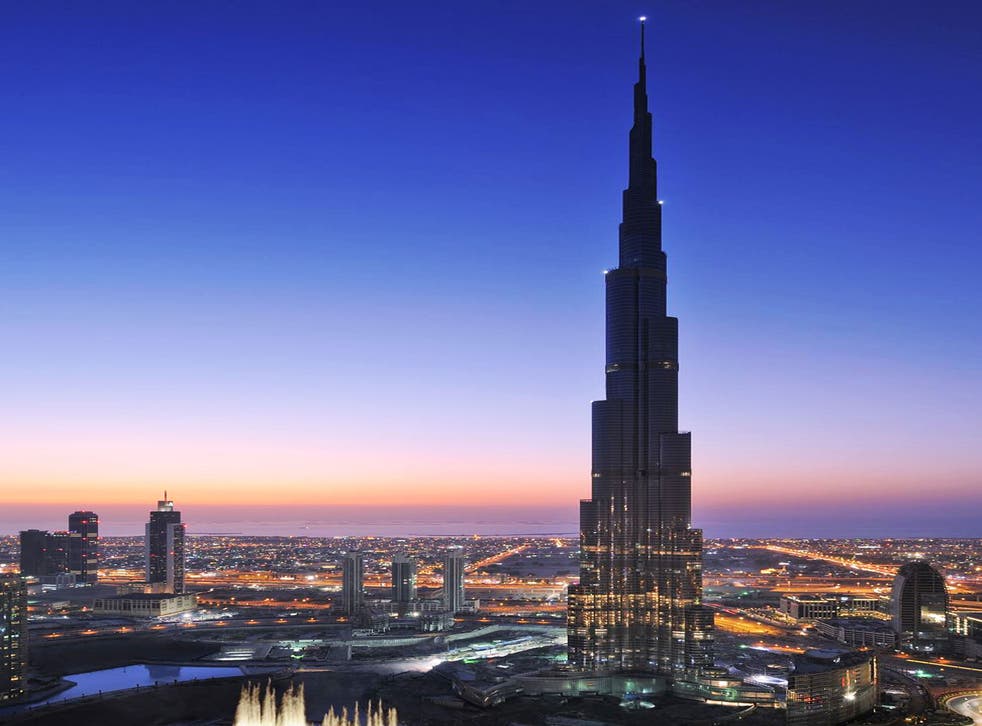 Dubai: What's not to like about opulent hotels, glorious sunshine, fine food and glamorous shopping?
Is biggest always best? The stats certainly impress in the emirate, says Charlotte Hawkins
Right up until the moment I arrived, I'd dismissed Dubai for being a big show-off; for needing to have the biggest, tallest and grandest of pretty much everything; for being an arrogant creator of new islands, golf courses and even ski slopes in one of the hottest countries in the world. Right up until I arrived, I was convinced all that man-made modern splendour wouldn't be for me. Not at all.
But, honestly, I couldn't help but be impressed. First off, the spotless airport gleamed its welcome; a cleaner was busy polishing a surface that I could already see my reflection in; there was copious glass, marble and gold. Then, a couple of hours later, I encountered the beach. I have never seen sand so clean. There was barely a pebble in sight and the crystal clear warm blue water made me wonder if the emirate went so far as to sieve the sea itself.
Before you begin to wonder whether I simply have a mania for cleanliness, I was convinced of Dubai's merits because of the enticing combination of easy access from the UK and warm sunshine – a delicious respite from the uncertainties of the British weather at this time of year and ideal before the searing heat of the Emirati summer.
This was to be a four-day trip, scarcely enough time even to get around all the shops in Dubai Mall (the largest, by area, in the world). It did however give me just enough time to get a snapshot of what one of the world's most lavish cities has to offer.
That driving urge to be the biggest and best came at a price for Dubai. When the economic crash hit in 2008, it was badly affected: the cash dried up; cranes were left hanging; building projects were shelved. But much of that now seems a distant memory. Wherever you go, you're never far from a new development. Many of the suspended projects are back on track, and new hotels continue to spring up: a Waldorf Astoria on the Palm is the latest.
My place of rest was Al Qasr, in the Jumeirah complex, which rises out of the beach like an intricate sand castle out of the beach. Should you wish, you have no need to venture further afield: everything you might possibly need is here. If you get too hot while sunbathing they'll even spritz you with cold water or bring iced towels. But, after all the spritzing, perfect sand and sieved sea, you should really explore a bit. Just to check out some more Dubai stats.
Step inside The Burj Al Arab (the fourth-tallest hotel tower in the world) and the opulence immediately hits you. The fiercely modern design is interspersed with flashes of Arabian art. There's a laser fountain in the lobby, the suites have marble staircases and obligatory Bentleys, Lamborghinis and Ferraris, line up outside. Way up on the 27th floor, in the Skyview Bar, you get a sense not just of the scale but the buzz of the city, your eyes drawn by a vista of twinkling lights.
Unable to decide which of the restaurants to dine in, I opted for the "Culinary Flight" experience which means you get to have a course in each of them. The most glamorous, Al Mahara, is set into the side of an aquarium where you dine with sharks. There's not much chance of conversation: everyone remains transfixed by all the sea creatures gliding before their eyes.
But don't expect many locally caught delicacies in Dubai. This place is all about flying in the best of the best from around the world. My dining experience at the seafood restaurant, Pierchic, at the Madinat Jumeirah resort had a distinctly multi-national feel: French oysters, Scottish scallops, Canadian lobster, Norwegian crab and Dover sole. Ludvik , the restaurant manager, is French, while the head chef, Rosalind, hails from Surrey.
Again, I decided that the only way to manage such choice was to have a bit of everything (the seafood platter seemed to be the perfect solution). Equally, the Asian-fusion menu in Buddha Bar at Grosvenor House demands that you be bold and run the gamut from sushi and sashimi to Australian wagyu beef.
Dubai's brasher side is evidenced in the fact that much of the food that I ate had flown even further than I had to be here; concerns about your carbon footprint are unlikely to be allayed in the middle of a desert city. You can't dispute how good it tastes, but it comes at a price. Strict laws govern alcohol consumption in this Muslim land. You can expect to pay the same for a glass of champagne in a restaurant as you would pay for a bottle in London. It didn't surprise me that the world's most expensive wine has just gone on sale here. If you've a spare £122,000 you can pick up a balthazar of Chateau Margaux 2009.
Rather cheaper is a litre of petrol. At 1.50 dirham (30p), this means taxis are entirely affordable – handy, because despite the city having emerged from the desert, you have to drive some way to catch a glimpse of a sand dune. I headed there for the obligatory dune-driving experience and all our hectic commotion made for a strange contrast with the group of Bedouins that we spotted herding their camels in the far distance.
My guide, Zeeshan, talked me through Dubai's recent history. The symbol of Dubai was once the horse, he said. Before the economic crisis a more accurate symbol would have been a crane. Now, said Zeeshan, Dubai's symbol would have to be the shopping mall.
He's right about these shopping arcades. Dubai Mall may be one of many – but it's the biggest. It has more than 1,000 shops, a 22-screen cinema, an Olympic-sized ice rink and a giant aquarium with 33,000 aquatic inhabitants. And it all stands in the shadow of the world's tallest building, the spiralling Burj Khalifa (830m).
It would be easy to dismiss Dubai – as I did – for being superficial and showy. But having been there, I now wonder whether Dubai is, in fact, setting its sights on trying to cram the best of travel into one place. After all, if we're doing tick-lists of what you can get from a destination, what's not to like about opulent hotels, glorious sunshine, fine food and glamorous shopping?
Sure, all those statistics can leave your head spinning – but sometimes it's good to leave the quiet life behind and embrace the opulence of the emirate. When it comes to exploring Dubai, I feel like I've just had the starter.
Charlotte Hawkins is a presenter on Sky News
Travel essentials
Getting there
Flights to Dubai are offered by Emirates (0844 800 2777; emirates.com) from six UK airports, and from Heathrow by British Airways (0844 493 0787; ba.com), Qantas (0845 774 7767; qantas.com), Royal Brunei (020 7584 6660; flyroyalbrunei.com) and Virgin (0844 209 7777; virgin-atlantic.com).
Staying there
Al Qasr (00 971 4 366 8888; jumeirah.com) offers doubles from AED2,113 (£350), including breakfast.
Visiting there
The "Culinary Flight" experience at The Burj Al Arab (00 971 4 301 7777; jumeirah.com) costs AED815 (£135) for lunch and AED1,020 (£169) for dinner.
Pierchic at the Madinat Jumeirah (00 971 4 366 6730; jumeirah.com).
Buddha Bar at Grosvenor House (00 971 4 317 6000; grosvenorhouse-dubai.com).
Dubai Mall (thedubaimall.com).
More information
Dubai by numbers
830
The height, in metres, of the Burj Khalifa. Reaching like a needle into the sky above Downtown Dubai, the 164-floor behemoth is the tallest man-made structure in the world. A visit to the vertiginous observation deck costs AED125/£20 (burjkhalifa.ae).
33,000
The number of marine animals on display at Dubai Aquarium and Underground Zoo. Located on the ground floor of Dubai Mall, it has the capacity to hold 10m litres of water and hosts more than 140 different aquatic species, including a collection of sand tiger sharks (the dubaiaquarium.com).
502,000
The area, in square metres, covered by Dubai Mall. Not content with being the largest retail space in the world, the 1,200-shop whopper is currently expanding in an effort to hit the one-million-square-metre mark and welcome 100m visitors a year (thedubaimall.com).
400,000
The number of fireworks used in Dubai's record-breaking New Year's Eve display to welcome in 2014. The six-minute show danced across the emirate's sky and rocketed it into the Guinness World Records (definitelydubai.com).
7
The number of stars claimed by the Burj Al Arab hotel. The sail-shaped, suite-only retreat offers 200 rooms with butler service, nine restaurants, four pools and a goliath spa. Helicopter transfers cost a mere AED10,000/£1,637pp ... one way (jumeirah.com).
Register for free to continue reading
Registration is a free and easy way to support our truly independent journalism
By registering, you will also enjoy limited access to Premium articles, exclusive newsletters, commenting, and virtual events with our leading journalists
Already have an account? sign in
Register for free to continue reading
Registration is a free and easy way to support our truly independent journalism
By registering, you will also enjoy limited access to Premium articles, exclusive newsletters, commenting, and virtual events with our leading journalists
Already have an account? sign in
Join our new commenting forum
Join thought-provoking conversations, follow other Independent readers and see their replies