The 10 Best cycling events

Show all 10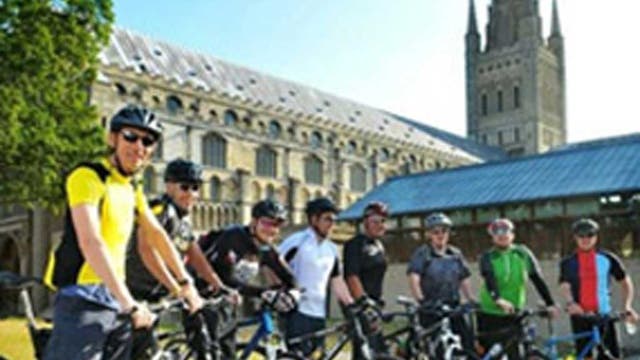 The 10 Best cycling events
From the Dragon Ride in Wales to the Tour of County Tyrone, explore stunning scenery and get fit at the same time
1. Norwich 100 – 27 May
£19.50, ind.pn/norwich100
You can choose between a 100-mile, 50-mile or 25-mile ride on this route, which skirts the Broads and winds its way through olde-worlde Norwich.
2. Macmillan London to Paris – 4 July
£150, ind.pn/maclondonparis
Ending up in front of the Eiffel Tower, this capital ride covers 300 miles. Macmillan requires you to raise £1,500 to cover costs.
3. Dragon Ride Wales – 10 June
£29.50, wiggledragonride.com
The larger routes on this ride, which begins in Port Talbot, have sold out. But you can still join the 37km ride (phew!).
4. South Downs Epic – 24 June
From £24, wiggle.co.uk
ind.pn/southdownsepic There are two rides, the epic (44 miles) and standard (23 miles). Both provide lovely views of the south coast and some challenging climbs.
5. Manchester to Liverpool – 3 June
From £16, ind.pn/manctoliver
This NSPCC ride starts at Salford Quays and moves off along the ship canal to Liverpool, even nipping down a certain Penny Lane.
6. Bournemouth Sportive – 27 May
£24, ind.pn/bournemouthsportive
This 70-mile route traverses Dorset, Hampshire and Wiltshire, mostly on quiet country roads.
7. Mega Meon Sportive – 1 July
From £16, ind.pn/megameon
The 55-mile fun ride is the main attraction here: it's easy to medium and mostly on the road, taking in the South Downs and pretty views across the Solent.
8. The Great British Bike Ride Land's End – 28 August
£250, greatbritishbikeride.com
Finishing at Twickenham Stadium, this covers 400 miles. The Rainbow Trust asks riders to pay £250 and guarantee £1,250 of sponsorship.
9. Glasgow 100 – 12 August
From £28, action.org.uk
ind.pn/glasgow100
Glasgow's 100-mile ride for Action Medical Research is rated 4.5/5 for difficulty. The route takes in a few 10 per cent gradients.
10. Tour of County Tyrone – 5 June
From £15, ind.pn/touroftyrone
Choose between two routes here, a 98- and 64-miler. Whichever you plump for, you're sure to see Tyrone's most lovely scenery.
Join our new commenting forum
Join thought-provoking conversations, follow other Independent readers and see their replies