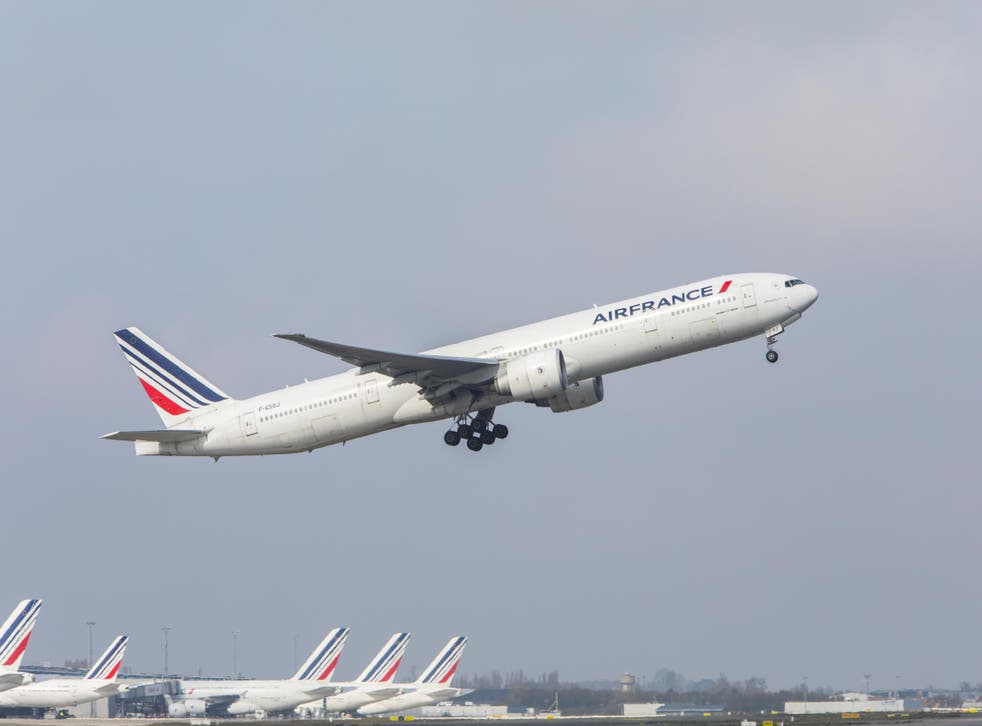 Air France strikes: When are they and how will they impact UK travellers?
Four more days of strikes are set for the remainder of April
Since a round of strikes began in February, hundreds of thousands of passengers on Air France have had their travel plans wrecked. This is your guide to what's going on at the airline, and your rights.
Q Why are Air France staff taking action?
In February, the Air France group (which includes KLM) reported a 42 per cent rise in operating profit to €1.49bn (£1.3bn). At the time, the chief executive, Jean-Marc Janaillac, praised "the commitment of employees and the continuing focus on the quality of customer service".
But pilots, cabin crew and ground staff say their pay has been steadily eroded since 2011 while shareholders are gaining. They are demanding a 6 per cent pay rise. The company describes the demand as "unrealistic" and initially offered only a 1 per cent increase.
On 10 April, that was doubled to 2 per cent, with M Janaillac calling it "strong and reasonable" and saying the trades unions would be "irresponsible" not to talk.
But Philippe Evain, president of one of the pilots' unions, the Syndicat National des Pilotes de Ligne (SNPL), said the offer "is not serious and does not address the gravity of the problem".
The unions met management again on Monday 16 April. The airline offered further increase from 2019 to 2021, contingent on what is called a "growth pact": an agreement on increasing productivity, subject to financial results. Air France management is "proposing a final agreement for signature up to Friday 20 April 2018 at midday".
A two-day stoppage on Tuesday 17 and Wednesday 18 April went ahead, with another planned for the following Monday 23 and Tuesday 24 April.
Q What is the likely effect?
Pilots and other Air France staff who intend to strike are obliged to inform the airline in advance, sending a message saying: "Je me déclare gréviste le 17 avril 2018 de 00h00 à 23h59." Once Air France knows how many staff will be staying away, it starts cancelling dozens of flights.
During previous rounds of strikes, around 30 per cent of flights have been grounded, both on Air France and its "low-cost" Joon subsidiary. Every stoppage so far has led to the cancellation of some links connecting Paris with Heathrow, Manchester and Edinburgh.
Other UK airports are unaffected because services are operated by Hop!, which is not included in the action, or "code-share" partners such as Flybe and CityJet.
With a 30 per cent cancellation rate across the schedules, on a typical flight from one of these points via Paris to another destination, it is more likely than not that at least one of the flights will be grounded.
Q How do I know if my flight is cancelled — and what happens if it has been?
You should be informed the afternoon before departure if the flight has been grounded. If that happens, says Air France: "We recommend that you do not travel to the airport. Our staff will do their utmost to offer you an alternative solution."
In order of priority (from the airline's perspective, and possibly yours), the best option is a different flight on Air France or KLM — if the latter, you may find yourself flying on the Dutch airline via Amsterdam at pretty similar timings. You might instead be re-booked on another airline. Or you could be told you will be flying on a different day.
If you are not assigned an alternative flight, contact Air France (though staff who are working will be very busy) or your travel agent.
You can opt for a full refund if you prefer. Tickets booked through agents may take some time to process.
Q I have a forward booking with Air France. What are my options?
If you are booked on a flight departing on one of the strike dates, Air France is offering the chance to rebook for any date this month, with the recommendation "to avoid a rebook on another day impacted by the strike".
Alternatively, you can ask for the value of your ticket to be converted into a voucher valid for one year on Air France, Hop!, Joon or KLM flights.
Q Why does Air France warn that the number of passengers on some flights might be restricted?
Because with a significant number of cabin crew on strike, some departures may be below full strength.
World news in pictures

Show all 50
The general rule is that there must be one member of cabin crew for every 50 seats on the plane. But in some circumstances, an airline is permitted to operate with one fewer member of cabin crew — so long as the ratio does not fall below one per 50 passengers, rather than seats.
So on an Air France "Caribbean configuration" Boeing 777 flight, with 468 seats, there must normally be at least 10 cabin crew. On a full 777 from Havana to Paris, 18 people would need to be offloaded in order for the flight to operate with just nine cabin crew.
Q What compensation can passengers claim if their journey is disrupted by the Air France strike?
Under European passengers' rights rules, no cash compensation is payable when industrial action triggers cancellations, delays or (in the case of flights where the number of passengers must be reduced) overbooking.
Strikes are classified as "extraordinary circumstances which could not have been avoided even if all reasonable measures had been taken", which means airlines are off the hook for compensation claims. As you may observe, that seems an odd judgment since one reasonable measure to avoid flight disruption would be to settle with the trades unions.
But besides cash compensation, the passengers' rights rules also impose airlines with a clear duty of care: to provide meals and accommodation as necessary until the carrier can get you to your destination, possibly on a different airline.
If you can demonstrate actual financial loss as a result of an Air France strike cancellation, it may be that you could claim under the Montreal Convention for damages. But that could require the services of a lawyer.
Q I read someone was told to stay in Caracas for an extra week when Air France cancelled their flight. Is that allowed?
Not that I can see. The European passengers' rights rules insist that if a flight is cancelled, the passenger is entitled to "re-routing, under comparable transport conditions, to their final destination at the earliest opportunity".
While that might seem clear enough, airlines have made some fairly liberal interpretations of what Europe means by "the earliest opportunity": easyJet insists it has 48 hours to try to get you to your destination on its own services, while Ryanair will try to get you on an alternative flight on the same day or the following day, and will only consider alternative airlines if nothing else is available.
Seven days might be regarded as reasonable if the location was a remote island with only one flight a week, but Caracas has nightly departures to Europe on airlines such as Iberia, Air Europa and TAP Portugal.
Q Should I avoid booking with Air France over the next few months?
You could, but that would mean opting out of some useful flights, often at good fares. For example, later in the year Air France/KLM has deals from Manchester to Beijing for under £450, and from Heathrow to New York for under £350 return.
Q How long can strikes drag on?
That is up to Air France management and the unions. The net cost of a day's strike has been estimated by the airline at around €25m (£22m) per day. That is mainly comprised of lost revenue, but care costs and re-booking on other airlines are also significant. The annual cost of paying the full 6 per cent increase would be around €250m (£220m), roughly the same as 10 days of strike.
In addition, there is always an unquantifiable cost of an airline strike. As soon as a carrier is seen to be vulnerable to strikes, passengers will tend to book away — especially if they are business travellers, who pay the highest fares.
In the past three months, Air France's share value has slumped by one third. With conflict in the Middle East threatening to push up fuel prices, Air France management is certainly keen to settle.
Q How relevant is Air France?
Very. The Air France group, including KLM, Joon and Transavia, carries almost as many passengers as IAG (British Airways, Aer Lingus, Iberia, Vueling and Level). Through its Paris CDG hub, it offers UK passengers a vast range of destinations, with the added possibility of KLM connections via Amsterdam (so you could fly Manchester-Paris-Hong Kong-Amsterdam-Manchester).
But competition from other airlines will only intensify. Ryanair and easyJet are growing relentlessly, having already forced Air France of routes from anywhere in the UK to airports outside Paris. From July, British Airways' sister airline, Level, starts flying from Orly airport in Paris to New York, Guadeloupe, Martinique and Montreal — all key Air France routes.