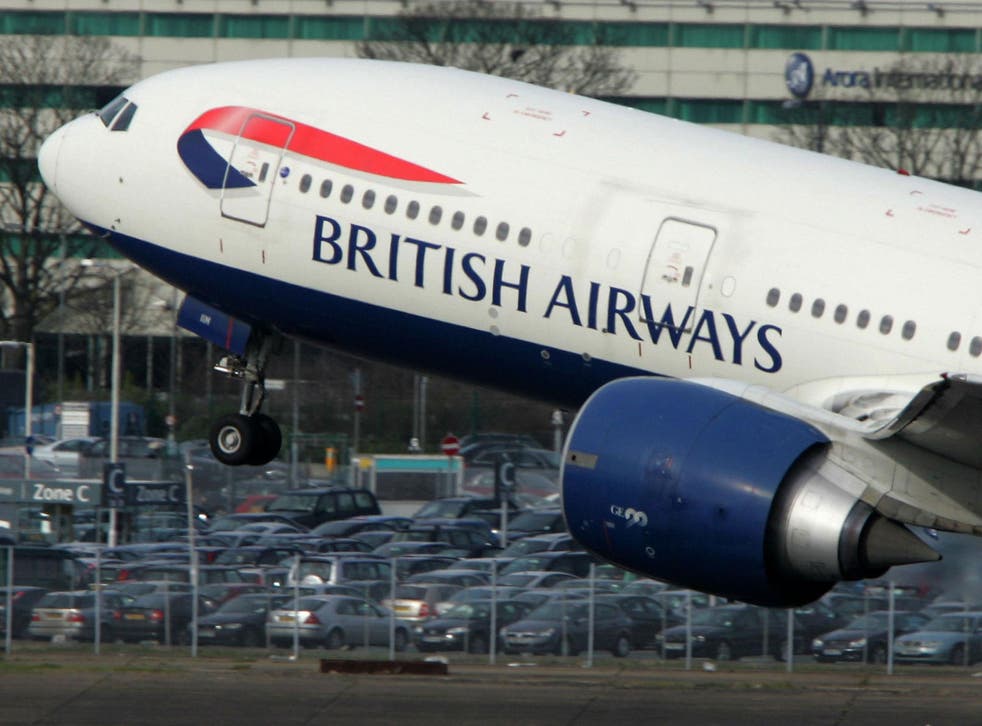 BA cabin crew begin one-week strike over 'poverty pay'
Airline says only 0.4 per cent of flights will be affected
Mixed Fleet staff have been recruited since 2010, at the conclusion of the last big cabin crew dispute, and now make up around 30 per cent of Heathrow crew. They work on a range of domestic, European and long-haul routes.
They are employed on less favourable terms than longer-serving cabin crew. The union says their earnings constitute "poverty pay". British Airways rejects this, and says its pay rates are competitive with the industry.
Just before Christmas it appeared a deal had been reached, when BA made an improved pay offer. But in a ballot conducted just before the New Year, cabin crew rejected the deal. Since then Unite members have taken 26 days of industrial action.
A BA spokesperson said: "Once again we will be able to fly all customers to their destinations, despite industrial action by Mixed Fleet Unite. We will operate a full schedule at Gatwick and London City airports as well as the vast majority of our Heathrow schedule.
"We will merge a very small number of Heathrow services, and all affected customers will be rebooked to alternative flights."The airline will 'wet-lease' aircraft and crew from other carriers to cover gaps in the schedule.
In addition, over the first four days of the strike, British Airways expected to cancel 14 flights out of a total of 3,300 departures — corresponding to 0.4 per cent of the airline's total schedule.
During the most recent four-day strike, BA flew its normal timetable with no wet-leased aircraft.
A Unite spokesman said: "A key part of the industrial action has been raising awareness among passengers and the public over the issue of low pay and the effect it has on British Airways' mixed fleet cabin crew. We've seen the issue raised in Parliament and received a positive response from the public.
"In addition there has been unseen disruption to the airline which has been forced to put additional time and resources into trying to minimise the impact and cost of industrial action."
The union claims the current pay levels are jeopardising safety. Two-thirds of Mixed Fleet cabin crew who responded to a union survey said they had reported for duty when they were unfit to fly. They are paid a £3-per-hour "elapsed hourly rate" when on duty, and said they could not afford to be off sick and lose the allowances involved.
Five out of six Mixed Fleet cabin crew reported that their financial circumstances since joining BA have caused "stress and depression".
Some staff said they had been "sleeping in cars between flights because they could not afford the petrol to get home".
British Airways strike: what it's about, and the possible effects
Ryanair has offered passengers on BA's sister airline, Vueling, "rescue fares" to and from Barcelona.
Vueling, a Spanish budget carrier, is cutting routes from Leeds-Bradford and Newcastle to the Catalan capital this month. Ryanair is offering £9.99 one-way fares to affected travellers — but to Girona airport, 60 miles from Barcelona.
Robin Kiely of Ryanair said: "Customers should book quickly because these fares will be gone very soon – just like Vueling's Leeds and Newcastle routes to Barcelona."
Join our new commenting forum
Join thought-provoking conversations, follow other Independent readers and see their replies