Boeing 787 Dreamliner launch: 300 passengers enjoy surprise flight as the future of aviation departs from Gatwick

Show all 9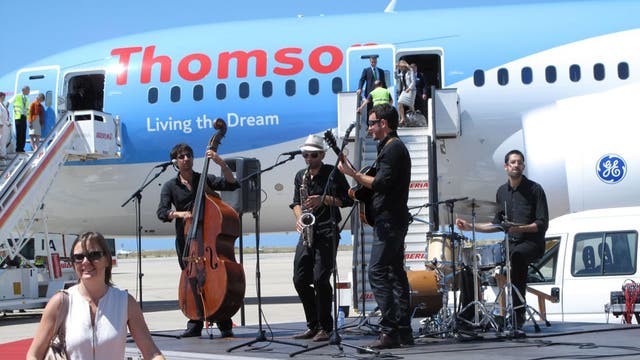 Boeing 787 Dreamliner launch: 300 passengers enjoy surprise flight as the future of aviation departs from Gatwick
Seven minutes early, but four years late, the future of flying finally arrived at Gatwick at 7.58am today. The first Boeing 787 Dreamliner belonging to a British airline left gate 52 at the airport's North Terminal, filled with nearly 300 passengers enjoying an unexpectedly comfortable start to their holidays in Menorca.
Thomson Airways, the UK launch customer for the troubled jet, starts transatlantic services next month. From 8 July the plane will fly from Gatwick, East Midlands, Manchester and Glasgow to Florida and Mexico. But in order swiftly to build up experience for crew, the airline is operating Dreamliner shuttles to and from the Mediterranean in place of conventional planes. Over the next few weeks, passengers booked on flights to short-haul destinations such as Rhodes and Dalaman will find themselves flying aboard the new jet.
"They told us when we checked in," said Astrid Dodd from Wimbledon, travelling on a week's package holiday with her husband and daughter. "You can see the extra legroom as soon as you get on. The seats are a lot more comfortable."
The 787 is an ultra-long-haul aircraft designed as a "jet-lag buster". It is lighter and brighter than older aircraft, and has a cabin pressurised to a lower altitude aimed at reducing the fatigue of long trips.
"Customers will arrive at their destination a lot more relaxed and refreshed than on existing aircraft," said David Burling, managing director UK of Thomson and First Choice, who welcomed passengers on board the maiden flight.
Airlines have ordered hundreds of 787s because it is faster and far more fuel-efficient than the older, gas-guzzling 767s that it is intended to replace. But the new aircraft has been plagued with delays. The 787 was ordered by First Choice, now subsumed into Thomson, in 2005, with deliveries expected in 2009. But the first test flight took place only at the end of that year.
The Dreamliner entered service with other airlines in 2011, over three years late. But after a series of safety scares involving overheating batteries, it was grounded worldwide earlier this year. The time spent devising and fitting an approved fix meant deliveries of Thomson's aircraft were further delayed. As a result, passengers who had been promised Dreamliner flights in May and June were switched to old 767s.
"The way we see it is: good things happen to those who wait," said Mr Burling. "We have waited a long time for the aircraft, but now that it's here we're very excited with what we've got."
On take off from Gatwick today, the engine noise was so moderate that softly spoken conversations could continue uninterrupted; the round of applause upon the 787 getting airborne was actually louder.
Once in the cruise at 41,000 feet, passengers could check out the on-demand video and audio entertainment; the limited selection includes Justin Bieber and Black Sabbath (though not on the same CD).
The windows are larger than on existing aircraft; they are designed so that even travellers in the middle seat of the nine-across configuration are able to see the horizon. Those in the window seats spent some time playing with the controls, which act in the same way as a dimmer switch rather than the simple open/closed options offered by conventional window blinds.
Passengers on the maiden flight were given a free demonstration of the "Thomson wave" - a bilious green, blue, orange and pink light show that sweeps through the cabin in the manner of a 1970s disco light show. British Airways, which takes delivery of its first 787 on Wednesday, is not thought to have adopted the same idea. BA's configuration – with business and premium-economy cabins – will seat only 214, compared with 291 on Thomson's aircraft.
Back on flight 4536, above the snow-dusted Pyrenees, passengers were given a glass of prosecco to toast the first departure. Bacon baguettes were also handed out; on subsequent flights, they will cost £3.90 each.
The sleepy Balearic island of Menorca came to life for the new jet's arrival. At the foot of a red carpet flanked by local dignitaries, a jazz band serenaded passengers as they walked down the aircraft steps.
On the flight deck, preparing for the journey back to Gatwick, Captain John Murphy pronounced himself delighted with the first commercial flight of the aircraft: "It's great for the passengers, and it's great for us".
Not all the passengers on the return leg were thrilled with the experience. A key 787 benefit is bigger overhead lockers for hand baggage. While BA will allow cabin luggage up to 23kg, Thomson Airways is maintaining its 5kg maximum, and strictly enforcing it. Mr Robins was charged £26 for being 2kg over the limit.
However, Nick Parker, an aircraft enthusiast from Peterborough, pronounced himself "Well impressed" with the trip when it touched down at Gatwick.
Join our new commenting forum
Join thought-provoking conversations, follow other Independent readers and see their replies