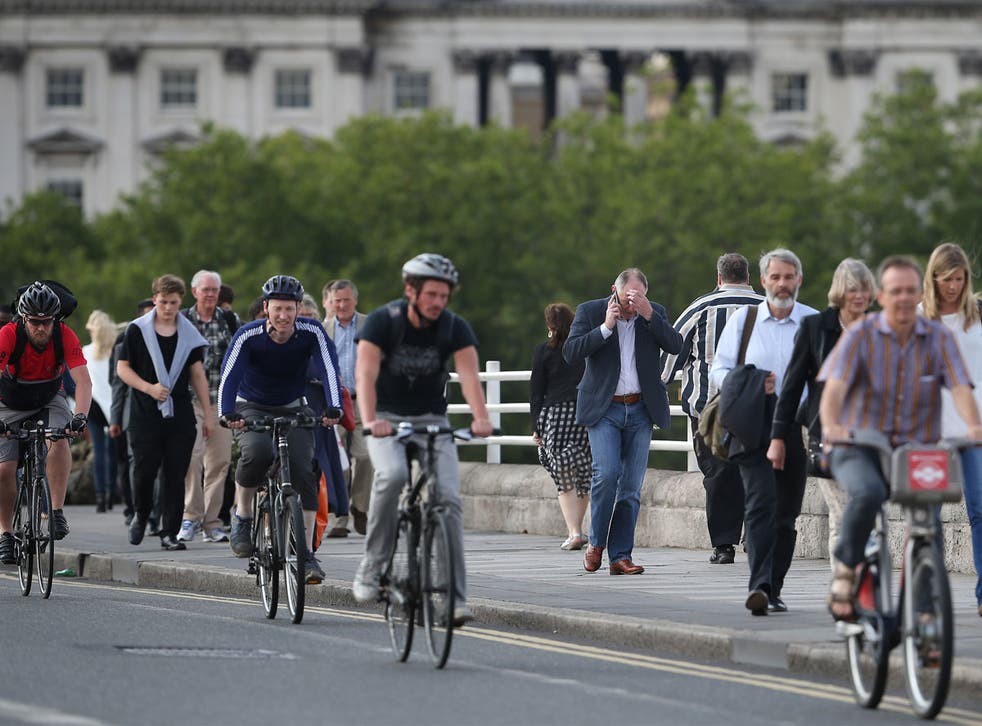 Britain's most dangerous road junctions for cyclists revealed
Three quarters of all cycling injuries recorded last year occurred within 30 metres of a junction or roundabout
Road junctions in London, Cambridge and Devon have been named the "most dangerous" in Britain for cyclists, after high numbers of cycling accidents were recorded at intersections there last year.
Maps, produced by Esri Uk and The Times, revealed that three quarters of all cycling injuries recorded last year occurred within 30 metres of a junction or roundabout.
The east London junction of Stratford High Street and Warton Road has been labelled the "worst area" for cyclists with eight riders injured on the junction last year and two deaths recorded close by.
Six of eight junctions which recorded the highest accident rates were located in London, in Deptford, Clapham, Peckham, Shoreditch and Stepney Green.
The junction in Stratford, however, recorded the highest injuries in London despite a blue cycle lane being connected along the main road as part of the "cycle superhighway" programme. According to Transport for London's website, the superhighway is supposed to make the route into central London "safer for cyclists and other road users".
The second most dangerous blackspot was located on a roundabout in Cambridge between Trumpington Street and Lensfield Road, with seven accidents recorded there last year.
Devon contained the only "rural blackspot" with six pedal bike accidents recorded last year on the A3072 near Beaworthy Devon.
Statistics released in June from the Department of Transport show that the number of cycling casualties rose by 9.5 per cent, to 21,287 in 2014 - the highest number of casualties since 1999.
The number of cyclists who have been seriously injured has risen 8.2 per cent to 3,401 last year.
The number of seriously injured cyclists has increased every year since 2004, with the exception of 2012/13, however this also coincides with a rise in pedal cycle traffic on British roads.
Roger Geffen, campaigns and policy director at CTC, the national cycling charity, told the Times: "These maps highlight the crying need to give cyclists greater safety and priority, particularly at junctions."
Britain's most dangerous junctions:
1) Warton Road/ A118, Stratford, London: 8 cycling casualties in 2014
2) Lensfield Road Roundabout, Cambridge: 7 cycling casualties in 2014
3) Grinstead Road/ Evelyn Street, Deptford, London: 7 cycling casualties in 2014
4) A3072, Beaworthy, Devon: 6 cycling casualties in 2014
5) Fentiman Road/ A3, Clapham, London: 6 cycling accidents in 2014
6) Peckham Road/ Kelly Avenue, Peckham, London: 6 cycling casualties in 2014
7) Hyde Road/ Whitmore Road, Shoreditch, London: 6 cycling casualties in 2014
8) Mile End Road, Tower Hamlets, London: 6 cycling casualties in 2014
Join our new commenting forum
Join thought-provoking conversations, follow other Independent readers and see their replies