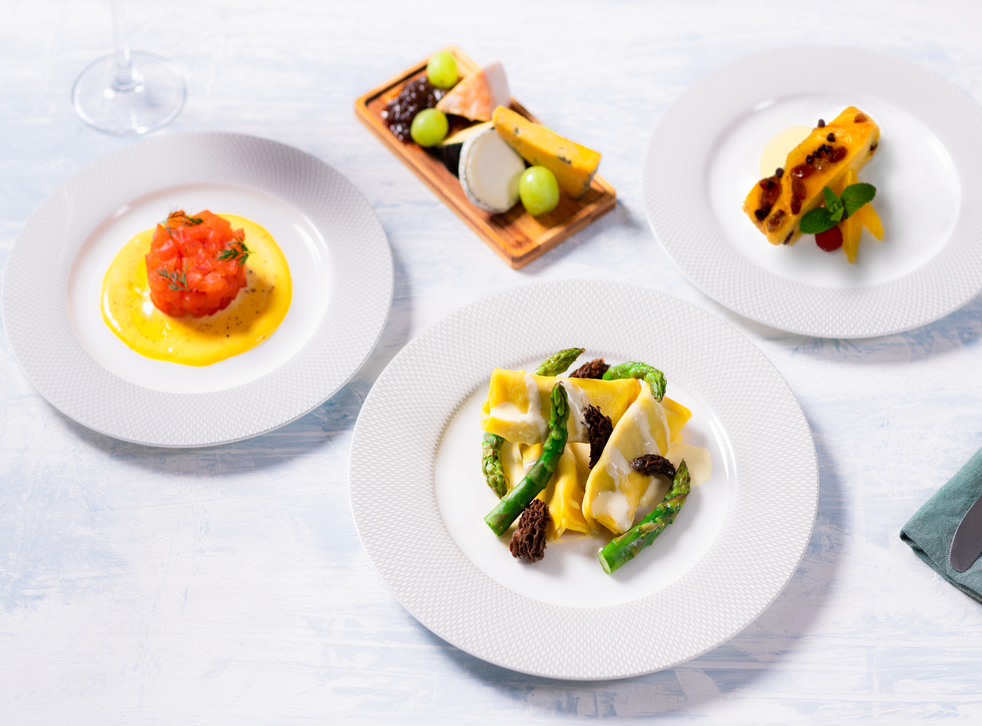 British Airways charges £80 for four-course inflight takeaway meal
The cheapest meal for two costs the same as a return BA flight between London and Nice
Premium passengers who are missing the inflight dining experience can now simulate the experience at ground level.
British Airways is offering the chance to "experience first class dining at home".
Along with the home delivery firm Feast Box and the caterer Do & Co, the airline is offering a "travel-inspired recipe box with first class menus and ingredients".
The price of a four-course meal for two is £80 for two for the pasta option or £100 including "beef cheeks in a port wine jus".
The starter is Loch Fyne smoked salmon timbale; the dessert is dark chocolate and orange liqueur bread-and-butter pudding with vanilla sauce; and four English and Welsh cheeses are included, with crackers.
Read more: 
Hamish McVey, BA's head of brands and marketing, said: "Although it might appear a little different being delivered to a customer's door rather than at 38,000 feet, we hope it will be just as exciting."
The founder of Feast Box, Jyoti Patel, said: "Offering people the chance to travel the world through food is at the core of everything we do."
Each meal kit includes a voucher for 10 per cent off a BA flight, which could more than pay for the cost – though there is a limit of one per customer.
The £80 cost of the pasta meal equates to the Air Passenger Duty on a long-haul economy class flight. Or it could be spent on a return British Airways economy flight from London Heathrow to Nice in June. This includes a snack and bottle of water.
At present all non-essential international travel is banned from the UK.
Join our new commenting forum
Join thought-provoking conversations, follow other Independent readers and see their replies