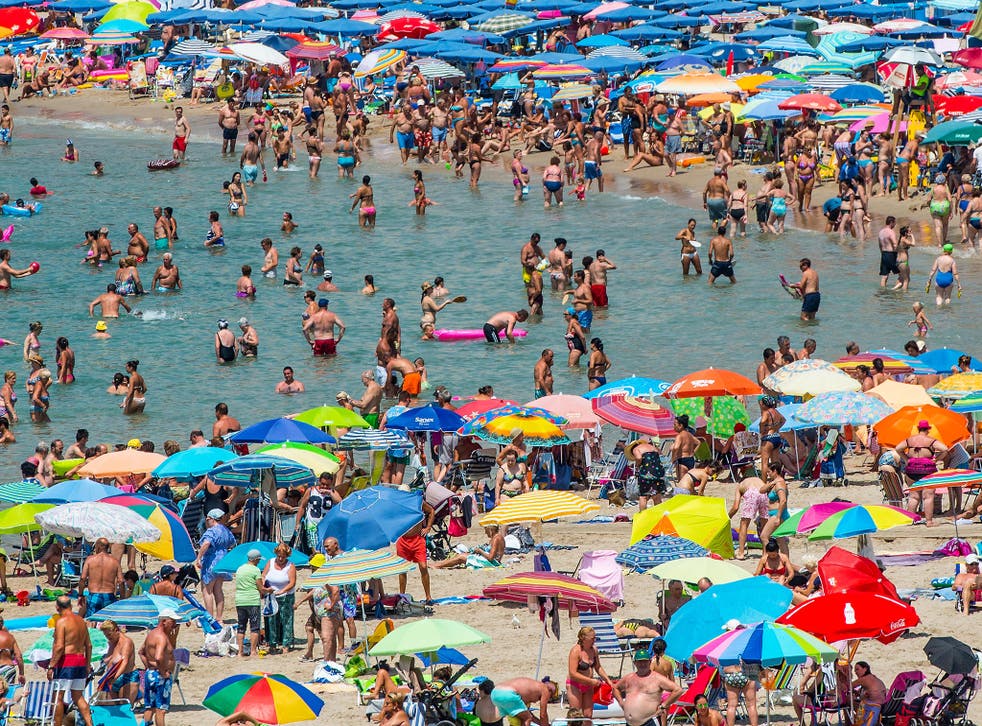 Britons take advantage of economic unrest by flocking to eurozone for cheaper holidays
Greece is seeing a surge in popularity, despite the migrant crisis in Kos
Britons are taking advantage of the increasingly strong pound and economic unrest in Europe to splash out on continental holidays.
Greece is seeing a surge in popularity, according to the UK's largest travel association, despite the migrant crisis affecting Kos and other popular tourist spots in the country. Travel companies said they were expecting a rush of last-minute bank holiday foreign breaks this weekend – regardless of regional troubles.
With £1 now worth almost €1.40, holidays to the 19 eurozone countries are about 12 per cent cheaper than they were at this time last year, making 2015 the cheapest year for holidaying in Europe for almost a decade. Britons on holiday take an average of £450 spending money with them, equating to a currency cost saving of more than £50 for those heading to Spain, France or Italy this summer.
The Association of British Travel Agents (Abta) has been receiving reports from its members that foreign holidays have risen year on year – with Tunisia and Turkey being the two notable exceptions.
Although trips to Turkey provide even better value than to eurozone countries, costing 20 per cent less than they did in August last year – the result of the Turkish lira falling victim to the political uncertainty associated with the upcoming domestic elections, together with concerns surrounding the war in neighbouring Syria – many Britons are clearly thinking think twice before travelling.
A spokesman for Abta said: "The information we're receiving from our members is that European holidays are generally on the rise. Britons always prefer going abroad if they can, roughly at a 60-40 ratio. The only change was following the credit crunch when many families just didn't have the money to go abroad.
"The growing strength of the pound has certainly helped this summer and the eurozone crisis means several countries such as Greece and Spain are reducing their prices in a bid to attract tourists."
The strong pound has also resulted in a sharp rise in inquiries from people considering buying property overseas. Overseas Guides Company, a website which helps people move overseas, says the number of people ordering buying guides was up 27 per cent in the first half of 2015 compared with the same period last year.
Unsurprisingly, the top four destinations this year are all in Europe, with Spain, France, Portugal and Italy leapfrogging the United States, the fifth most popular destination.
Website head Angelos Koutsoudes said: "Given how kind the sterling-euro exchange rate has been this year compared with the historically less favourable sterling-US dollar rate, it's unsurprising that interest in eurozone countries is faring better than the US, where Florida has traditionally been the most popular destination."
Despite the rise in foreign travel this summer, companies offering British staycations are also reporting a significant bounce in business.
York-based Park Leisure, which owns 11 holiday parks across the UK, reported a 56 per cent rise in turnover to almost £30m to the end of June compared with last year.
Chief executive Gary Molloy put it down to families having more to spend on holidays, but with the situations in countries such as Greece and Tunisia making it less stressful and safer to stay in the UK.
He said: "I think there are more and more people looking for their own piece of Britain to go holidaying in. Some people are fed up of all the stress and hassle of going abroad. I just think there's a new breed of British people who are wanting to spend more time in their own country."
Join our new commenting forum
Join thought-provoking conversations, follow other Independent readers and see their replies