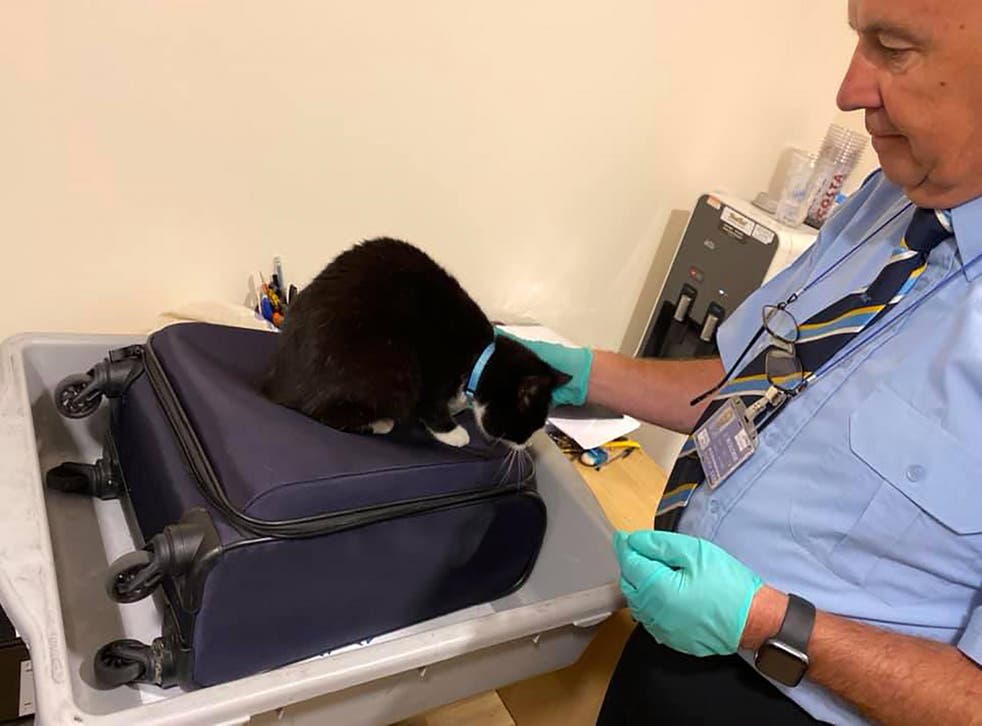 Couple 'totally shocked' after discovering stowaway cat in luggage for New York trip
Pair had no idea Candy had come along for the ride
A couple were "totally shocked" when they were pulled aside at airport security due to a stowaway cat.
Nick and Voirrey Coole were on their way from the Isle of Man to New York to celebrate Nick's 40th birthday when one of their bags was targeted for extra checks.
The pair thought they'd left the bag empty in order to bring back souvenirs and gifts but, unbeknown to them, Candy, one of their three cats, had climbed inside.
"We were totally shocked," said Nick. "She must have snuck into the bag before we left for the airport, but we didn't hear or feel her at all on the journey there."
The couple first knew something was amiss when they were pulled into an interrogation room.
The cats of Essaouira

Show all 10
"Airport security were all very puzzled and repeatedly asked us if the bag was ours after it had been through the scanner," said Nick.
"We ran out of ideas for what it could have been, and my wife even asked them, 'It's not a cat is it?'" The Cooles were worried about what might happen next, but staff decided not to prosecute and they were able to still make their flight.
"My wife's father, Barry, came to pick [Candy] up and she's now back at home being looked after while we enjoy our trip," Nick said.
It's not the first time a stowaway animal has caused trouble for those travelling by plane.
In June 2019, a man accidentally carried a snake onboard a flight from Florida to Hawaii.
The 20-year-old passenger only discovered the reptile had stowed away in his bag when it slithered out of his rucksack once he'd arrived at a holiday rental property in Pukalani, Maui.
Support free-thinking journalism and attend Independent events
About 30cm long and 63mm in diameter, the black racer snake was non-venomous, according to the US Department of Agriculture.
However, snakes are illegal in Hawaii as they have no natural predators and pose a threat to indigenous species.
Register for free to continue reading
Registration is a free and easy way to support our truly independent journalism
By registering, you will also enjoy limited access to Premium articles, exclusive newsletters, commenting, and virtual events with our leading journalists
Already have an account? sign in
Register for free to continue reading
Registration is a free and easy way to support our truly independent journalism
By registering, you will also enjoy limited access to Premium articles, exclusive newsletters, commenting, and virtual events with our leading journalists
Already have an account? sign in
Join our new commenting forum
Join thought-provoking conversations, follow other Independent readers and see their replies