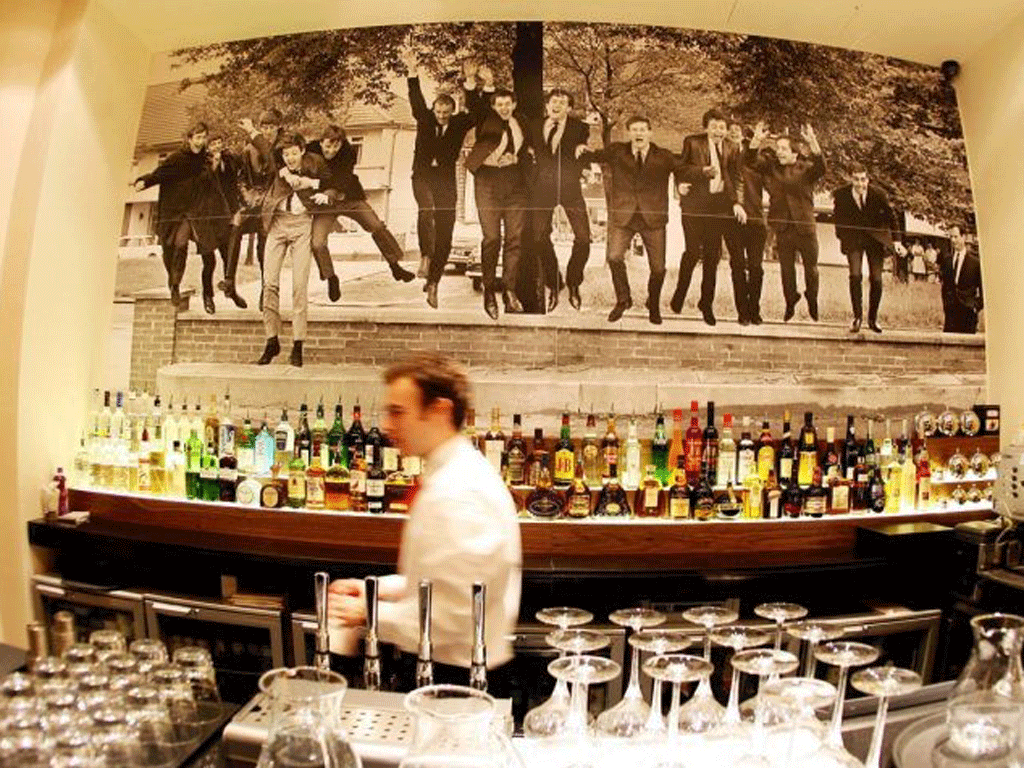 A day (or more) in the life of The Beatles
This week marks 50 years since the release of the band's first single – the perfect time to celebrate with a Fab Four-related break
What's the attraction?
It was 50 years ago today, that Sgt. Pepper taught the band to play. Well, sort of. This Friday marks exactly half a century since the release of "Love Me Do", the debut single by The Beatles. A deceptively simple but timelessly catchy track – defined as much by John Lennon's bluesy harmonica riff as Paul McCartney's sweetly hopeful lyrics – it peaked at just 17 in the UK charts.
But it would prove the launchpad for the soaring career of a rock band that – many would say – is still the greatest to have existed. Five decades on, traces of the Beatles linger all over the planet, and their often turbulent story can be re-enjoyed via trips to places as varied as Liverpool, Amsterdam, India and San Francisco. So may we introduce to you, the act you've known for all these years...
Gee, it's good to be back home
Everything Beatles begins, of course, in Liverpool. The group's native city is festooned with significant sites – not least the Cavern Club (0151 236 9091; cavernclub.org), the venue where they learned their trade, performing 292 times between February 1961 and August 1963. Rebuilt since the band played, the Cavern offers guided Beatles excursions, including the "Magical Mystery Tour" – daily for £15.95. Based at Albert Dock, The Beatles Story (0151 709 1963; beat lesstory.com) brings the band's tale to life with multimedia zeal – open daily 9am-7pm, entry £15.95. But the holy grails are Lennon and McCartney's childhood homes. A tour that visits the two houses is offered by the National Trust (0151 427 7231; nationaltrust.org.uk/beatles) Wednesday to Sunday (£20).
Woke up, fell out of bed
If you decide that your nostalgic burst of Liverpool Beatlemania warrants an overnight stay, you can easily find accommodation options that trade on memories of the band. Moored at Albert Dock, the Yellow Submarine (twitter.com/fab4yellowsub) celebrates what is surely the jauntiest of the group's tunes. Technically a refitted narrow-boat, the "submarine" is decked in Beatles paraphernalia, and sleeps eight. Complete rental of the sub starts at £165 a night, room only, via Late Rooms (0844 774 1001; laterooms.com). Elsewhere, the Hard Day's Night Hotel (0151 236 1964; harddaysnighthotel.com) offers 110 Beatles-themed rooms – the Lennon Suite, for example (from £950, with breakfast), comes with a white grand piano. Basic double rooms cost from £90 per night, room only.
You're such a lovely audience
Although Liverpool played a crucial role in the band's gestation, Hamburg was their proving ground. The band developed via five stints in the German port (between August 1960 and December 1962), playing rock clubs around the notorious Reeperbahn, in the St Pauli district – with its seamy red-light glow. Some of the old venues – Star-Club, Top Ten – have closed, but two big Beatles landmarks remain in action: the Kaiserkeller (grossefreiheit36.de) and Indra (indramusikclub.com). Beatles Tour Hamburg (0049 162 379 7747; beatles-tour.com) does walking tours (Thursday to Sunday, 4pm; €19.50). A three-night stay in Hamburg at the four-star Hamburg-Altona (two sharing), flying from Gatwick with easyJet on 25 October, costs £285 per person through Dertour (020 3131 0532; dertour.co.uk).
A crowd of people stood and stared
The Beatles' live career was short. Frustrated with the treadmill of touring, the quartet struck up their final full public concert at Candlestick Park in San Francisco on 29 August 1966. Oddly, the best way to "revisit" that night is to see stadium residents the San Francisco 49ers (001 415 464 9377; 49ers.com/stadium) play an (American) football game (tickets at nfl.com/ticketexchange, from $30/£18). But be quick – Candlestick Park will be demolished after the 2012-13 season. A week's stay (room only, two sharing) at the four-star Sheraton Fisherman's Wharf, departing on 20 October from Heathrow with Virgin Atlantic, costs £1,472 per person (0844 557 4321; virginholidays.co.uk).
Insider information
"The 50th anniversary of the release of the first Beatles single is immensely significant. The Beatles Story is celebrating the event by inviting fans from around the world to come to Liverpool and help us break the Guinness World Record for singing 'in a round' – by performing 'Love Me Do' together [Friday, midday, at Liverpool Cruise Liner Terminal]. We expect thousands to attend." Jerry Goldman, The Beatles Story (beatlesstory.com)
Somebody spoke, and I went into a dream
Retirement from the stage gave The Beatles the chance to expand their music and their influences. Notably, February 1968 saw them decamp to India to study meditation with their new guru, Maharishi Mahesh Yogi, at his compound in Rishikesh, in the foothills of the Himalayas. The adventure ended acrimoniously, but the fertile atmosphere produced much of the music for the self-titled wonder known as The White Album. And Rishikesh remains a magnet for tourists who want to try yoga in a remote setting. Exodus (0845 863 9600; exodus.co.uk) offers a 15-day "Ganges Explorer" trip that meanders from Delhi to Calcutta via two days in Rishikesh. Prices from £1,879pp, with flights.
The lucky men who made the grade
London is awash with Beatles echoes. Abbey Road Studios (020-7226 7000; abbeyroad.com), where the group grimaced through their last recording sessions, is closed to visitors. However, The Savoy offers a group recording session at the studios, plus a two-night stay at the hotel, for £936pp on 12-14 Oct or 16-18 Nov (020-7836 4343; bit.ly/abbeybeatles). The pedestrian crossing that adorned the cover of the resulting Abbey Road is still outside. The iconic stairwell photos used for the cover of Please Please Me, plus the 1962-1966 and 1967-1970 "best ofs", were shot in the north-west corner of Manchester Square. London Walks (020-7624 3978; walks.com) offers a Beatles-themed tour of the capital for £9.
Who said that?
"I might have been born in Liverpool, but I grew up in Hamburg" – John Lennon
"The Rolling Stones, when [we] started, the limit of [our] ambition was just to be the best band in London... Suddenly, the whole world was opening up – The Beatles were proving that" – Keith Richards
"Now the workers have struck for fame/'Cause Lennon's on sale again" – David Bowie, "Life On Mars?
"I don't believe in Elvis/I don't believe in Zimmerman/I don't believe in Beatles/ I just believe in me" – John Lennon
Talking in our beds for a week
Lennon made use of the attention that followed his marriage to Yoko Ono (on 20 March 1969) – staging a "bed-in" peace protest with his new wife at the Amsterdam Hilton in March 1969. The hotel has not forgotten its week in the spotlight. Guests can sleep in the very same room – now the "John & Yoko Suite" – from €1,799 a night, room only (00 31 20 710 6000; hilton.com). A three-night stay in a deluxe room, flying from Gatwick on 25 October with BA, costs £336pp, room only, with Expedia (020-3564 3904; expedia.co.uk).
Join our new commenting forum
Join thought-provoking conversations, follow other Independent readers and see their replies