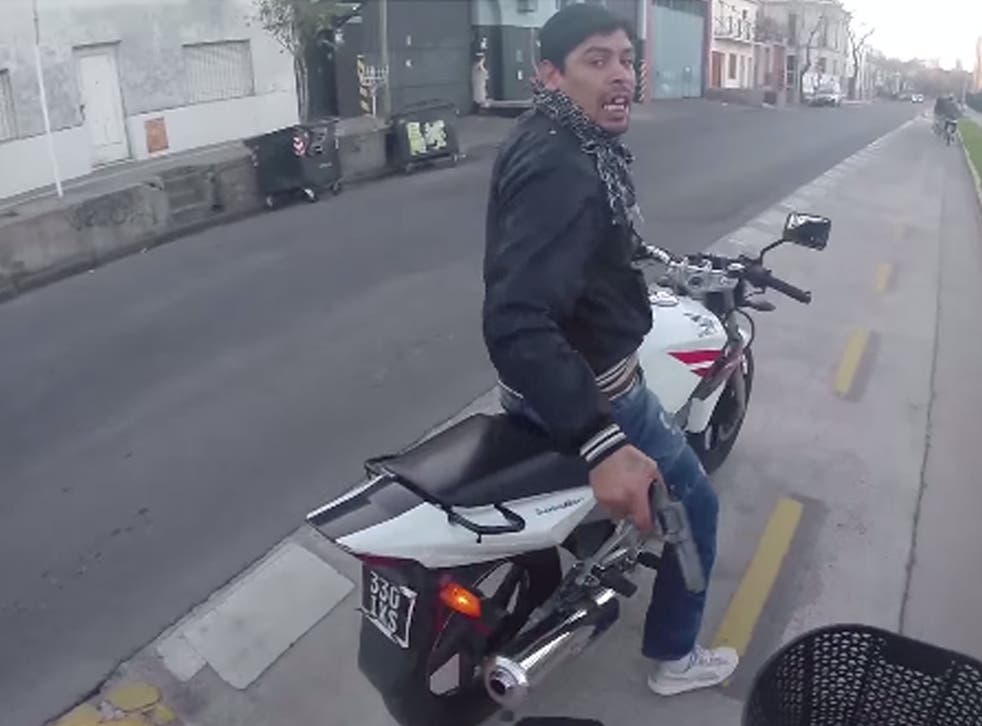 Dramatic GoPro video shows backpacker Alexander Hennessy warding off armed robber in Buenos Aires, Argentina
The man yells "give me the backpack!" in Spanish, but Hennessy fails to understand in the dramatic footage
A video capturing the terrifying moment a robber pulls out a gun at a backpacker in Buenos Aires, Argentina, has gone viral.
The footage, uploaded to YouTube on Tuesday, shows Alexander Hennessy pedalling on a cycle path during a cycle tour, when a man on a motorbike speeds into the shot in such haste that he almost hits a burgundy people carrier.
At first, Hennessy rides past the motorcyclist attempting to block the cycle path, and is apparently unaware that the man is a mugger.
But as he continues to cycle, the motorcyclist re-appears by Hennessy's side and draws a gun from inside his jacket.
Subtitles on the video explain that the man is yelling "give me the backpack" in Spanish, but Hennessy does not understand and frantically replies "I dunno what you're saying, man!" and "amigo" in an attempt to deter the man.
He then abandons his bike in the hope this is what the man is requesting and runs away, but the mugger becomes increasingly frustrated and follows him yelling "la mochilla, la mochilla!" or "the backpack, the backpack!"
When Hennessy's friend notices what is happening, the mugger appears to give in – allowing the backpacker to escape and find a policeman nearby.
Out of breath, Hennessy pants "I'll put the camera away" and he laughs has he tells his friend and the other tourists that he captured the incident on his GoPro camera attached to his head.
The footage was handed to local and police and the armed man was arrested the same day, the Evening Standard reported.
Hennessy and his friend Mike Graziano were visiting Argentina as part of their 'Global degree' – which will see them visit 195 countries in 60 months.
As well as Argentina, they have also visited El Salvador, Guatemala and Canada, all of which they have captured on video and shared on Twitter and Facebook.
"I was on a bike tour in a rough part of Buenos Aires (Argentina) in broad daylight when a thief attempted to steal my camera gear at gunpoint.
"I miraculously happened to be recording with a gopro on my forehead and captured this amazing piece of footage!!" Hennessy wrote on Graziano's YouTube page.
"But this won't stop us from visiting all 195 countries and getting that Global Degree!" he adds.
Join our new commenting forum
Join thought-provoking conversations, follow other Independent readers and see their replies