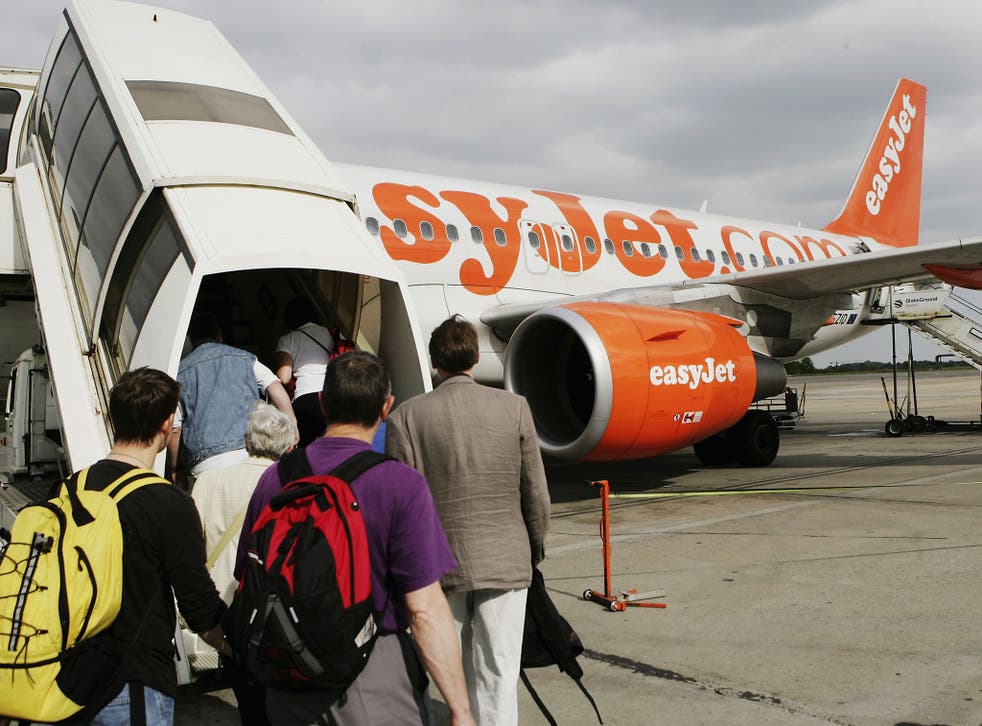 EasyJet to turn away 'have a go' fliers who arrive less than 30 minutes early
Exclusive: Travellers caught out by new rules will have to pay an easyJet 'rescue fee' of £80 to switch to another flight
As the summer travel peak approaches, Britain's biggest budget airline is cracking down on late-running passengers, The Independent can reveal.
EasyJet is imposing a new rule which means anyone trying to pass through the security barriers with less than 30 minutes before take-off will be prevented from getting "airside" and sprinting to the gate – and could end up paying £80 to switch to another flight.
The airline has asked Gatwick to reprogramme its security barriers at which travellers have their boarding passes scanned to reject those with less than half an hour remaining before departure. Previously, tardy passengers with no checked baggage were free to go through the security check and hurry to the departure gate in the hope of getting on the flight. Airline parlance for such a traveller is a HAG, short for Have A Go.
Now, passengers are being explicitly warned of the changes – albeit in small print – on their boarding pass: "Gatwick security control gates are automatically being timed to close 30 minutes before departure."
Travellers who are refused access will be told to return to the easyJet desk "to rearrange their travel arrangements".
For several years, easyJet has had a policy of telling customers they had to get to the departure gate 30 minutes before departure but, in practice, passengers were often able to squeeze on to the flight
The world's safest low-cost airlines

Show all 8
The airline sells "missed flight cover" for £7.50 in advance of travel, which provides the option of a full refund or travel on the next available flight for passengers who turn up late at the airport. For anyone who declines this cover, and is held up on the way to the airport, easyJet charges a "rescue fee" of £80 to switch to another flight.
An easyJet spokesman said the move was being brought in to benefit passengers, "So that they do not needlessly clear security at the point where the gate is already closed." If a flight is known to be late, some leeway will be given. The spokesman said the barrier closure is "dictated by live flight data, based on the actual time of the flight and not the scheduled time."
British Airways runs a similar policy at Heathrow in Terminals Three and Five, with a 35 minute cut-off.
EasyJet's 20th birthday present to frequent flyers
Bizarrely, the easyJet move presents passengers with a baffling contradiction. On the same boarding pass they are told that they should enter the security area with at least half an hour to spare yet also given a conflicting warning that the gate closes 30 minutes before departure.
They cannot both be right. Even with swift progress through security and a sprint, it takes several minutes to reach the nearest departure gate. So a passenger who is just in time to get through the barrier is likely, according to easyJet, to be turned away from the gate. The airline did not explain this contradiction, though the spokesman said: "Occasionally, gates may not shut precisely at – 30 [minutes before departure] for a number of operational and passenger reasons."
Gatwick is easyJet's biggest base, and the company is Gatwick's biggest airline. Around 15 million easyJet passengers are expected to pass through the Sussex airport this year.
The crackdown coincides with widespread delays and cancellations on the main railway line between London Victoria and Gatwick. The RMT union is in dispute with Southern Railway over working practices. The train operator said: "Southern services continue to be severely affected by a high level of conductor and driver sickness. This is leading to a reduced service on a number of routes."
Join our new commenting forum
Join thought-provoking conversations, follow other Independent readers and see their replies