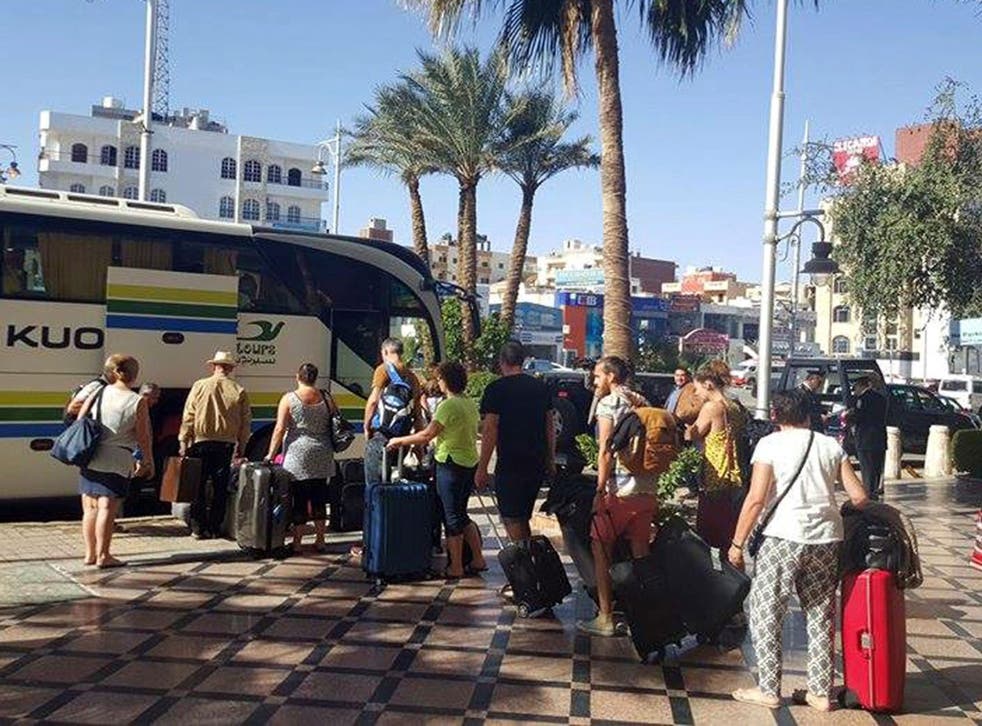 Egypt tourism Q&A: After Hurghada hotel attack, what are rights for holidaymakers?
Simon Calder assesses the latest developments
Flights to Hurghada – the Egyptian resort where three foreign tourists were injured in an attack on the Bella Vista hotel – are continuing as normal, with EasyJet's 11.15am flight taking off from a murky Gatwick as planned.
The airline is telling passengers: "We are concerned to hear of the attacks in Hurghada." But it adds: "As the Foreign Office's advice on travel to Hurghada remains unchanged your flight will operate as planned."
What are the implications for British holidaymakers with plans to go to Egypt - and for the country's tourist industry? Simon Calder, travel correspondent of The Independent, assesses the latest developments.
How does this latest atrocity aimed at tourists in Egypt compare with others?
The attack, extremely distressing though it was for those involved, barely registers. In 1997 the Luxor massacre killed 62 innocent people at an archaeological site beside the Nile. Then a series of attacks along the Sinai peninsula targeted Taba, Sharm el-Sheikh and Dahab in 2004, 2005 and 2006 respectively.
More recently Isis claimed to have placed a bomb aboard the Russian jet that crashed shortly after take-off from Sharm el-Sheikh airport in October, killing all 224 people on board – and leading to a ban on UK airlines flying to and from Egypt's leading resort.
Given that ban, should there still be any flights to Egypt?
The Foreign Office advice is very specific and remains unchanged after the Hurghada attack. For many years the Government has warned that there is a high threat of terrorism in Egypt, but says the main resorts on the Red Sea, as well as the Nile Valley and the key cities including Cairo, are regarded as safe for British holidaymakers. The only ban that is in place is specifically about flights to and from Sharm el-Sheikh. So charter and scheduled flights to Hurghada, Cairo and Luxor will continue as normal.
Where does that leave British holidaymakers with bookings to Hurghada – can they switch or claim on their travel insurance?
They would have booked while the Foreign Office was warning of "a high threat of terrorism" to the country, and have no automatic rights to cancel without penalty. Unless the Foreign Office warns against travel to the main resorts – and experience suggests that such a change would take a very serious atrocity indeed – then flights and holidays will go ahead as planned. If you want to change then you are likely to lose some or all of your money. And "disinclination to travel" is not an insurable risk.
What will the longer-term effect be?
To continue the destruction of tourism to Egypt, with the huge economic impact that will have. Just before Christmas I talked to the Egyptian tourist minister, Hisham Zazou, who told me: "The situation on the ground is under control. We are taking every step to protect tourists." Despite this assurance, terrorists were able to attack tourists in a holiday hotel in one of the top resorts.
The future for the millions of Egyptians who depend on tourism for their livelihood looks bleak. And it is likely to have a ripple effect on other parts of North Africa and possibly Turkey.
Click here to view the latest travel offers, with Independent Holidays.
Join our new commenting forum
Join thought-provoking conversations, follow other Independent readers and see their replies