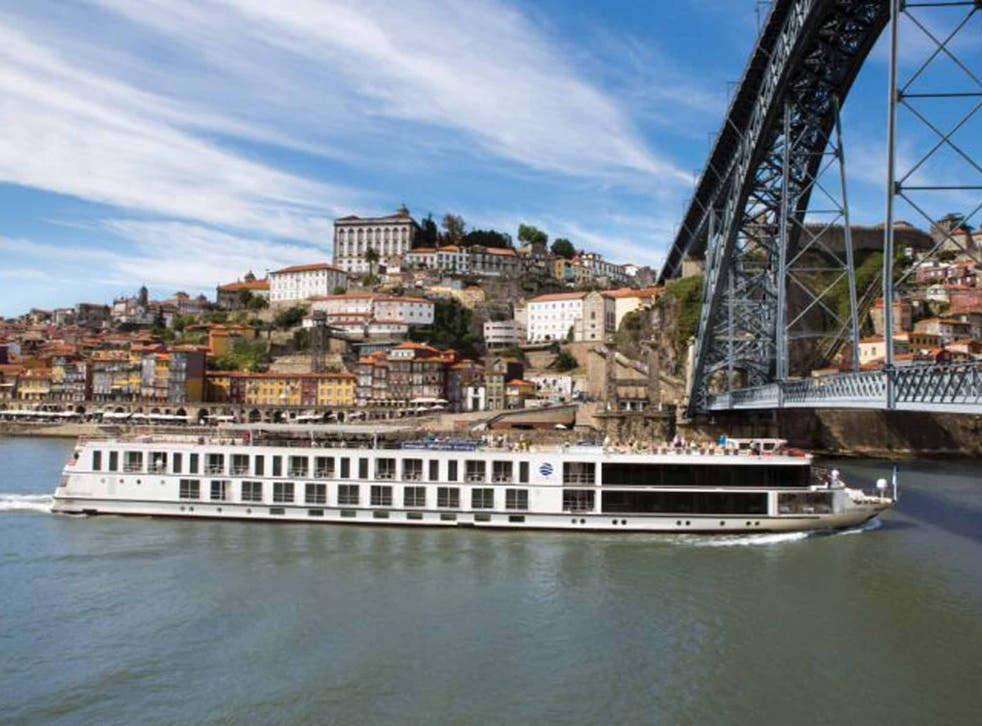 European river cruises: From the Rhine and Rhône to the Danube and Douro
The Continent's waterways are ripe for exploration. It's time to get onboard, says Jeannine Williamson
European river cruising is riding on the crest of a wave – it's the fastest growing sector of the travel industry. And with itineraries packing as many as four countries into a one-week cruise, with the chance to wake up somewhere new each day, we are increasingly spoilt for choice.
Over the past three years, more than 50 new river vessels have taken to the water, with around 20 more due this year. The season runs from March to November – plus special festive-market and New Year's departures – with itineraries ranging from short taster cruises to culture-rich, fortnight-long voyages. And if you prefer not to fly, Eurostar and Europe's high-speed rail network offer plenty of options.
With spectacular scenery, charming villages and cities such as Cologne, Vienna and Budapest, it's easy to see why the Rhine, Main and Danube attract the highest number of cruisers. Other popular rivers include the Seine, where ships are based in Paris and cruise to Normandy, and the Rhône, for trips through Provence between Lyon and Arles. Or you can cruise the Elbe from Berlin to Prague, the Moselle through Germany's wine-growing heartland, Italy's Po or Portugal's Douro.
The size of European river cruise vessels is constrained by low bridges and narrow locks, so compared with ocean-going ships they're small and friendly, carrying 200 passengers or fewer. The on-board atmosphere tends to be relaxed, with no strict dress codes, and usually free seating at mealtimes. A big bonus – particularly for seasoned ocean cruisers – is that so much is included. All meals come as standard, and the majority of lines also offer free daily excursions. All-inclusive sailings are available, with drinks and tips included in the fare.
As vessels tend to moor right in the centre of towns and cities it's easy for independent passengers to explore under their own steam if they want to opt out of organised excursions.
River cruises in Europe

Show all 6
The largest line, Viking River Cruises (020 8780 7900; vikingrivercruises.co.uk), launched 16 new ships in one day in 2014, breaking its previous Guinness World Record of 10, and will have a fleet of 50 vessels in Europe by the end of the year. Its longest itinerary is the 14-night Grand European Tour, from Amsterdam to Budapest, costing from £3,095pp for a July departure including flights.
While Viking's sleek Scandinavian lines reflect the company's heritage, Amadeus River Cruises (01252 714477; amadeusrivercruises.co.uk) acknowledges its Austrian roots with classic Viennese coffee houses on its newest ships. Amadeus Silver II, launching this year, will sail the week-long Classical Rhine itinerary, with a departure on 23 April costing from £1,246pp excluding flights.
For 2015 Shearings (0844 824 6351; shearings.com) is introducing new rail options to join Danube river cruises, plus three-night mini-cruises from Amsterdam to Cologne, with some time on the Rhine. For departures in May, the full-board taster cruise on the 107-passenger Rotterdam costs from £579pp including flights.
River of gold
Discovered by the Romans who named it the River of Gold, Portugal's Douro is less well-known than some of its European counterparts, but it offers great options for exploring on dry land. The once fast-flowing river is now a tranquil waterway tamed by dams. Cruises include excursions to wine producers near Porto, as well as Lisbon, Europe's most westerly capital.
Uniworld (0800 988 5867; uniworldrivercruises.co.uk) has a new 12-night Jewels of Spain, Portugal and the Douro cruise, from Lisbon to Madrid. Departing 24 July, all-inclusive fares start at £3,494pp including flights.
ACE Cultural Tours (01223 841055; aceculturaltours.co.uk) has a week's cruise aboard Spirit of Chartwell, the boat that hosted the Queen during the Diamond Jubilee pageant on the Thames. The round trip from Porto, departing 29 August, includes a private visit to Graham's Port Lodge and costs from £2,520pp including flights.
Beer and blooms
Watching the world go by is one of the main attractions of river cruising, but it's not just about the scenery. There is a huge number of themed itineraries on offer, whether you fancy wine appreciation and cookery classes or a poignant First World War history itinerary. And not to be ignored are the perennially popular Christmas market cruises.
A first for AmaWaterways (0808 223 5009; amawaterways.co.uk) is the seven-night Tulip Time cruise, departing 31 March, from £1,575pp excluding flights. Sailing through Holland and Belgium, beer connoisseur Don Russell will host onboard talks, tastings and beer-themed excursions. AmaWaterways is also offering art, jazz and Jewish heritage cruises.
For green-fingered passengers, the River Cruise Line (0844 544 6437; rivercruiseline.co.uk) has a new Dutch voyage including a visit to the magnificent Keukenhof gardens. A six-night trip, departing 2 April, costs from £559pp with coach travel and ferry crossings.
Paddle along
Enjoy previously uncharted river cruise waters when CroisiEurope (020 8328 1281; croisieurope.co.uk) launches its 96-passenger paddlewheel vessel, Loire Princesse. From April, the line will become the first operator offering overnight cruises along the Loire.
Combining the authenticity of a traditional riverboat with the comfort of a contemporary ship, the vessel's paddle wheel technology will allow it to navigate shallow waters past the landscapes and castles of the Loire Valley.
The five- and seven-night round-trip itineraries from Nantes include a visit to the STX Saint-Nazaire shipyard – birthplace of the giants of the cruising world, including Royal Caribbean's huge Oasis 3, which is currently being built. Available from April to October, the itinerary is priced from £1,001pp for five nights excluding flights.
Heart of Europe
Winding its way through six countries – Switzerland, Liechtenstein, Austria, Germany, France and the Netherlands – the 1,320km Rhine is one of Europe's longest rivers and an obvious starting point for first-time river cruisers. The landscape of steep, vineyard-covered slopes, castles and picturesque medieval towns combine to make it one of the most attractive parts of the Continent.
The Main-Danube Canal enables vessels to sail into the iconic Blue Danube, the gateway to Hungary and beyond; alternatively, with a transfer to the Saône, you can continue your cruise south on the Rhône.
Avalon Waterways (0800 440 2798; avaloncruises.co.uk) has a new Rhine and Rhône Revealed cruise, ending with an overnight stay in Monte Carlo. The 14-night journey, departing 24 October, costs from £3,312pp including flights.
If an active break appeals, Freedom Treks (01273 224066; freedomtreks.co.uk) has a cruise and 101km cycle roundtrip from Prague. Passengers cycle beside the canal, along bike routes and country roads, rejoining the ship later in the day. A five-night package costs from £514pp for departures in June, July and August, excluding flights and cycle hire, which is £60pp, or £140 for e-bikes.
Barge ahead
Slow the pace even more on a barge. Exploring areas inaccessible to larger boats, you'll cover around 100km a week at walking pace. Catering for four to 24 passengers, barges are very intimate and can be chartered by groups. Whether purpose-built hotel boats or converted working vessels, they usually have comfortable cabins, and many have bikes to explore riverbanks and villages.
France is Europe's top barging destination, with an extensive network of waterways including the Canal du Midi, stretching 240km from Toulouse to the Med, and Burgundy's canals meandering through vineyards.
European Waterways (01753 598555; gobarging.com) is the main line. A six-night Canal du Midi cruise on the 12-passenger Anjodi is £2,601pp, departing 29 March, excluding flights.
Cordon Bleu chef Caroline Macrae and her husband, Rory, offer fully inclusive, bespoke itineraries through Burgundy aboard their restored six-berth barge, Après Tout (00 33 686 890318; bargeaprestout.com). From £4,000pp, excluding flights.
New for 2015
With the boom in river cruising, there are plenty of cruise lines out there. Some already have a familiar ring, while others are brand new or have recently been introduced to the British market.
Emerald Waterways (0808 102 0111; emeraldwaterways.co.uk) is the younger sister of Australian-owned Scenic Tours (0808 102 0095; scenictours.co.uk), which made a name for itself by including everything – even tips – in its fares. Emerald, which also includes gratuities, has made a similar splash with swimming pools on its ships that cleverly morph into cinemas at night. Its twin vessels, Emerald Sky and Emerald Star, will be joined by Emerald Sun and Emerald Dawn this April and June respectively.
Also new to British cruisers is German-based A-Rosa (00 49 381 202 6020; a-rosa.de), which offers seven- to 14-night itineraries on Europe's main rivers. You can't miss its bright, 11-strong fleet, all of which feature on their bows a pair of red lips holding a rose. The ships have impressive spas, compared with many vessels that simply offer a massage table in a cabin. From this year, children under 15 travel free, and there will be no single supplements on selected cruises.
Join our new commenting forum
Join thought-provoking conversations, follow other Independent readers and see their replies