The greatest shows on earth

Show all 8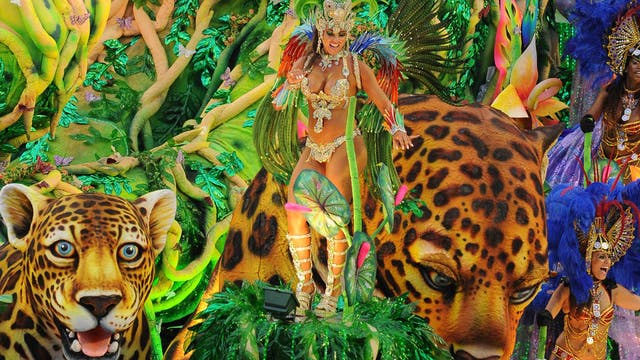 The greatest shows on earth
Vivid, vibrant and noisy: carnival season is here at the world's top party places
What's the attraction?
Carnival is the ultimate party, believed to have sprung from the pagan festival of Saturnalia. It emerged in medieval Italy, its influence spreading across France, Spain and Portugal, before being transported to the Americas. There, African traditions and the tensions of slavery were added into the mix. What was once a last chance to indulge in worldly pleasures before Lent is now celebrated across the world. It's now associated with eye-catching costumes, masks, floats and street parties. Events reach a climax on Fat Tuesday, before Ash Wednesday (this year 22 Feb) ushers in Lent.
Get set to samba
The carnival in Rio de Janeiro (rio-carnival.net; 17-21 February) attracts two million people each day. It is dominated by parading samba schools, which spend the whole year making fabulous costumes and floats. Journey Latin America (020-8747 8315; journeylatinamerica.co.uk) is offering the chance to join a samba school in the carnival. The six-night trip, departing next Thursday (16 Feb), costs £2,533 per person. Includes transfers, B&B, entry to the carnival, costume and a samba lesson. Flights are not included.
Eastern promise
The long arm of colonialism means that Asia has embraced the party spirit, too. Carnival, known as Intruz, arrived in Goa with the Portuguese in the 16th century, who ruled over this part of India for 500 years. Today, the towns of Panaji, Margao, Mapusa and Vasco are the places to go on "Fat Saturday" to experience a unique fusion of Old World and Indian festivities. Cosmos Holidays (0844 573 4261; cosmos.co.uk) has seven nights at Alila Diwa Goa from £1,074 per person, departing Gatwick on 16 February, including flights with Monarch, B&B and transfers.
Party on
Some Caribbean islands hold carnivals outside the pre-Lent period. Montserrat parties from 10-19 March for the St Patrick's Festival. Barbados's Crop Over (barbados cropoverfestival.com), takes place during July. La Ceiba (laceiba.honduras.com) in Honduras holds the biggest carnival in Central America in late May. At Parintins in the Brazilian Amazon, the folklore carnival of Boi Bumba (boibumba.com) draws the crowds at the end of June. And Toronto hosts North America's largest carnival (torontocaribbeancarnival.com) in July.
The euro zone
Italy is said to be the home of carnival, butits top example, the Venice Carnival (carnevale.venezia.it) – known for its elaborate masks – was revived only in the late 20th century. This weekend, the event opens at the PalazzinaG hotel with a masquerade ball. Tickets for the opening party start at €35 (00 39 0415284644; palazzinag.com). Other European carnivals not to be missed include Cologne (colognecarnival.com), Nice (nicecarnaval.com), Binche in Belgium (binche.be), and Santa Cruz in Tenerife (webtenerifeuk.co.uk).
Streets of London
You don't have to leave these shores to join in one of the world's great carnival experiences, although you will have to wait until the August Bank Holiday (26 and 27 August). Notting Hill Carnival (thenottinghillcarnival.com) was introduced to the streets of west London in the Sixties by the city's Caribbean community and now claims to be the biggest street party in Europe. Inspired by the festivities in Trinidad & Tobago, it has become a vibrant celebration of London's unique multiculturalism.
The big easy
The French Quarter of New Orleans (mardigrasneworleans.com), first hosted Mardi Gras (Fat Tuesday) festivities in the mid 1800s. The parades are performed by "krewes" (groups), named after mythological and historical figures or native American tribes that are renowned for their feather headdresses. Virgin Holidays (0844 557 3859; virginholidays.co.uk) has seven nights' room only in New Orleans from £1,249 per person, departing 16 February, including return Delta flights from Heathrow via Atlanta or Detroit.
The great pretender
Trinidad (gotrinidadandtobago.com), will party hard on 20 and 21 February. The Caribbean's oldest carnival was introduced by French planters, but Canboulay, the festival celebrated by their African slaves, strongly influenced the events. It opens at 4am with J'Ouvert, where revellers dress as demons and monsters. During carnival 2012, Sackville Travel (020-7274 2242; sackvilletravel.com) is offering a week's room-only accommodation at the Hilton Hotel in Port of Spain, with flights on British Airways (0844 493 0787; ba.com) from Gatwick, from £1,299 per person.
Who said that?
'Everything in excess is opposed to nature.' Hippocrates
'Man is least himself when he talks in his own person. Give him a mask, and he will tell you the truth.' Oscar Wilde
'Everywhere around the world, they'll be dancing in the street.' Martha and the Vandellas
Insider information
"If you come to Rio during carnival you must experience the samba school parade. But not in the stalls or boxes – dancing on the floor with another 4,000 people is unforgettable. The only thing you need to buy is a striking costume – which costs on average 750 reais (£271)." – Andrea Natal, general manager of Copacabana Palace (orientexpress.com)
Join our new commenting forum
Join thought-provoking conversations, follow other Independent readers and see their replies