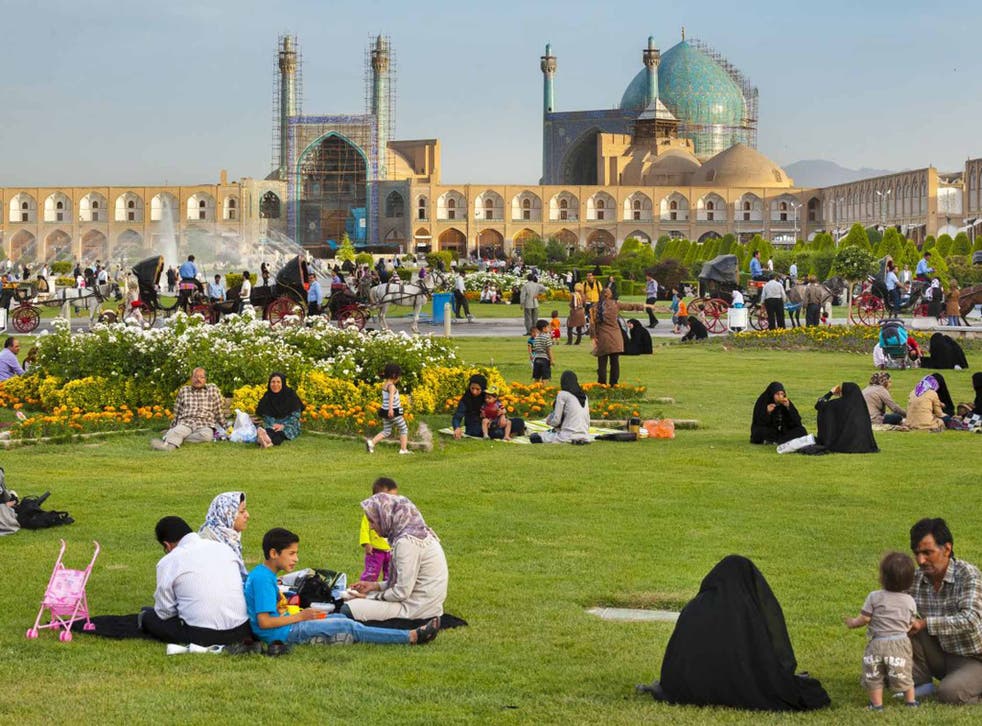 The art of picnicking in Iran
Iran has a lot more in common with Britain than you might think.
My first trip to Iran was during a low ebb in Anglo-Iranian relations, after the 2011 attack on the British embassy in Tehran. The situation had descended into a tit-for-tat spat, resulting in the closure of both embassies and a diplomatic freeze that is only now beginning to thaw.
As I planned my trip to the Islamic Republic, I tried to ignore the hysterical headlines and solemn warnings from the Foreign Office. But it was hard to stay chipper when well-meaning friends kept emailing me with their own apocalyptic predictions for my fate at the hands of the furious ayatollahs.
So, I focused on more alluring images of the region – architecture, art, cuisine, carpets – anything that can be prefixed with the word "Persian", rather than "Iranian". But I was still nervous as I approached the border alone and on a motorcycle. I feared I would be singled out for my un-Islamic form of transport (Iranian women are forbidden from riding motorcycles in public). I need not have worried. I was hit not by a tidal wave of hostility, but of warmth, fun and hospitality. International relations between the UK and Iran may have a stormy history but the Iranians understand more than most that governments do not necessarily represent a people.
It soon became apparent that Brits have far more in common with Iranians than I had realised, most notably a subversive sense of humour and the inability to do anything without vast amounts of tea. But something else links our cultures, something at which Iranians excel and at which they beat us hands down. Iranians are serious, hardcore picnickers.
Every day, everywhere, I'd see people lounging on the ground, enjoying seriously lavish spreads – and I mean, everywhere. Not just in parks and beauty spots but on motorway verges, in car parks, behind petrol stations, even on traffic islands in central Tehran, surrounded by eight lanes of the world's worst pollution. I thought we Merrie Englanders had it down with our tartan travel rugs and wicker hampers, but you ain't seen nothing until you've seen an Iranian picnic. The tea-making paraphernalia, the tower blocks of Tupperware, the pyramids of pomegranates, the cakes, the sweets, the shisha pipes, all laid out on a wipe-clean laminated Persian rug, and always accompanied by an invitation to join the feast.
I am not the first to note this. British explorer Freya Stark, who travelled in the region in the 1930s, wrote in The Valleys of the Assassins : "It is a charming trait in Persia that anyone you meet understands the pleasures of a picnic." Stark's travels pre-date the Islamic Republic, even pre-date plain old Iran, but no amount of tyrannical shahs and ayatollahs can dent the Iranians' love of the great outdoors. As I accepted the invitation to join yet another group of strangers at the roadside for tea and hard-boiled eggs, it occurred to me that I felt quite at home.
Lois Pryce is founder of the Adventure Travel Film Festival. 'Revolutionary Ride', about her motorcycle journey through Iran, will be published in January 2017
Register for free to continue reading
Registration is a free and easy way to support our truly independent journalism
By registering, you will also enjoy limited access to Premium articles, exclusive newsletters, commenting, and virtual events with our leading journalists
Already have an account? sign in
Register for free to continue reading
Registration is a free and easy way to support our truly independent journalism
By registering, you will also enjoy limited access to Premium articles, exclusive newsletters, commenting, and virtual events with our leading journalists
Already have an account? sign in
Join our new commenting forum
Join thought-provoking conversations, follow other Independent readers and see their replies