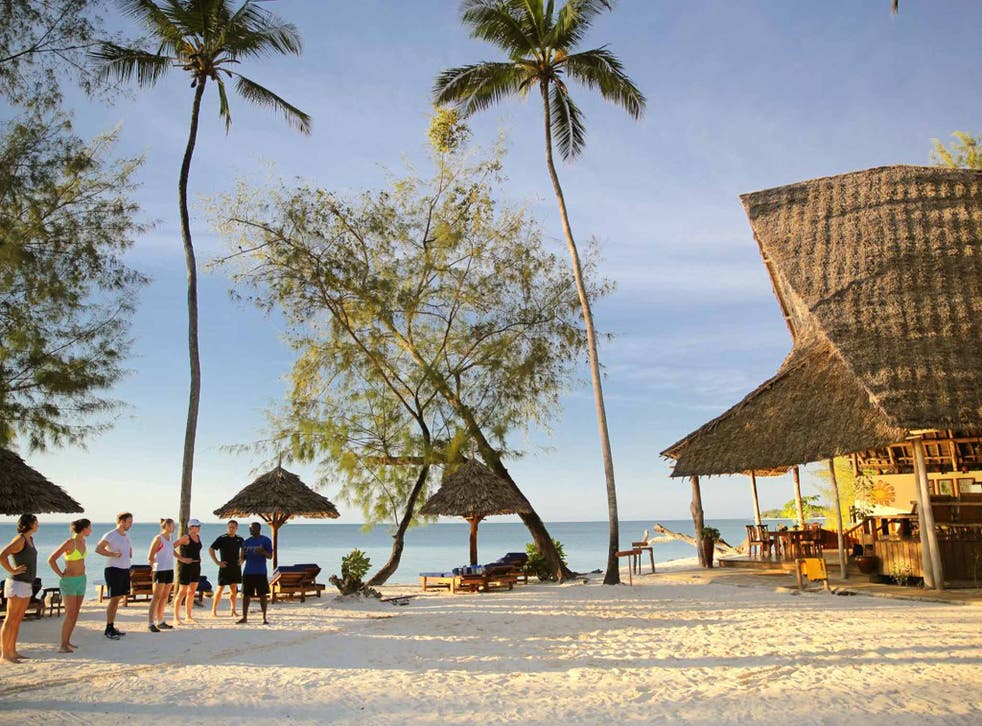 Make a travel resolution: Learn a new skill or be more adventurous
It's that time again, when we vow to get thinner, fitter or better by making new year's resolutions. The truth is, the vast majority of people fail to keep their 1 January pledges – but, by starting them in inspiring surrounds, you might be more motivated to continue
Learn a new skill
Learning a language covers several potential resolutions: gain a new skill, improve your qualifications, and maybe even move abroad. Based in the Western Loire, Let's Speak (00 33 2 43 026027; letsspeak.net) offers learning by immersion. Stay with a host family and absorb grammar, vocab and daily French life, visiting bakers, winemakers and musicians. Seven nights from €723 excluding travel.
Or get two for one with Cactus Language (01273 830960; cactuslanguage.com), which offers combination trips: Spanish and tango in Argentina, Italian and opera in Verona, Portuguese and football in Brazil. A Spanish and scuba trip in Playa del Carmen, Mexico, including five days of language lessons and a Padi dive certificate, costs £648 in January for the course and a six-night half-board stay with a host family. Flights not included.
Get fit
If joining the local gym isn't enough, combine your new fitness regime with travel. Head to the Indian Ocean isle of Zanzibar for a nine-day Kick Start course with Wildfitness (07415 884312; wildfitness.com), during which you'll enjoy/endure multiple daily training sessions such as kickboxing, running and circuits, plus food workshops, snorkelling and sunsets. For a 10 January start, the price starts at £2,385, including all food, accommodation and transfers, but not flights. Additional dates are available in March-May.
For a cheaper – albeit colder – kick-start, try the three-night Galo Resort BodyBreak in Madeira (020 3397 8891; healthandfitnesstravel.com). After a fitness consultation, get stuck into various activities from group classes to one-on-one triathlon training, stand-up paddleboarding and yoga. From £535, with flights.
Relax
The Healthy Holiday Company (0208 968 0501; thehealthyholidaycompany.co.uk) has several options for trips aimed at achieving peace of mind. The week-long Mindfulness Programme at Villa Padierna Palace Hotel in Spain combines meditation and yoga to relieve stress (from £3,050 per person, including flights, accommodation and transfers), while the five-night Embracing Change package at Kamalaya on the Thai island of Koh Samui aims to "enrich your emotional wellbeing" through expert consultations, massage, Chinese medicine and holistic fitness (from £2,025 including flights, transfers and full-board accommodation).
Alternatively, if you are simply looking for an excuse to switch off, a digital detox is much easier when you have something else to keep you occupied. Huab Lodge in Namibia has no TVs or mobile reception, and instead offers activities including hot spring dips and safaris. Bungalows with two double beds are N$3,498 (£202) a night in January through i-escape (0117 946 7072; i-escape.com).
Spend time with family
Multigenerational trips are a great way to spend quality time with loved ones. Oliver's Travels (0800 133 7999; oliverstravels.com) offers many villas that tick the extended-family box. Its Le Rosseau Cottage, near Beaune in Burgundy, sleeps 11, with downstairs bed and bathrooms and a private heated pool that's child-safe and fitted with handrails. There's also an acre of garden, a barn-cum-games room and a walkable boulangerie and bar. From £638 per week.
Cruises are a good option too. Royal Caribbean's enormous Allure of the Seas (0844 493 4005; royalcaribbean.com) has family staterooms and ocean-loads of fun for all ages: from kids' clubs to a zip-line, surf simulator and ice rink. It also has adult-only solariums and restaurants plus childcare services, if you do need to take a night off. The seven-night Western Caribbean cruise, from Fort Lauderdale, Florida, costs from £484 per person, excluding flights, with several departures between January and April.
Be more adventurous
If your resolution is to push your boundaries, take the plunge and head off on a solo adventure. Solos Holidays (0844 815 0005; solosholidays.co.uk) offers itineraries based on various themes (sun, hiking, dancing, ski) in age bands (over 30s, 40s and 50s). Its four-night Magical Lapland trip to Finland lets you pick and choose from a range of activities including snowshoeing, kick-sledging and a Northern Lights safari. For a 26 January departure the price is £839, including B&B and flights. Activities extra.
Just You (0844 273 5553; justyou.co.uk) also specialises in trips for single travellers. On its 11-day Kerala: a Taste of South India trip you can tour Cochin, learn to cook, marvel at Kathakali dance and enjoy a traditional dinner with new friends. The price of £2,399pp for a 26 February departure includes flights and four-star accommodation. Additional dates available in September and November.
Join our new commenting forum
Join thought-provoking conversations, follow other Independent readers and see their replies