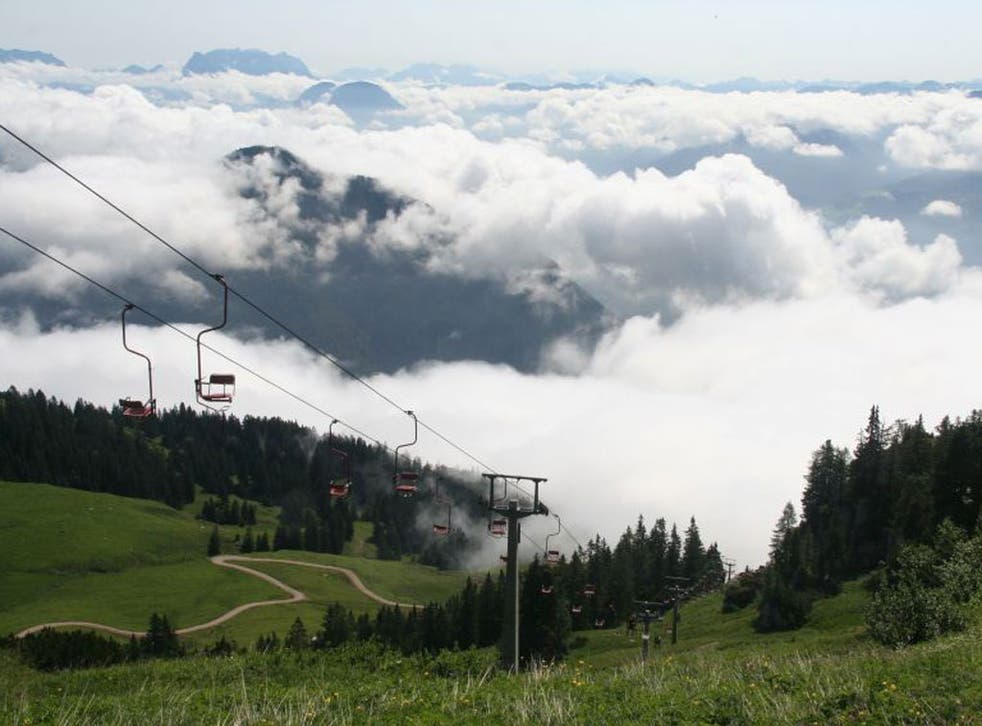 A mountain high in Austria's tyrol
The Alps aren't just a winter playground – summer visitors have the chance to revel in their delicate beauty
"And here – this is Meisterwurz," smiled Andrea, my guide, blinking in the sun and indicating a sprig of inauspicious-looking herb. "You can make a schnapps from this." The potential for schnapps-making was a characteristic common to most Alpine flora identified by Andrea, except for poisonous species, but even then only if they were really poisonous. "You're not supposed to pick it, but people come at night. For schnapps we have to have Meisterwurz."
Though long appreciated by older British travellers, the Alps are still a counterintuitive choice for many in search of a summer break. After all, mountains are all about snow and skiing, aren't they? An impressive 2,000m above Mayrhofen and 1,000m below the Ahorn's summit; in the six-minute gondola ascent from the resort's main street, we had left a sweltering 32C beneath us and arrived in fresh mountain air.
"When it's summer in the valley it's spring up here," trilled Andrea. To an accompanying tinkle of cowbells, I followed my naturalist guide through low-lying blooms of magenta Alpenrose, blue Veronica, yellow flashes of Arnica and vivid purple sprigs of wild thyme.
"Here, like this, three times," Andrea crouched down and slapped the entrance to an ants' nest, "then smell. It's good for respiration." On another day ant spanking might have offended delicate sensibilities, but against the careless abandon of wildflower picking, sniffing and eating, it seemed in tune. The ants displayed their disdain by releasing a cloud of formic acid.
We continued our gentle stroll for an hour or so then descended via a rough path to a stone shelter. Across the valley, the opposite ridge comprised a line of sharp, unforgiving 2,700m peaks, treacherous screes protecting their summits. Pointing to a particularly exposed, snow-circled pinnacle Andrea announced matter-of-factly. "It takes me four hours to climb that one. Not from this side: it's too dangerous." Contemplating the vertigo-inducing ascent, I was grateful for an already packed schedule.
Behind Andrea's slightly eccentric demeanour was obviously a steely determination. Along the valley above the tree line, a waterfall of at least 100m issued silently from a precipitous rocky slope. Relaxing my gaze in the midday light brought into focus just how beautiful an Alpine summer can be and, via gondola, just how accessible it is.
Back in the lowlands and 40km from Mayrhofen, Alpbach was once voted "Austria's most beautiful village" in a national poll. In summer its 2,500 inhabitants and 2,500 cows are joined by 2,500 tourists, mostly British visitors of a certain age happy to wander in quiet appreciation of the village's traditional Tyrolean houses, geranium-lined window boxes and flowers. Those not averse to tempting fate call in on Nobel Prize-winner and pioneering quantum physicist, Erwin Schrödinger, who unlike his paradoxically famous cat, lies unquestionably dead in "Austria's most beautiful graveyard".
Elsewhere, German, Italian, Dutch and Czech tourists seek all manner of summer diversions from hiking, climbing, via ferrata and high rope courses to paragliding, biking, lake swimming and even Segway tours.
On a cloudy day, Leo Meixner, the retired head of the regional tourism association, was determined I should see more than hanging baskets. From the village of Kramsach we boarded the Sonnwendjochbahn – a free chair lift for summer visitors. On a day of iffy views, 10-minutes dangling at ease instead of a two-hour hike seemed the best bet to take the sting out of Rosskogel's 2,000m peak.
The lid was well and truly on the Rofan mountains and, as the lift quietly entered dense cloud, I wasn't hopeful. Below us, bells confirmed the presence of benign cows. Chairs on the downside soon filled with empty crates and boxes and then a solitary young man. I nodded a greeting and as we passed, silently suspended in the fog. Leo exchanged a few words, then turned to me grinning: "Ha, ha. He says it's blue skies up there." And so it was. The clouds thinned, finally clearing to reveal brilliant sunshine.
At the top lift station we dismounted briskly and turned to take in the view. In the valley, a sea of cloud was broken by jagged island peaks, the implacable mass of the Wilder Kaiser on the German border and as far as Italy's Dolomites, a panorama prompting more than a moment's contemplation. In the warm sunshine we zigzagged the final ascent, flower-rich Alpine meadows giving way to rocky paths, along the way Leo recounting anecdotes of edelweiss and marmots. "Walking, climbing, canoeing, skiing – people are very active here, more than Vienna," said Leo. "There, sport is something to watch on TV."
Getting there
The writer travelled with Crystal Summer (0871 230 8180; crystalsummer. co.uk), which offers a wide range of active Alpine summer holidays. A week's stay at the four-star Hotel Strass in Mayrhofen costs from £519pp including flights from Gatwick to Innsbruck and transfers. A week's half-board at the four-star Hotel Alphof in Alpbach starts at £659pp, including flights from Gatwick to Innsbruck and transfers. The writer also travelled with easyJet (0843 104 5000; easyjet.com), which flies from Gatwick to Innsbruck twice weekly from £45.50pp one way.
More information visit: visittirol.co.uk, alpbachtal.at and mayrhofen.at
Join our new commenting forum
Join thought-provoking conversations, follow other Independent readers and see their replies