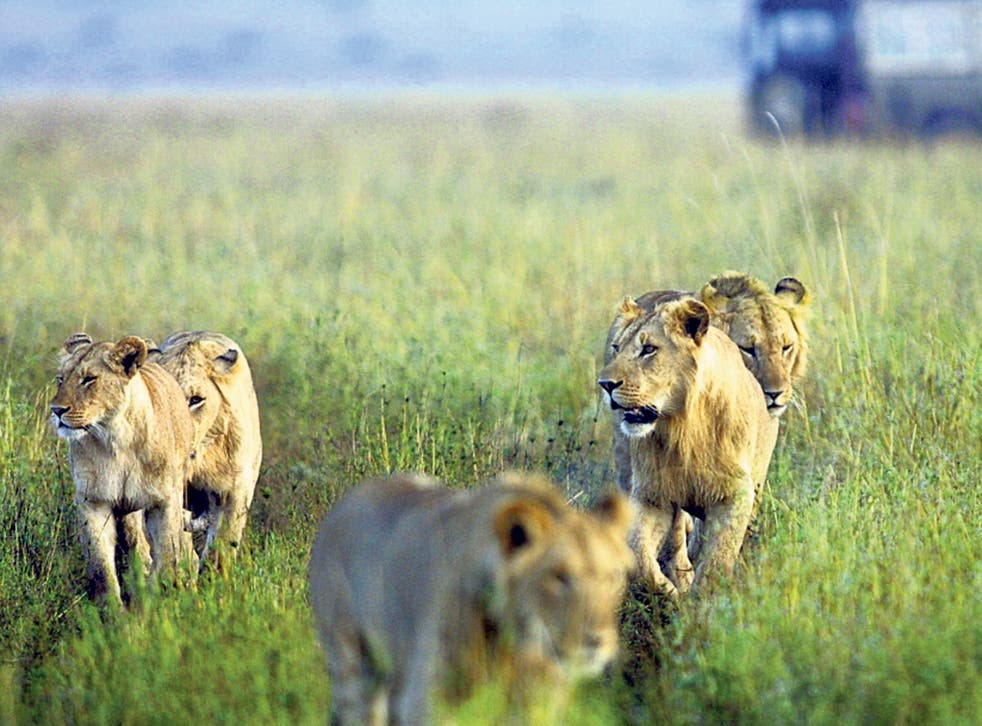 My life in travel: Anthony Horowitz
'It's about everyday life, not monuments'
Anthony Horowitz is the creator of the Alex Rider children's novels and is also the screenwriter behind Foyle's War, the Second World War detective drama, which returns to ITV on Sunday 24 March
First holiday memory?
Instow in Devon. I remember running up and down the sand dunes, which seemed enormous, and trying to get across the water to Appledore. The holiday was full of Enid Blyton memories.
Best holiday?
A Kenyan safari with my family in 1999. To wake up, on the first day of the millennium, and go and look at lions and elephants in the Maasai Mara with two small, entranced children will stay with me for the rest of my life.
What have you learnt from your travels?
The things I remember most are not the tourist sights. It's what's behind them and beside them, what isn't in the guidebooks, that stays with you. Travel is about everyday life, not monuments.
Ideal travelling companion?
My wife, Jill, who comes with me everywhere. But also my notebook and pen. Most of the travel I do is for my writing; I scribble down sentences as I go.
Beach bum, culture vulture or adrenalin junkie?
I'm not a beach bum, as I don't like the way the sand gets into every crevice. I wouldn't call myself a culture vulture either, as there's something quite sad about disappearing into museums and galleries, much as I enjoy them. I would say I'm a writer, and I travel in order to write.
Greatest travel luxury?
Business class. I do it occasionally and it is very enjoyable. I also stay in slightly better hotels than I used to. When you get older, you realise it's enormously important to come back to an air-conditioned room, with a comfortable bed.
Holiday reading?
I catch up on fiction. I'll normally take a big fat 19th-century novel, a Trollope or a Dickens, or something that requires time to read.
Where has seduced you?
Crete. I love the climate, the food, the dazzling colour of the Aegean and the mythology. I love it so much I'm even learning to speak Greek.
Worst travel experience?
Spending seven hours at Heraklion airport because there was a millimetre of snow in London. Air companies seem to treat you so badly when things go wrong.
Best hotel?
The Inn at English Harbour, Antigua. I stayed for a week a few Christmases ago. They serve the most brilliant breakfast on the beach and the whole hotel doesn't feel like a hotel at all, which is always a good test of a hotel.
Favourite drive?
From San Francisco down to Big Sur. It's sort of disappointing for quite a lot of the way. But then the side of the world falls away and you get the most astonishing ocean views with massive sunsets.
Best meal abroad?
Joe's Crab Shack in Miami. The food is sensational and the service is lovely.
Favourite city?
Sydney. It's small enough to get around easily, the people are friendly and it has breathtaking views of the harbour, the bridge and the Opera House. It makes you glad to be alive.
Where next?
Tokyo, for my 25th wedding anniversary. I've never been to Japan before, and there's no work involved for once, so I'm simply going to have 10 days with Jill. I'm very much looking forward to it.
Join our new commenting forum
Join thought-provoking conversations, follow other Independent readers and see their replies