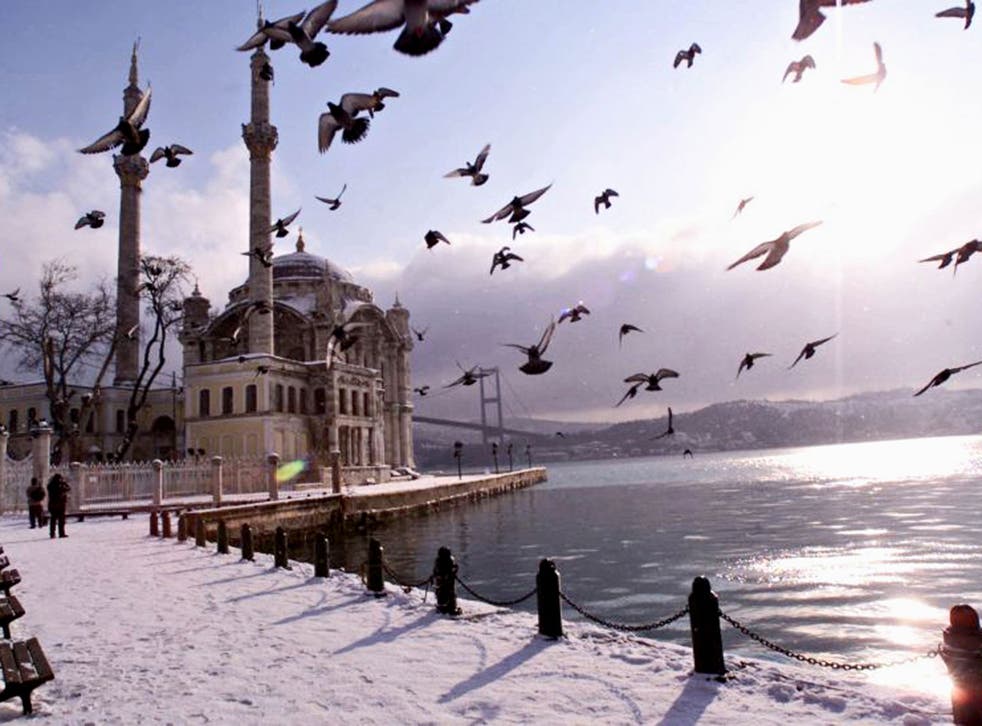 My Life in Travel: Rachel Khoo
'I loved the contrast in Istanbul – the call to prayer mixed with the European cafés'
Rachel Khoo is a chef and cookery writer. Her latest book, My Little French Kitchen, is out now, published by Penguin/Michael Joseph; £20 (rachelkhoo.com).
First holiday memory?
Visiting relatives in Austria. I spent a lot of holidays there, hanging out with my cousins. It was very Heidi-esque: being in the mountains, running through the forest and being carefree. My aunt, uncle, grandma and cousins were in one house, and another aunt, uncle and cousins were in the next. At Easter, we'd go from one to the other doing egg hunts and end up with a huge sack of chocolate.
Favourite place in the British Isles?
London. I recently moved back, so I'm spending more time in the city. I love the vibrancy. I went clubbing on a Monday night recently and I saw this amazing New York house producer called Kerri Chandler. That would never happen in Paris.
Best holiday?
This summer. I only had a week off so I made the most of it. I flew into Venice and then went to Lake Garda for a couple of days. I then moved up to the mountains on the Austrian border for some hiking. The last day, I came back to Venice and stayed overnight. It felt like I had two weeks off.
Ideal travelling companion?
I'm notorious at falling asleep within two minutes of boarding, so I probably don't need to travel with anybody — just my eye mask, some earplugs and my iPod.
What have you learnt from your travels?
To travel light. I'm getting better at it, but I always tend to pack too much. I recently did a 10-day trip filming around Europe, and I managed to do hand luggage only. I got away from airports so much faster.
Beach bum, culture vulture or adrenalin junkie?
Beach bum. I travel a lot for work, so I'm quite happy lying on the beach with a good book. I love reading, falling asleep, waking up and taking it really easy. In Lake Garda, I stayed at the Bella Riva Hotel, which had a view over the lake and a pool, which was perfect for watching the amazing boats. In Biarritz, the beach was amazing for watching the surfers.
Holiday reading?
The last thing I read was The Rosie Project by Graeme Simsion, about a guy who has autism and the story of how he tried to find a wife. It was quite similar to The Curious Incident of the Dog in the Night Time, but with an older man. It was touching, funny and easy to read, which is what I want on holiday.
Where has seduced you?
I recently went to Istanbul for work. I loved that it was a real contrast of cultures. In the morning, you hear the call to prayer, but it also has such a European feel, with people sitting outside in the cafés. The food was so fresh and different to what I've tasted before.
Worst travel experience?
I was on my way to Tallinn and got stuck in Helsinki overnight. My connecting flight was delayed, so they put me up an awful airport hotel. It really was the lowest of the low. I didn't know if I should be sleeping on the sheets.
Best hotel?
Shoreditch House. Even the smallest room is very comfortable. In New York, The Ace was quite fun, and I've also used Airbnb a lot while travelling around France, which is an amazing resource.
Favourite ride?
Around Paris on a Sunday. They close the roads down for cyclists, so you can cycle from my place in 19th arrondissement along the canal, down to the Seine, and stop off at a bakery, or my favourite ice cream place, to meet friends.
Best meal abroad?
The best meals I've had are usually when I've gone to a local market. I went to the Rennes in Brittany, where they have the most amazing market in the town centre on Saturday mornings. Most stallholders are producers or fisherman, so you can buy things like fresh oysters and have them shucked in front of you with a squeeze of lemon. There's no fuss, no white tablecloths – it's cheap and cheerful food.
Favourite city?
Paris. In my neighbourhood, there's Café Cheri, that all the locals go to, where they have a DJ on Saturdays. Further down, there's my favourite bakery, Du Pain et des Idées, which does amazing croissants. Then there's Ten Belles, a coffee shop, and this bistro called Holybelly, which has just opened. Next door is Bob's Juice Bar, where I used to work and peel carrots. For good cocktails, I go to Candelaria, Le Mary Céleste or L'Entrée des Artistes.
Where next?
Austria for Christmas. It'll be very white and wintry. I'm not allowed to ski, as I'm filming a new television series, so I'll be sledging instead.
Join our new commenting forum
Join thought-provoking conversations, follow other Independent readers and see their replies