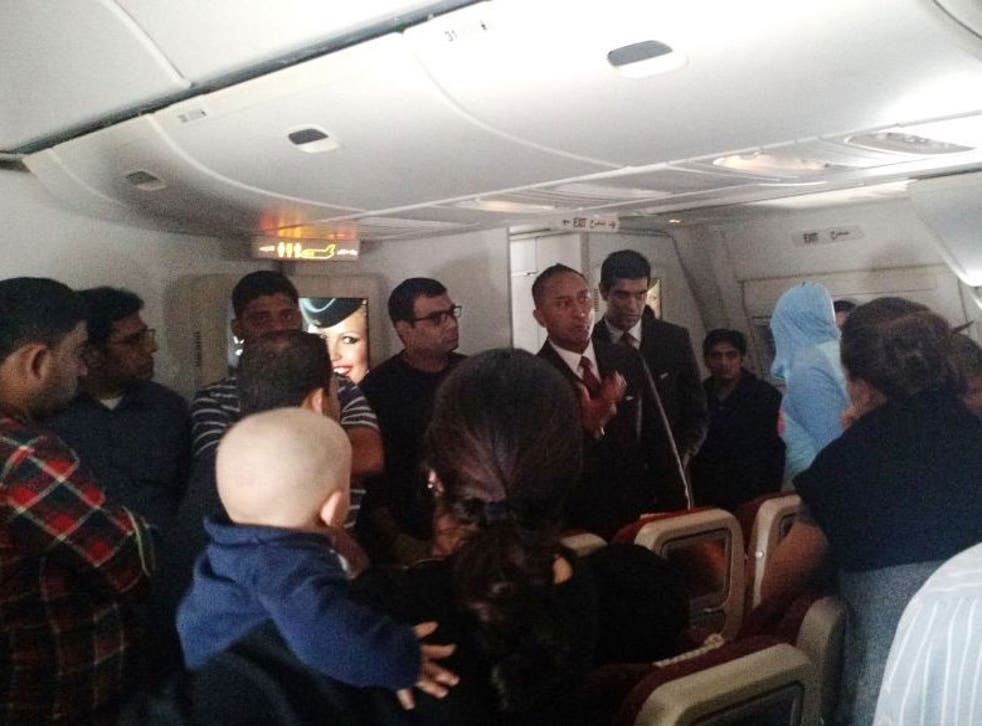 Etihad passengers 'stranded without food for 12 hours on plane' in 28-hour journey from Abu Dhabi
Etihad apologised for the 12-hour wait on the tarmac
Hundreds of angry passengers claim they were stranded and waiting on a plane in the middle of a runway for 12 hours without food for their flight bound for San Francisco to leave Abu Dahbi.
Tempers grew short on Etihad Airways Flight 183 over the weekend when fog in the Middle Eastern city of the United Arab Emirates delayed take-off for half a day before passengers spent another 16 hours flying to their destination and landing this morning, they told broadcaster KGO.
The people on board said that the flight crew told them that the Abu Dahbi airport was too crowded with other flights that had been severely delayed by the poor-visibility weather to let them off to wait in the departure lounges.
"They kept telling us that we were going to leave, you know 15 minutes from now, 20 minutes from now, 30 minutes for now, for 12 hours," Thomas Piani said.
"Everybody was fighting with each other and the flight attendants were fighting with us, and we were fighting with the flight attendants," Venkatesh Pahwa is quoted as saying by the Press Association. The airline has not yet commented on this claim.
Pictures clearly show babies and children on board the plane that was held on the tarmac, and some people claimed that more than 30 people had to wait in a queue for assistance with lost luggage after being stuck on the aircraft for 28 hours.
Etihad, a national airline of the United Arab Emirates, which includes Abu Dhabi, said on its website that "severe fog disruption" delayed flights and caused airport congestion.
They said in a statement: "Etihad Airways apologises to its passengers for the inconvenience that this major disruption has caused and thanks them for their patience during these extremely challenging few days."
The airline said the delays were beyond its control and had put up passengers in more than 2,000 rooms across the city.
UPDATE: The airline later issued an official statement saying: "Etihad Airways has apologised to passengers on board flight EY183 to San Francisco, on Saturday 3 January, for the significant delay they experienced during the unprecedented fog disruption at Abu Dhabi Airport. EY183 was one of the flights most affected by the runway closure at 2.30am and the subsequent congestion and significant delays which impacted all airlines. During the time on the ground, awaiting permission to take-off, passengers were provided with refreshments and were updated about the reasons for the rolling delay caused by the extreme weather conditions. The passengers remained on the aircraft as all efforts were being made to secure a new departure time. The delay was then compounded by the requirement to replace the aircraft's ultra-long haul operating crew who had exceeded their flight time limitations. The aircraft pushed-back at 2.15pm local time and took-off a short time later. Etihad Airways always strives to deliver the highest standards of customer service and on this occasion our ability to do so was impacted by circumstances which were largely beyond our control."
Join our new commenting forum
Join thought-provoking conversations, follow other Independent readers and see their replies