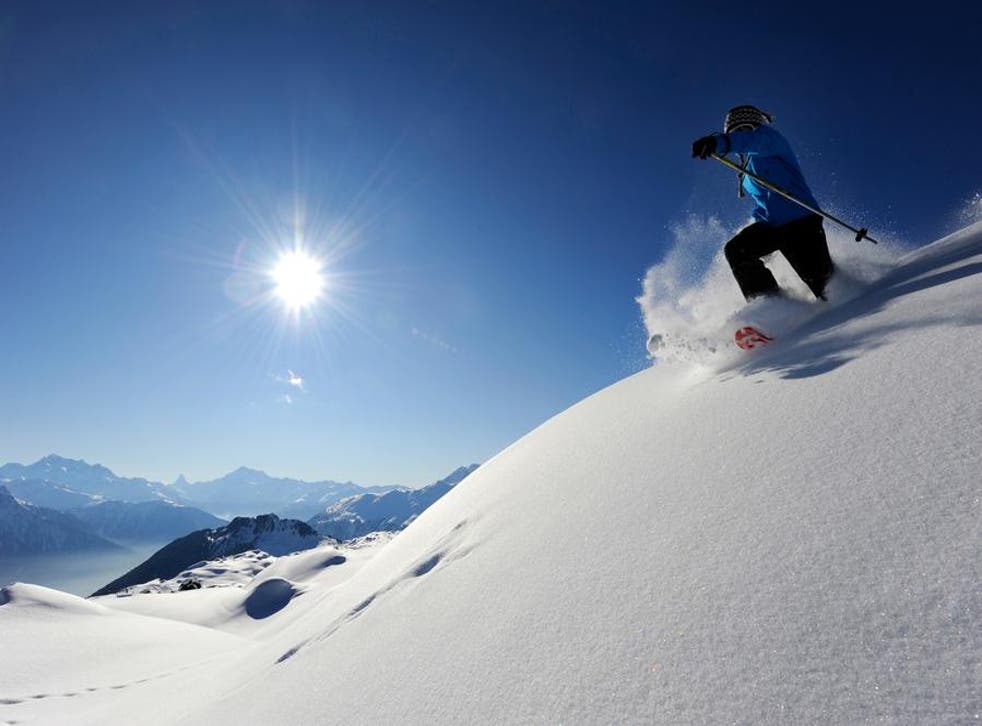 Powdair: Startup airline to Swiss ski resorts will offer season passes
Powdair promises season tickets for frequent skiers
Simon Calder
Travel Correspondent
Thursday 15 June 2017 10:35 Comments
Southend to Saas-Fee, Manchester to Crans-Montana and Edinburgh to Zermatt: skiers have been promised easier access to top Swiss winter sports resorts this winter from six UK airports.
A new start-up airline called Powdair plans to connect Bristol, Edinburgh, Luton, Manchester, Southampton and Southend with the small airport of Sion in south-west Switzerland. Sion is capital of the canton of Valais, and is also convenient for the ski resorts of Verbier and Nendaz.
The carrier says: "Gone are the days of flying into one of Switzerland's much busier airports before embarking on a two or three hour transfer journey to your destination."​
Powdair is based in Dublin, set up by "a group of successful businessmen and savvy investors, who also happen to love skiing".
The type of plane has not yet been finalised, with Powdair saying: "We are using either the Embraer 170, a 76 seat regional jet or Embraer 190 seating 106 passengers depending on demand."
The highest-frequency routes are to and from Luton (five flights a week), Southampton (four) and Bristol (three). Powdair says: "We've planned our routes and our timetable with short breaks in mind."
The airline is even offering a season ticket, with the chance to buy 10, 20 or 30 tickets for a specific route at a 20 per cent discount on normal fares.
Fares vary little over the season. On the key half-term dates, flying from Luton on 10 February for a week, the fare to Sion is £310 return. A Monday-to-Wednesday trip on the same route in mid-April, when demand is likely to be much lighter, is exactly the same price.
Fares include 23kg of baggage plus a pair of skis or a snowboard. Taking a bicycle costs just £10 each way. A light snack and soft drinks are included in the
Powdair addresses concerns that prospective travellers may have about the viability of the start-up, conceding "The world is littered with failed travel companies and airlines". It says ticket funds are retained by a payment merchant, adding: "In the event of a cessation of flights, your money will be refunded back to you."
Aviation industry experts contacted by The Independent were guarded about the prospects for the venture. The consultant, John Strickland, said: "Sion could be a bit of a niche ski market, but it's still a challenge given the big fire power of easyJet and other tour-operator backed airlines."
A senior executive, who did not want to be named, said: "I don't give it long, in fact I very much doubt whether a single flight will take off."
But Powdair is optimistic about the future: "Assuming our 2017/18 winter season goes well, then we have every intention of continuing to operate flights throughout the year."
Register for free to continue reading
Registration is a free and easy way to support our truly independent journalism
By registering, you will also enjoy limited access to Premium articles, exclusive newsletters, commenting, and virtual events with our leading journalists
Already have an account? sign in
Join our new commenting forum
Join thought-provoking conversations, follow other Independent readers and see their replies