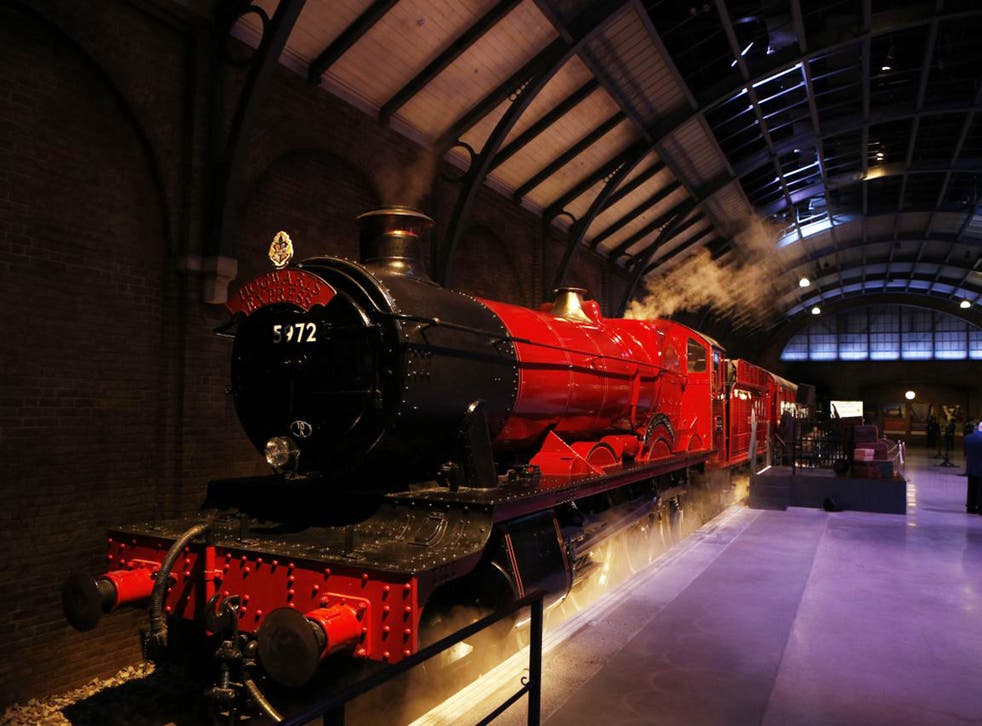 The Railway Children stage show and Harry Potter studio celebrate the golden age of steam
The Railway Children is now on its second lengthy run in a specially-built venue behind King's Cross station, while the Harry Potter studio tour opens a new, permanent attraction tomorrow - complete with the red Olton Hall steam engine that was the Hogwarts Express in the movies
Rolling up the soot-stained sleeves of my shirt and pulling my cap down over my eyes, I climb into an LSWR T3 class express passenger locomotive and ready myself to drive this epic hunk of iron and steel. Full steam ahead!
OK, I'm not actually driving it and the clouds billowing around my head are not steam – they're theatrical smoke and the train is being pushed on stage by a big old motor that remains out of sight. For one matinée only, ladies and gentlemen, I have been transformed into an engine driver for The Railway Children, the hit theatrical version of E Nesbit's beloved 1906 book. The show opened in 2008 as a unique collaboration between the York Theatre Royal and the National Railway Museum, and the production is now on its second lengthy run in London, in a specially built venue behind King's Cross station.
The secret of its success? It could be the tear-jerking story, the surprisingly strong moral message, the winning performances and lovely period costumes. Or… it could be the steam train. This 1892 locomotive chugs down the centre of the theatre (the play is cunningly staged around a real railway line), giving moments of high drama added spectacle. But it's also just a grand beast – huge and solid, painted a reassuringly old-fashioned shade of green – capable of eliciting coos of excitement and rounds of applause from children and grown adults alike.
Harry Potter tour: in pictures

Show all 8
Even the playwright, Mike Kenny, concedes that it's the train that brings the magic. "If you were a kid and you drew a train, that's what it would look like," he says cheerfully. "Diesel or electric trains [don't] have that sense of steel and iron and brass and steam, the sheer physicality of the moving parts. Steam trains are big and they're heavy and they have a kind of beauty. They're real feats of engineering."
The Railway Children is not the only family attraction to cotton on to the power of steam. The Harry Potter studio tour opens a new, permanent attraction recreating Platform 9 ¾ tomorrow – complete with the red Olton Hall steam engine that was the Hogwarts Express in the movies. And it's there by popular demand: according to Sarah Roots, of the Warner Bros. Studio Tour, Potter fans' "most requested" addition was the Hogwarts Express.
But why should that be the case? Target audiences for both these family attractions obviously have no memory of the golden age of steam. Yet there is something about choo-choos that gets children worked up… "I don't know why trains still work with kids – but they do," says Kenny, who recalls playing endlessly with a train set with his own children. From Thomas the Tank Engine to Starlight Express, Ivor the Engine to The Polar Express, trains transport us – imaginatively, as well as physically.
For adults – and the show has been a hit with the trainspotting crowd – there's also a vein of nostalgia to be tapped into. It's that pride in great British engineering and industry, but also the romance of the railways – they once brought us travel, widened our horizons. And forget Richard Curtis's suggestion that airport arrival gates prove love actually is all around: for nearly 200 years, railway platforms have been a natural stage for hugs, tears and platform-long running reunions. It's an emotional setting that both E Nesbit and J K Rowling knew how to exploit.
Back at King's Cross, stepping aboard the grand old engine – alongside two rather more capable actors – gives me a thrill. As we move on to the stage, 1,000 pairs of eyes glued to the engine, a similar ripple round the audience is palpable. No time to dwell on that, however – red petticoats are being waved frantically in my direction… This calls for serious acting: pull some levers, men, and stop this train!
'The Railway Children' is at King's Cross Theatre, London, until 6 September (atgtickets.com) and in York, 31 July to 5 September (yorktheatreroyal.co.uk). Platform 9 ¾ opens at the Warner Bros Studio Tour, today (wbstudiotour.co.uk)
Join our new commenting forum
Join thought-provoking conversations, follow other Independent readers and see their replies