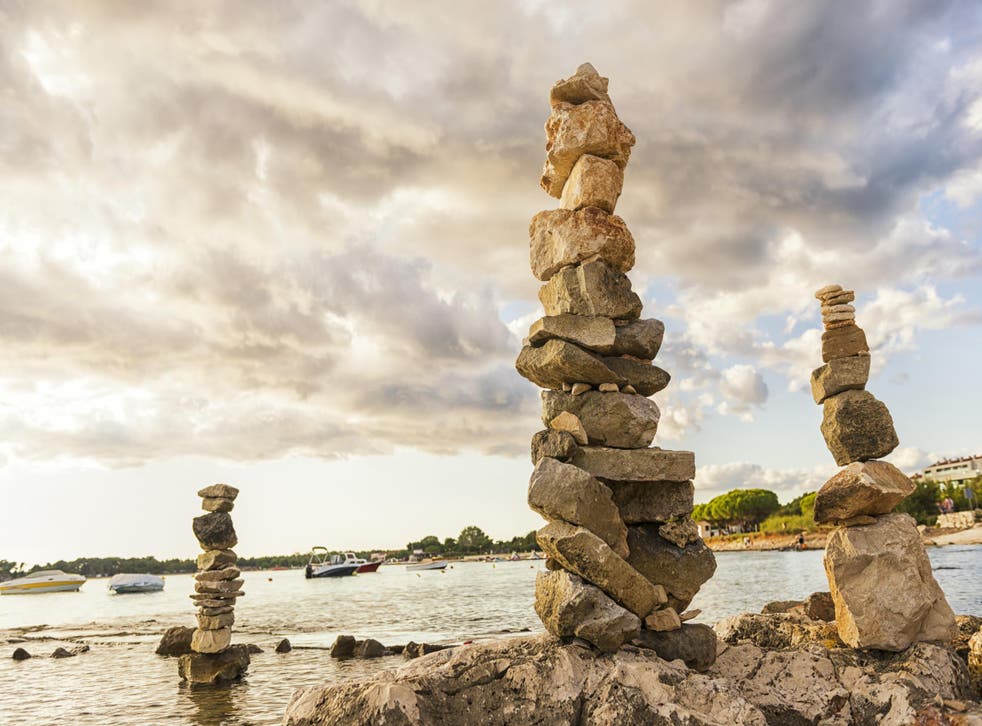 Scottish Highlands at risk of erosion by tourists seeking 'perfect picture', warn activists
Tourists building rock formations in the remote Scottish Highlands could be doing irreversible damage, according to environmentalists
Visitors to the remote Scottish Highlands are increasing the area's vulnerability to erosion by building rock formations in an attempt to capture the perfect photograph.
Conservationists and local people on the isles of Skye, Iona and Orkney have raised concerns about the growing trend among tourists to create tall, stacked pyramids of stones for photographic and "artistic" purposes.
While the formations may look pretty, removing the rocks from stone walls runs the risk of accelerating erosion and disturbing wildlife habitats.
Local resident Claire Irons, 53, saw at least 50 of the rock formations at the Fairy Glen in Uig, on the Isle of Skye, while walking her dog.
Irons told The Scotsman that she was worried the large piles of stones might topple and crush her border terrier, so confronted the tourists who were making the towers. They replied that she was "spoiling their fun".
After featuring in the 2016 film The BFG, the Fairy Glen was added to a Visit Scotland film trail, which has attracted a flood of tourists to the region. Irons said that the number of visitors has increased ever since.
"When I went up on a dog walk, I was amazed – you couldn't walk on the path," said Irons.
"People should go there just to see the surroundings, not to build a pile of stones. It is on a croft, where sheep graze. It is a whole geological area," she said.
John Hourston, founder of environmental campaign group, Blue Planet Society, argued that social media is fuelling the trend for building rock formations.
"When I saw the photograph I was astounded – this is a new level. For that to be on the Isle of Skye, which you associate with isolation, is absolutely shocking. Without a doubt it is having an impact on ecology," he said.
"The photo epitomises the desecration of the natural environment. We are talking about a base of people, backpackers and adventurers, who should have a concept of 'leave no trace'."
"The people who like to do this see it as completely harmless. People are increasingly wanting to get into the wild, but the wild is becoming less wild," he said.
Join our new commenting forum
Join thought-provoking conversations, follow other Independent readers and see their replies