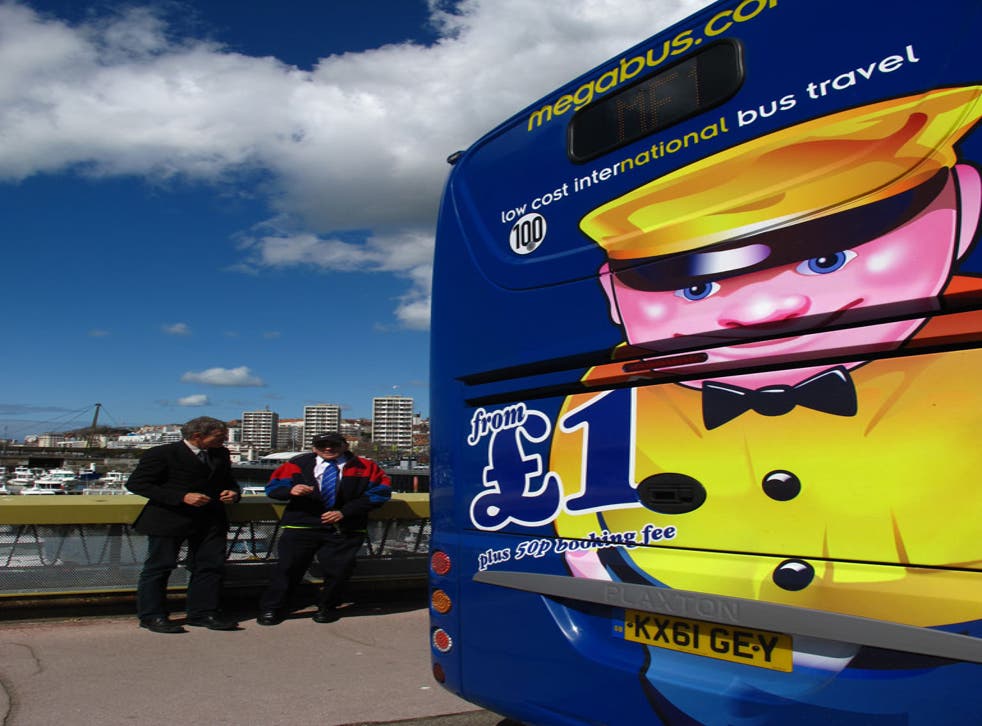 Simon Calder: 'Loser cruiser' or the modern way to Paris?
Paris by bus and boat? A hangover from the 1980s, surely. A sophisticated traveller like you may once have taken the tough route to the French capital in the distant past, but since Eurostar began from London and air fares from other UK airports started to tumble, train or plane is surely the only way to go.
Before I took the first European Megabus on Monday, a friend disparaged the coach as a "loser cruiser". Since the budget bus firm was selling one-way tickets for £10, though, it seemed impolite not to step aboard the pioneering Continental coach journey. And even before the big blue bus left, I began to be won over.
"Check in one hour ahead," the ticket instructed. Due to operational difficulties involving a bicycle, I rolled up only 10 minutes ahead, and was welcomed aboard by Bob Auty, the driver.
He explained that heavy traffic had delayed his run into London, so departure would be delayed by 15 minutes to meet the rules about drivers' breaks – which was good news for the tardy couple who turned up after the bus was due to leave and casually climbed aboard. Try doing that with BA, easyJet or Ryanair. And try using your laptop from the moment of take-off. Or rather don't. Yet on Megabus, and its rival, Eurolines, you can take advantage of free Wi-Fi between London and Paris; and P&O offers the same courtesy on the ferry from Dover to Calais.
As we waited to board the boat, I surveyed my fellow passengers. The age range was 18 to 60-plus, with the vast majority in their twenties, and evidently with time on their hands. A Eurostar train had left London at the same time as us; by the time Bob's bus reached Dover, the speedy rail passengers were already on the outskirts of Paris.
Megabus's move has certainly created fresh demand. Sam Dawkins from Swansea, travelling with two fellow students, said: "The only reason we're doing the trip is because of the fare – we paid £10 each way."
Aboard Spirit of France, I suggested to P&O's Brian Rees that Megabus's Continental caper is a throwback to an unlamented era.
"Nonsense. Low-cost flights aren't as low cost as they used to be because of the high price of fuel. Ships and coaches don't devour fuel as hungrily as planes, and so the price points change."
One reason Megabus feels it is time to grab a piece of the action is because of Eurolines' rapid growth in the past few years. The managing director of Eurolines UK, John Gilbert, graciously acknowledged the upstart.
"We welcome competition as it helps raise awareness of the value and convenience of international coach travel." His company has cut fares to Paris, Amsterdam and Brussels to £9 each way, a fare that he says is "readily obtainable".
The Channel Tunnel train operator Eurostar seems unflustered by the new arrival. Mary Walsh, director of communications, says: "The arrival of more choice on any route is always good news for passengers. Eurostar is the market leader for travel between London and Paris and we have built up a loyal following by offering travellers fast, convenient and comfortable travel at competitive fares. We offer the winning combination of speed and value for money."
Five hours after leaving London, and five minutes ahead of schedule, the bus arrived at its first stop in France, Boulogne. As Bob the driver handed over to a colleague, he told me: "Cost is the first attraction – who wouldn't want to get to Paris for £10? But also people get frustrated with flying. Here, you just put your luggage on the bus and the next time you see it is in Paris."
Simon Calder's film about the trip is above.
Revolutionary ride: a Megabus timeline
This is how the journey unfolded on the first Megabus to Paris:
0500 Departs from Birmingham
0830 Arrives Victoria Coach Station to pick up passengers and for the 45-minute regulation stop for driver Bob Auty
0955 Passes Blackheath and Greenwich Park, starting point of tomorrow's London Marathon
1025 Crosses the Medway next to High Speed One, on which trains run three times as fast as the bus
1115 Dover Castle signals arrival at Eastern Docks, with a brief glimpse of the French coast. The half-dozen non-EU citizens are checked by French frontier control, a process that takes two minutes; everyone else is ignored.
1155 Spirit of France departs Dover, five minutes early
1415 (French time) Arrive Calais. "Welcome to sunny Français," says Bob as he drives off
1515 Pause in Boulogne, where a new driver takes over from Bob
1820 Arrives Porte Maillot, Paris, eight hours after leaving London
travel@independent.co.uk
Join our new commenting forum
Join thought-provoking conversations, follow other Independent readers and see their replies