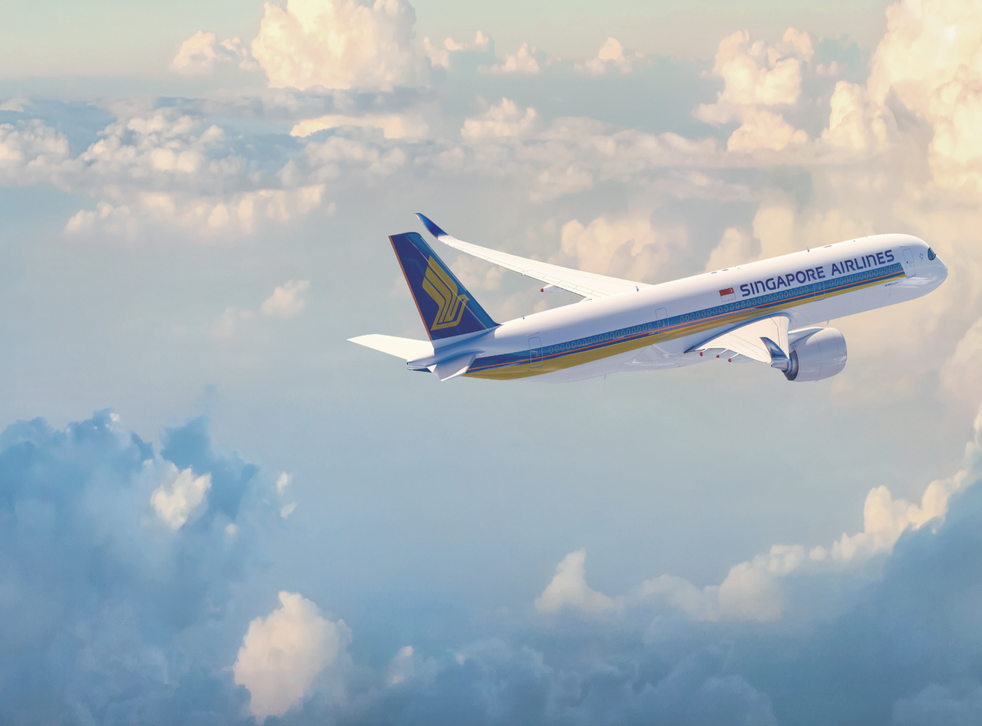 Singapore Airlines: Everything you need to know about the world's longest flight
Your endurance guide to the world's longest nonstop flight
Singapore Airlines is taking back the prize as the longest flight in the world. From 11 October it is resuming the route from Singapore to New York's Newark airport, a "great circle" distance of 9,529 miles – scheduled to take 18 hours 25 minutes from Singapore and 20 minutes longer from New York.
In terms of distance, flight SQ22 will beat the present record-holder, Qatar Airways, by 500 miles and will cross 12 time zones.
This guide is based partly on everything I learned on board the inaugural trip of the UK's longest flight, from Heathrow to Perth, in March.
What is the aircraft?
An Airbus A350-900ULR (which stands for Ultra Long Range). It will carry around 120 tonnes of fuel, and burn through about 90 per cent of it along the way.
How much time does it save?
Compared with the current SQ26 flight from Singapore via Frankfurt to New York JFK, at least five hours. In comparison with the swiftest journey between the two cities involving a change of planes (on Eva Air via Taipei), the time saving will be only two hours.
Which way does it go?
That depends on predicted winds and other factors such as the availability of diversion airports. The most direct track goes almost due north from Singapore, crossing the Gulf of Thailand and Cambodia, clipping Thailand and flying over Laos before bisecting China, Mongolia and Russia. It then crosses the Arctic very close to the North Pole and brushes the north-west corner of Greenland before flying over Baffin Island, the province of Quebec from north to south and passing midway between Ottawa and Montreal before flying over New York State and landing at the New Jersey airport.
In practice, it is likely to stay further away from the North Pole, keeping closer to Alaska or Scandinavia depending on wind direction.
Time management
For people who can sleep throughout a flight, the departure and arrival times look pretty civilised: leaving Singapore at 11.35pm, arriving in New York at 6am the next morning. If the flight takes the Alaskan option, then you will cross the international date line; with a Scandinavian track, you will not, but the arrival time should be the same either way.
But what is a very long night going from Singapore to New York becomes an extremely protracted day in the opposite direction: leaving at 10.45am and arriving at 5.30pm next day, whether or not you cross the date line.
Seating
Most of the "footprint" of the aircraft cabin will be taken up with 67 business class seats. They feature "the Lazy Z, a cradling position that ensures your weight is centred and balanced when you're sitting down," and of course are fully flat and extend to 6ft 6in.
The remaining one-third or so will be premium economy – a total of 94 seats. They are in a 2-4-2 configuration, with a seat pitch of 38 inches.
There is no first or economy class.
How much does it cost?
Test bookings made for journeys beginning in Singapore in October by The Independent show a premium economy fare of S$3,320 (£1,864) return, around 24 per cent more than the one-stop via Frankfurt; and S$7,619 (£4,277) return in business class, an uplift of nine per cent. These fares, which are fully flexible, are significantly lower than comparable prices on British Airways and Virgin Atlantic from Heathrow to New York – a journey around 6,000 miles shorter.
Luggage
The checked allowance in premium economy is a generous 46kg per person, comprising two 23kg bags – surprising considering the amount of fuel burned flying passengers' possessions. If any route deserved a hand-baggage only allowance, it is this one.
Hand luggage is supposed to be restricted to a single piece weighing no more than 7kg, but past experience suggests that it will not be too strictly enforced. In addition you can take one of the following: handbag, camera bag, overcoat, umbrella, laptop, walking stick or "a small amount of duty-free goods".
Pre-flight
Take a dip in the rooftop swimming pool in Singapore Airport's Terminal 1. At S$17, it costs less than £10, and includes the use of a jacuzzi – ideal for soothing away the strains of getting to the airport. Towel yourself dry and board the flight.
Headphones
The best way to cope with an ultra-long-journey is to retreat into your world while flying around the globe. I tested three pairs: Bose Quietcomfort 35 II, Sony's WH-1000XM2 and Marley headphones (as in Bob). The last, funky though they may be, were not noise-cancelling. When even No Woman, No Cry at full blast is spoiled by the drone of jet engines and the crying of babies, they cannot be recommended for a plane environment.
If you have got through life without noise-cancelling headphones, may I recommend a pair for a long journey? They work by injecting a phase-reversed mirror image of the background din, which nullifies the noise. At the flick of a switch you can turn the world off.
Sony and Bose were very close in performance, but Sony had even better bass response and also won on comfort.
Inflight entertainment
If this month's selection is anything to go by, you can watch Simon Reeve in Russia while flying over Siberia, go to sleep with the Graham Norton Show and enjoy the Great British Bake Off over breakfast.
Top Gear and Dragon's Den are also available.
In the audio department, "Both Sides of the Sky" is the appropriate Jimi Hendrix selection. Aretha Franklin and Marvin Gaye are also standing by. But for something a tad more modern, Taylor Swift: The Singles is about your lot.
Connectivity
While Qantas is an internet-free zone all the way from London to Australia, on Singapore Airlines paid access to the world wide web is available.
Business class passengers get "one complimentary wifi session per flight sector" amounting to just 30MB. You get more than that on the Gatwick Express. But you can buy as much access as you like, subject to availability (it could be tricky in extreme northern latitudes).
Join our new commenting forum
Join thought-provoking conversations, follow other Independent readers and see their replies