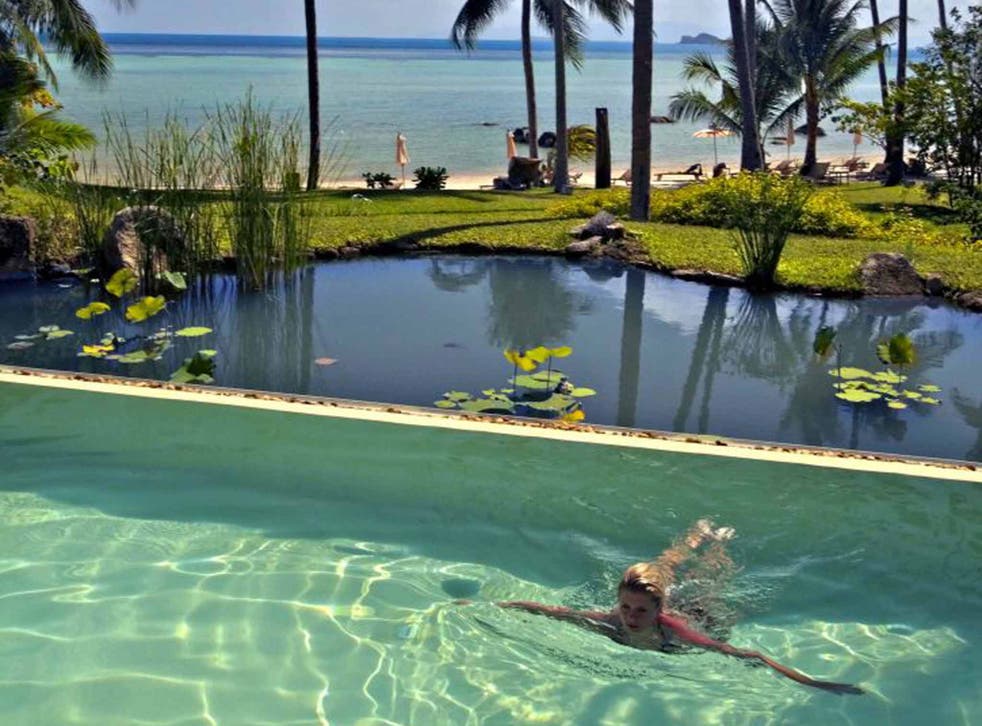 Solo travel: From learning to surf to crewing a yacht
Forget bickering over itineraries and cost, going it alone offers the chance to do exactly what you want
Travelling alone is often the best way to go; without a companion, you are much more open to meeting local people and following your instincts. No arguments about where to eat, stay, or visit – and if you are tempted to, say, extend your trip or add an extra location, you have no-one's schedule to worry about but your own.
Whether you are single, or a part of a couple who simply prefers to venture out and see the world alone, you are in good company: Google searches for "solo travel" were up almost a third last year compared with 2013.
Movies often mean big business for the travel industry, not only putting places on the holiday map but also encouraging people to try something new. The 2010 film, Eat Pray Love, inspired many people to travel alone. Elsewhere, Thelmaandlouise.com is an online community – inspired by the 1991 film – where women can meet like-minded travel buddies, find inspiration for trips, and read reviews. The site also has trip planning tools, destination guides, and podcasts. Launching soon, a new Search By Location function will allow members to seek out potential travel companions in both their home area and the destination they're interested in travelling to.
Tour operators are also getting wise to this trend, with a blossoming crop of women-only group tours. For example, sustainable tourism specialist Village Ways (01223 750049; villageways.com) has introduced an all-female trip (departing 30 March) to India to discover the life of villagers in the Himalayan Binsar Valley, on foot. The tour, with up to six travellers, costs £708pp for 11 nights, including two in a Delhi guesthouse and nine in traditional village houses. The cost includes a guide, luggage porters for walks between houses, most meals, and transport by train and road. Flights and airport transfers not included.
This month, the travel site 101 Holidays launched a spin-off, 101 Singles Holidays (101singlesholidays.com), in response to the increasing number of users enquiring about travelling alone. The 101 trip suggestions include small group tours of Japan (with insidejapantours.com), no-single-supplement boutique hotels on Turkey's Turquoise Coast (with exclusiveescapes.co.uk) and wellness retreats at Kamalaya on the Thai island of Koh Samui (with essentialescapes.com).
In pictures: Solo travel

Show all 7
Cost is one of the drawbacks of travelling solo. The mainstream travel industry is based on the notion that two people will travel together, and much of the infrastructure is designed for this – so often a room for one will cost as much as it does for two, and if a single room is available it may be small and/or noisy, and sold at only a grudging discount to the couples' rate.
On cruises, the situation can be even worse, with single travellers occasionally asked to pay more than two sailing together – because cruise lines build in an expectation of on-board sales and excursions, which are lower for one person than two. Travelling off-season – ie away from the school holidays – can see some "no single supplements" deals from tour operators, hotels and cruise lines.
Cruise & Maritime Voyages (0844 998 3932; cruiseandmaritime.com) even has a "single cruise policy" aboard Magellan, with 150 twin cabins for single occupancy that have "only" a 25 per cent premium – much lower than the average. The eight-night Scandinavian Cities & Fairytales cruise from Tilbury on 10 July, taking in Amsterdam, Hamburg and Copenhagen, costs £1,019 for a solo traveller.
One Traveller (01760 722011; onetraveller.co.uk), arranges escorted group holidays for over-fifties (a burgeoning solo travel demographic) in destinations as varied as the Austrian lakes and China. There are pre-departure nights in airport hotels to meet and dine with fellow travellers, and no single supplements.
Also check out the hundreds of single traveller-friendly holiday companies that are members of the Association of Independent Tour Operators (aito.com).
Take a career break
The chance to gain life experience or learn a new skill often motivates solo travellers. How about two weeks on the Isle of Wight learning how to crew a superyacht? It costs from £1,595pp with Flying Fish (01983 280641; flyingfishonline.com) including full-board accommodation, training, equipment, exams and a recruitment service to find jobs on yachts worldwide.
Sustainable tourism specialist Responsible Travel (01273 823 700; responsibletravel.com) has a number of tours geared towards gap-year travellers and career breakers including an opportunity to spend eight weeks in South Africa learning how to be a game keeper. The cost is from £2,779pp and includes Field Guide Association of South Africa training, fees and exams for a level one qualification (recognised across Africa), full-board accommodation and transfers. Flights extra.
Thecareerbreaksite.com has a directory of companies offering extended solo travel opportunities, from paid work abroad and charity challenges to internships for ski instructors and field guide training.
What's new?
Cruise holidays have long attracted single supplements, but there are signs of improvement. Solos Holidays (0844 815 0005; solosholidays.co.uk) has a new, supplement-free Tulip Time River Cruise through the Netherlands and Belgium this spring. The one-week trip departs 25 March aboard the luxury AmaSonata ship, complete with high-speed wi-fi and bikes to explore on. Calls include Ghent and Utrecht. The price of £1,595pp including flights from Gatwick to Amsterdam, transfers and full board.
According to the World Travel Market Report Top Trends for 2015, solo travellers are embracing "poshtels" – affordably priced hostels that have had a makeover.
In 2014 the Youth Hostel Association (yha.org.uk) spent more than £10m on refurbishments, creating private en-suite rooms and other hotel-style perks.
Boutique-style hostel group Generator (generatorhostels.com) relaunched its London hostel last year and opens a new Paris outpost next month.
Get active
Best known for its high-end, family-friendly ski holidays, Powder Byrne (020 8246 5300; powderbyrne.com) has a growing programme for solos, with or without children in tow. Its Learn in Style ski programme in Arosa, Switzerland, offers guiding in small groups of the same ability, hosted mountain lunches and après ski, plus the chance to retreat to a plush single room. A week's half board at Hotel Cristallo is £2,079pp with Powder Byrne, departing 28 March, including flights and transfers. Learn in Style costs £455 for five days.
Alternatively, head for Kerala, south India, with Soul and Surf (00 91 963 367 6581; soulandsurf.com). Stay in a surf and yoga hotel, a traditional Keralan-style cliff-top house opened by Brits Ed and Sofie Templeton. There's no single supplement, and solo travellers have the chance to meet like-minded people during surf lessons with ISA-qualified instructors and a daily yoga programme. Prices start from £30 per night for a "Quite Nice Room"; minimum three-night stay.
Have an adventure
Head off into the sunset on a riding holiday at the Mayan Dude Ranch in Texas (001 830 460 3036; mayanranch.com), a family-run operation with no single supplement. A stay here means trail rides through the hills, plus the chance to try "trick roping" and get involved with the day-to-day running of the ranch. After all that you can relax by the pool.
Western & Oriental (020 3588 6035; westernoriental.com) has a week here from £1,535pp including full board accommodation, activities and flights from Heathrow.
Discover Adventure (01722 718444; discoveradventure.com) does what the name suggests, offering everything from mountain expeditions in India to desert treks in Morocco, with three out of five participants travelling alone. A 10-day Kalimantan Jungle Trek in Borneo, led by a local guide, costs from £2,199pp with shared accommodation, flights, transfers and most meals.
Safari holidays are also viable for solo travellers. Wild About Africa (020 8758 4717; wildaboutafrica.com) offers group trips with no, or low, single supplements. The eight-day Taste of Namibia itinerary costs from £551, plus a supplement of just £26. It includes game drives in Etosha National Park and a trip to the Namib Desert, plus tent and guesthouse accommodation. Flights extra.
Take the kids
Single Parents on Holiday (0871 550 4053; singleparentsonholiday.co.uk) offers escorted activity, skiing and beach breaks in three- to five-star family hotels worldwide.
Destinations for 2015 include Morocco, where a week's guided group tour from 23 May stays at the all-inclusive Royal Decameron Issil, with a kids' club and activities such as Arabic lessons, cooking classes and tennis. From £630pp or £520 per child, with a 25 per cent discount for second and third children under 12. Flights and some activities extra.
With an associated dating site, Single With Kids (0845 166 8119; singlewithkids.co.uk) has a focus on "fun and friendship", its holidays ranging from UK camping breaks to adventurous guided group trips. Even if all-inclusive resorts aren't usually your bag, for single parents they can work well, with kids' clubs and other families giving parents and children some independence. New to the programme for 2015, the four-star Playa Blanca resort in Lanzarote costs £899pp (£799 per child, two-18 years) all-inclusive, departing 5 April, accompanied by a Single With Kids holiday coordinator.
Get cultural
Hands-on arts and cultural holidays are a great way to meet likeminded travellers. Go Learn To (020 8144 5990; golearnto.com) has tours ranging from photography and painting courses to surfing and scuba weeks.
Its dedicated solo departures have no single supplements and some trips are age-specific, meaning you can meet people of similar ages and interests. And while these trips are specialist, they don't have to bust the budget. A four-day cookery weekend in the countryside near Bordeaux, for example, costs £500pp with tuition, three nights' full-board stay in a farmhouse, excursions and transport/transfers. International travel extra.
Popular with mature travellers, ACE Cultural Tours (01223 841055; aceculturaltours.co.uk) offers escorted trips worldwide, many with no single supplements or with same-sex room-share options.
To test the water, try one of its Day Courses (from £75), which include a tour of London's Hawksmoor churches, on 9 April, led by architectural and garden historian Roger White.
Join our new commenting forum
Join thought-provoking conversations, follow other Independent readers and see their replies