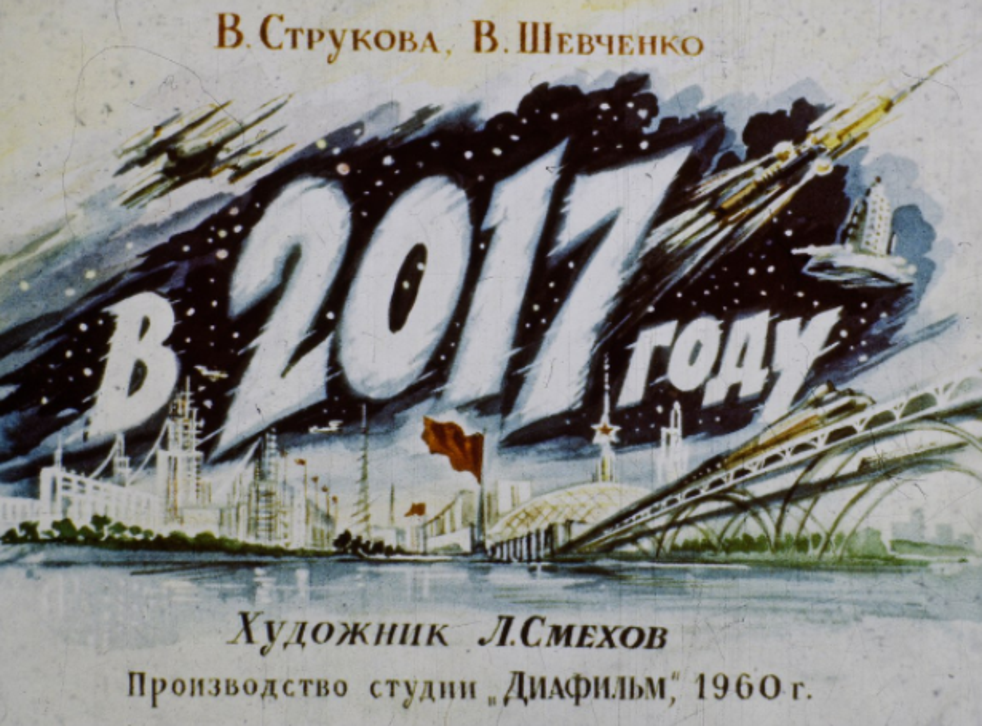 1960s Soviet filmstrip shows USSR's victory over the West and predicts FaceTime and self-driving cars
A vision of life in 2017 shows remarkable prescience about today's transport and mobile connectivity
B 2017 godu (In the Year 2017) produced at the Diafilm studio in Moscow in 1960, depicts a world in which Siberia and Alaska are connected by a high-speed, atomic-powered trains on a rail link over the Bering Strait, using a double-decker bridge.
The filmstrip loosely follows the story of a boy named Igor enjoying all the achievements of the USSR nearly a century after its creation, notably the travel possibilities.
The world today, according to the Soviet Union in 1960

Show all 5
Transport was arguably the greatest success of the Soviet era. The sprawling confederation was bound together by electrified railways, while Aeroflot was the world's biggest airline until the collapse of the USSR. Yet the filmstrip suggests that revolutionary fervour could have produced even more ambitious transportation links.
In the filmstrip, an "International Metro Network" has been established along the far north of Eurasia, connecting cities and communities along the Arctic Ocean. The far north of Siberia is also connected via a series of ship canals with the Aral and Caspian Seas in the south.
Some predictions are remarkably accurate, such as a frame showing a live video link between Igor's home and a cruise ship on the Black Sea – foreseeing technology such as Skype and FaceTime.
There is also an image which appears to feature autonomous cars. But there is no concept of Google maps nor tablet computers, with abundant depictions of newspapers and paper maps.
The filmstrip has 45 frames. At a time when projectors were in short supply in the Soviet Union, filmstrips provided an effective means of education – and propaganda.
Join our new commenting forum
Join thought-provoking conversations, follow other Independent readers and see their replies