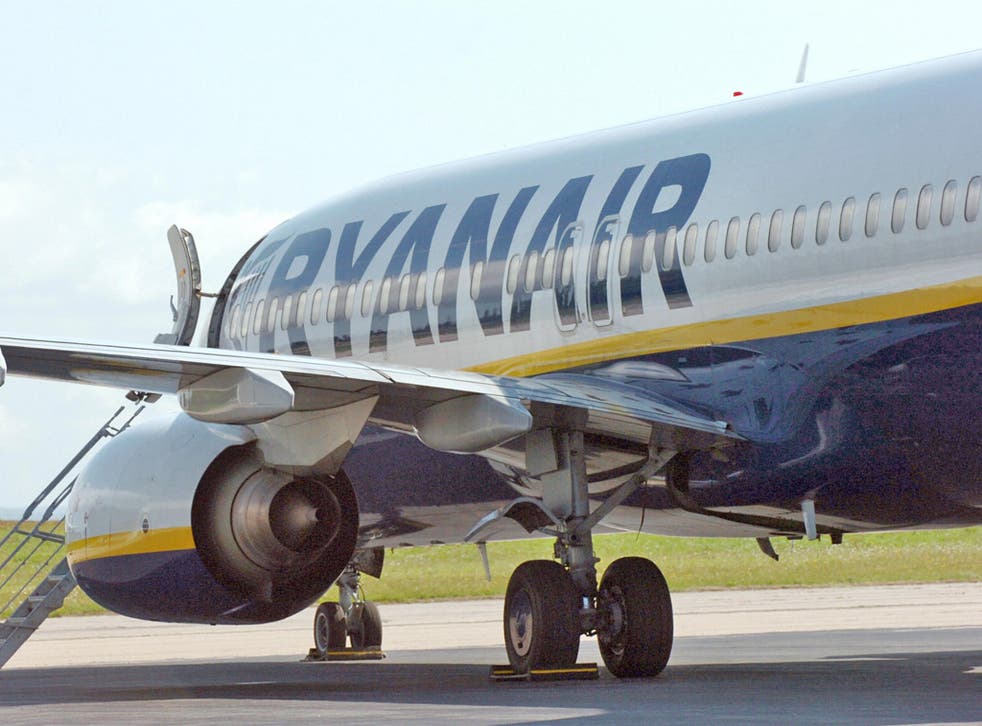 Ryanair: Squeezing eight more on board will give passengers 'more' room, claims budget airline
Controversial CEO Michael O'Leary also promises his airline will never charge for the loo
With a flourish of 21st-century alchemy, Ryanair has promised that squeezing eight more people into its planes will provide passengers with extra legroom.
Michael O'Leary, the controversial chief executive of Europe's biggest budget airline, promised long-suffering passengers will not be so cramped aboard his new Boeing aircraft, even though four per cent more people will fly on a jet whose dimensions are unchanged.
"I feel like a child waking up on Christmas morning to find that Santa has left exactly what I wanted," he told a news conference in New York where he announced a $22bn order for new aircraft.
The Boeing 737 MAX 200, for which Ryanair is the launch customer, will hold up to 200 passengers - though Mr O'Leary plans to fill it with "only" 197 seats. The full 200-passenger payload would require a fifth member of cabin crew, increasing the airline's costs.
At present, the closest rival is the Airbus A320, which is certified for 180 passengers.
In order for the new Boeing to be certified for the extra passengers, the fuselage has been redesigned to accommodate an additional emergency exit between the wings and the tailplane - necessary to allow rapid evacuation. While it will give Ryanair even more seats to sell at a premium, it will also reduce the space available in the rest of the cabin.
Yet by moving the rear toilets into the space currently occupied by the rear galley, and dismantling much of the forward galley, Ryanair believes it can improve on the present "seat pitch". At present there are 30 inches between the front of one seat and the front of the next, which Mr O'Leary said would slightly increase.
The main reason for buying more planes - for which there are 100 firm orders and 100 options - is to allow Ryanair to expand from 82m to 150m passengers a year in the next decade. The airline intends to take market share from SAS, Lufthansa, British Airways and Air France-KLM. It will also expand beyond Europe, with more destinations served in North Africa as well as plans for routes to Israel, Lebanon and the Gulf States
Mr O'Leary said: "This is the aircraft we've been waiting for, for 10 about years. I hope it will hasten in a new price war in Europe, which like all other price wars, Ryanair will win."
Rival airlines are dubious about claims made for the new aircraft, which is planned to enter service in 2019. Ryanair has admitted that it is paying a premium for the extra eight seats on a per-seat basis. Its prediction that the extra eight seats will generate $1m a year per aircraft in revenue has been met with some scepticism in the industry.
Ryanair also scotched rumours - many of them originating at its Dublin HQ - that it is working towards standing-only flights, or charging for using the on-board toilets. We have no plans ever to take the seats out of the aircraft," said Mr O'Leary, adding: "I guarantee that there will be free access to bathrooms."
The chief executive also revealed more about a bid to take over Cyprus Airways, which the island's government has put up for sale: "Cyprus Airways is effectively going bust. We think we could go down there and rescue it. We would grow the fleet and the traffic. But it's a relatively small opportunity."
Mr O'Leary said conditions were not yet right for a Ryanair-style model between Europe and the US: "Until we can secure a fleet of 30 or 50 long-haul aircraft opportunistically we won't fly transatlantic. The timing and circumstances aren't right."
Join our new commenting forum
Join thought-provoking conversations, follow other Independent readers and see their replies