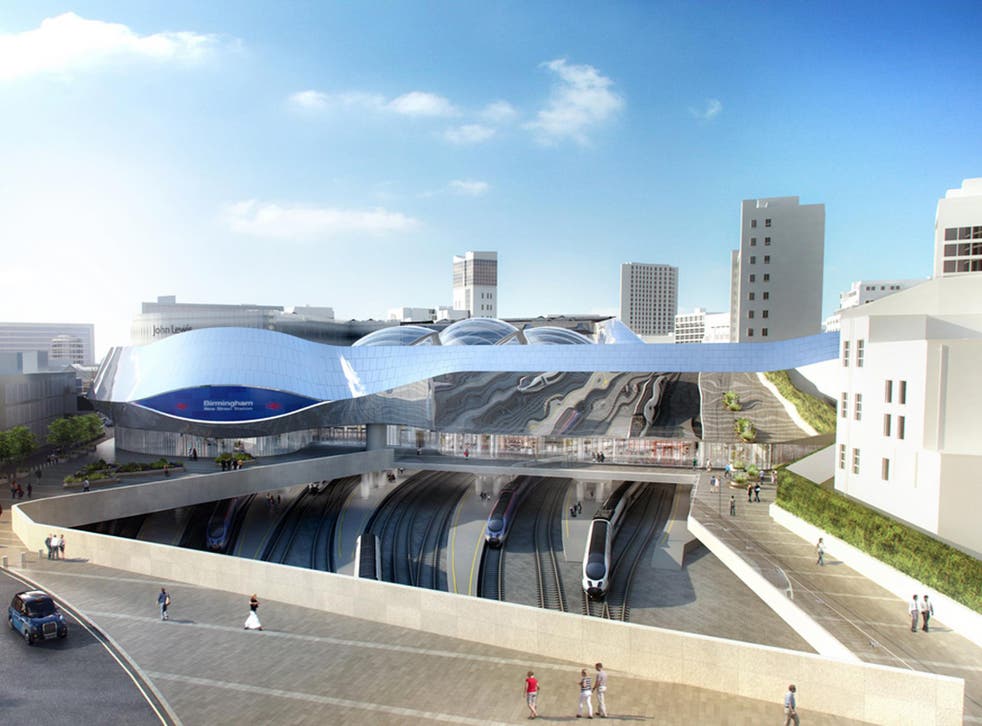 Striking new stations, high-speed links and (whisper it) better services - the UK's railways are entering a new golden age
New stations are opening across the country and our railways appear to be entering an era not seen in Britain since the early 1950s
The tinfoil wrapping is going up around Birmingham New Street. The present inside for Brummies is a brand new station – opening next year as the busiest outside London. The station's shiny cladding denotes that this is the future. The only good part of the old station will be preserved: New Street Signal Box. Crinkle cut like a concrete chip – and designed by Bicknell, Hamilton and Headley in 1965 – this bold, listed signal box was a rare paean to the railways in the age of the car.
But the age of the car is waning. Even gas-guzzling Americans want high-speed rail. In Britain, new stations are opening at Northampton, London Bridge, Oxford Parkway, Cambridge Science Park, Rochester, Bromsgrove, Ilkeston, Bicester, Coventry's suburbs, 30 are mooted for Merseyside, Kenilworth is getting its station back after 50 years, and in Scotland a huge new line – the Borders Railway, from Edinburgh to Tweedbank, is re-opening. London's Overground is expanding, Thameslink, Crossrail and Crossrail 2 will supercharge capacity across the Home Counties; new trains are arriving, new freight links to ports such as Felixstowe are being laid, and dozens of rural branch lines axed by Dr Beeching aspire to a rapid resurrection.
"The railways appear to be entering an era not seen in Britain since the early 1950s," believes Bob Gwynne, associate curator at York's National Railway Museum. Gwynne's not alone. "We've been going through a new golden age of railway use and investment for the past few years," agrees Nigel Harris, managing editor of Rail Magazine.
Not everyone sees such a rosy picture. The sheer number of operators has complicated the network and rail regulars who spend two hours strap-hanging each weekday in overcrowded carriages might be less inclined to believe in the renewed romance of rail. But travelling by train can be one of life's great pleasures. "The joys are there – but people get conditioned into the humdrum commute," reasons writer Geoff Marshall. "Every journey on a train that I've never travelled on before is a pleasure – you see something new."
In pictures: Crossrail stations halfway to completion in Central London

Show all 9
Like Michael Portillo's Great British Railway Journeys – a glass of warm televisual milk on BBC2 – Marshall's excellent Secrets of the London Underground online video series illuminates the hidden beauty lurking on every platform. For Marshall, the Underground especially "...nowadays is bright, smart and works well. And when it doesn't we have to remember it's a 150-year-old system". At King's Cross, the Underground collides with railways old and new. Admittedly, many recent stations are cheap, cheerful and – architecturally – forgettable.
But McAslan and Partners' roofed-over new King's Cross departures hall is better. It's been long-listed for the Royal Institution of British Architects' Stirling Prize. "Britain's Victorian railways were the envy of the world, fusing cutting-edge engineering and stunning architecture with a civic vision of progress and prosperity," points out Riba president Stephen Hodder. "With the new stations and lines being built today, including HS2, we must replicate that pioneering spirit with flair and imagination."
Recent press coverage has been obsessed with HS2, scarcely mentioning the slow-burning renaissance that keeps crackling away elsewhere. "New factors driving demand have emerged," points out author and prospective London mayoral candidate Christian Wolmar. "The main one is that people can use their mobile devices on trains – and keep online. The railways, that crucial 19th-century invention, are enjoying a renaissance in the 21st century."
Register for free to continue reading
Registration is a free and easy way to support our truly independent journalism
By registering, you will also enjoy limited access to Premium articles, exclusive newsletters, commenting, and virtual events with our leading journalists
Already have an account? sign in
Register for free to continue reading
Registration is a free and easy way to support our truly independent journalism
By registering, you will also enjoy limited access to Premium articles, exclusive newsletters, commenting, and virtual events with our leading journalists
Already have an account? sign in
Join our new commenting forum
Join thought-provoking conversations, follow other Independent readers and see their replies