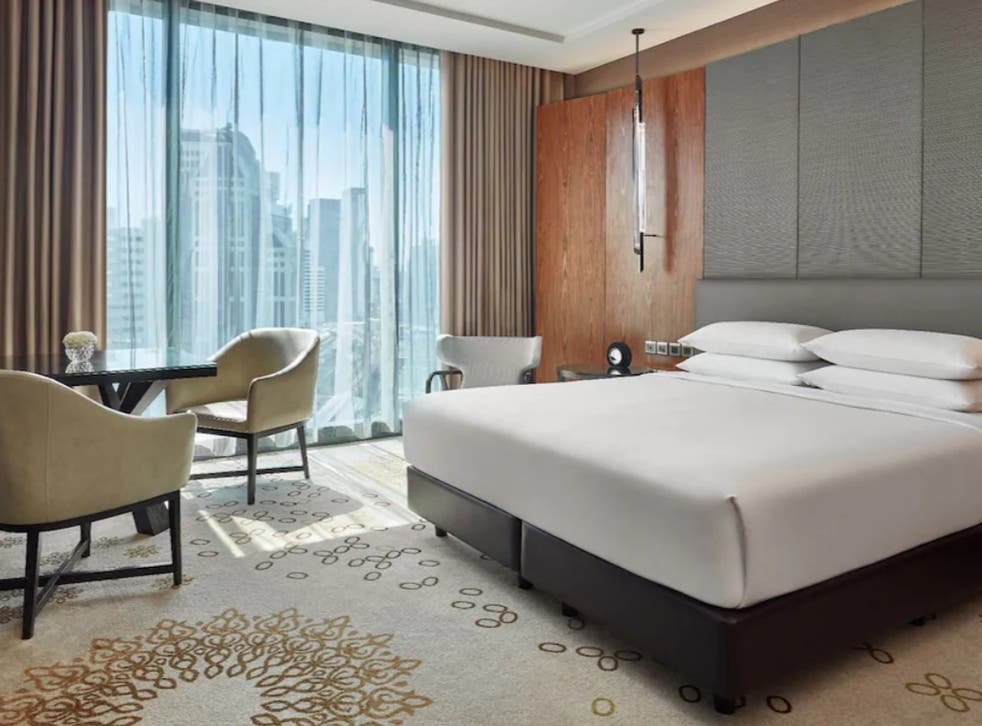 Thailand hotel launches £25,000 package that lets guests stay for a year
The One Million Baht Club includes free breakfasts, cocktails and snacks
Since the pandemic struck, hotels around the globe have been getting creative when it comes to attracting guests amid harsh travel restrictions.
The latest innovator is a property in Thailand, which is offering a package that allows guests to stay for an entire year.
Launched by the Hyatt Regency Bangkok Sukhumvit, the One Million Baht Club includes housekeeping, breakfasts, light snacks, hors d'oeuvres and cocktails, plus complimentary parking and club lounge meeting room use – all for one million Thai baht (£25,000).
There are a number of other perks for year-long residents too.
The hotel will host a rooftop party for up to 20 people on guests' birthdays, with two hours of free drinks thrown in.
They'll also get 10 complimentary massages at the neighbouring spa; 10 limo trips within Bangkok; a Viz Black Card membership, which gives discounts and exclusive perks at Siam Paragon, Siam Center, Icon Siam and Siam Discovery; and an "executive" medical check-up at Bumrungrad International Hospital.
On top of all that, 20 per cent of the package price gets given back to guests in the form of credit for use in the hotel's restaurants and bars – around £5,000, or £415 a month.
And for those who get tired of the city, 10 nights at Hyatt's properties in Hua Hin, Phuket and Samui are also included in the package.
At present, Thailand is on both the UK's list of travel corridors, meaning arrivals from there don't have to quarantine for two weeks, and the Foreign Office's list of low-risk countries.
However, the entire country is almost entirely off limits to international tourists until further notice.
Apart from exemptions such as those who have work permits or student visas, the only foreign visitors permitted entry to Thailand are travellers from China who hold a Special Tourist Visa.
The first Chinese tourists since the travel ban lifted arrived into Bangkok in October, and had to quarantine for 14 days.
Register for free to continue reading
Registration is a free and easy way to support our truly independent journalism
By registering, you will also enjoy limited access to Premium articles, exclusive newsletters, commenting, and virtual events with our leading journalists
Already have an account? sign in
Register for free to continue reading
Registration is a free and easy way to support our truly independent journalism
By registering, you will also enjoy limited access to Premium articles, exclusive newsletters, commenting, and virtual events with our leading journalists
Already have an account? sign in
Join our new commenting forum
Join thought-provoking conversations, follow other Independent readers and see their replies