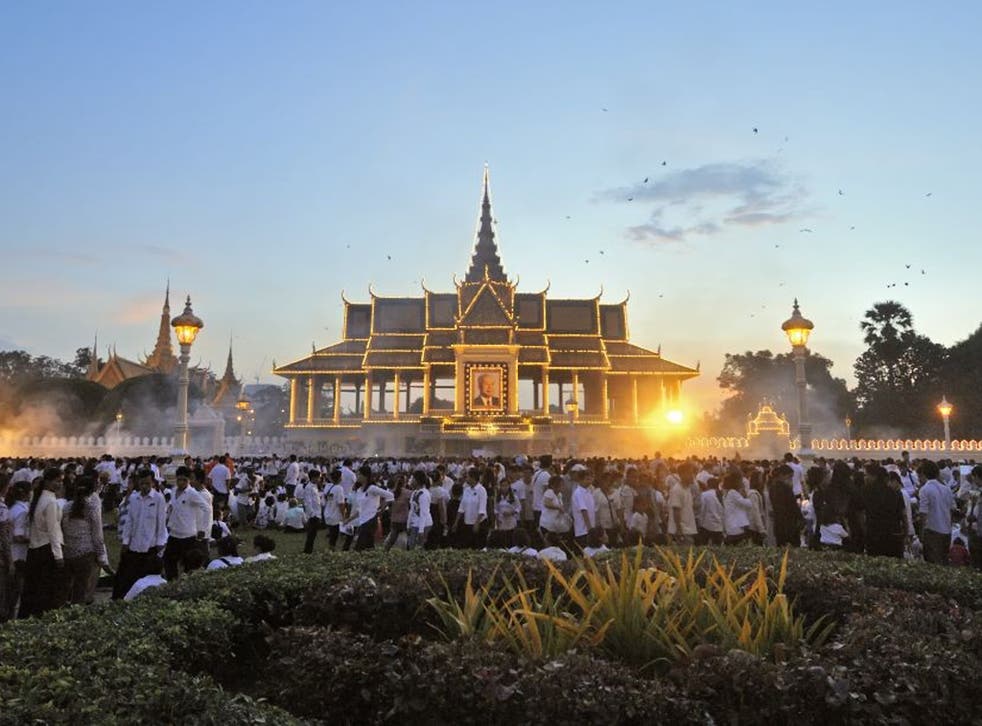 Trail of the unexpected: Cambodia - for king and country
Lara Dunston watches as thousands mourn the death of their monarch in Phnom Penh
At 3pm it is blisteringly hot in Phnom Penh. This is not an hour when Cambodians, accustomed to the fierce heat of their sultry tropical climate, would normally be on the street. But 10 days ago, Cambodians made an exception.
It was the beginning of a week of mourning: the body of their King-Father Norodom Sihanouk, who had died of a heart attack a few days earlier in Beijing, had been brought home.
Tens of thousands of Cambodians came out in the sweltering heat to offer their respects, lining the broad boulevards of this former French colony, from the airport on the outskirts to the Royal Palace at the centre of the city.
I waited with them on the waterfront boulevard near the palm-lined promenade of Sisowath Quay and the Tonlé Sap, a tributary of the Mekong. It was so hot that a Cambodian family of eight crouched in the shadow of a colossal black four-wheel-drive to shelter from the blazing sun. Others sat cross-legged on the kerb, dressed in their mourning clothes of white shirt and long black skirt or trousers, a black ribbon pinned to their chests. They held clusters of incense sticks, candles and water lilies, while at least one in every group held a portrait of a dapper-looking, grey-haired gentleman in a gold frame. Some flapped a lace fan in front of their faces. Some stood behind their group, shading them with umbrellas.
A group of dazed-looking backpackers, wearing too few clothes for such a significant event, ambled along the nearby waterfront, searching for some shade. I joined the family squatting beside the big fancy car.
Norodom Sihanouk was 89 when he died – an age that few Cambodians have reached. Perhaps 300,000 died in the conflict that brought Pol Pot to power in 1975, with two million more falling victim to the notorious killing fields of the tyrant's Khmer Rouge regime over the next few years.
Some Cambodians had joined the crowd merely out of curiosity, keen to catch a glimpse of the gold casket atop the extravagantly gilded funeral "barge". This majestic vessel, which traditionally transported royal figures along rivers, took the form of a flamboyant Naga-headed float on wheels to carry the former king from his plane to the palace, where his body is due to lie in state for three months.
Most, however, were not here just to capture the spectacle on their camera-phones. They had come to pay their respects.
The older Cambodians were clearly more moved, many weeping openly. Later, once the casket had passed by and was through the palace gates, many moved closer to the glittering Preah Thineang Chan Chhaya, the "Moonlight Pavilion", festooned with fairy lights and flowers and a monumental portrait of their King-Father.
They knelt on the manicured lawn in front of the pavilion, on the concrete paths that criss-crossed the square, and on the gravelly road traditionally used for parades, listening to the many monks who sat cross-legged with them, chanting prayers. They gently threw their lilies on to growing piles and placed candles on the concrete to create circles of light that they kept illuminated throughout the night. They crowded around a table of bound blank-paged books where they patiently waited their turn to record their feelings about the King-Father, their friends shining their mobile phones so they could see to write.
King Norodom Sihanouk was a complex man whose 60-year career was significant, if controversial. Lauded by many for taking his country from a French colony to an independent state, he was also criticised by some for not doing enough to prevent the Khmer Rouge from coming to power in 1975, nor to topple them later. At various times he was a king, a prime minister, a Communist, a leader in exile, and later, once more, a king – until 2004 when he abdicated to allow for his son to take over.
Whether in power or not, whether in Phnom Penh or Beijing, Norodom Sihanouk believed he was Cambodia. And so too, it seems, did many Cambodians.
Those who stayed lit the incense sticks that they'd carried all afternoon, poking them into the grass and sand, creating mini bonfires that were put out with water bottles by whoever was around. At first the incense produced fragrant plumes, initially pleasant. But later, late into the night, and over the course of the following week – out of curiosity, I found myself returning again and again – the air became thick and pungent.
For many Cambodians, the King-Father's death is symbolic: some hope that with their king will go Cambodia's tragic history.
Maybe now, I think, after witnessing 10 days of mourning, and 10 days of tears, Cambodians can finally move on.
Join our new commenting forum
Join thought-provoking conversations, follow other Independent readers and see their replies