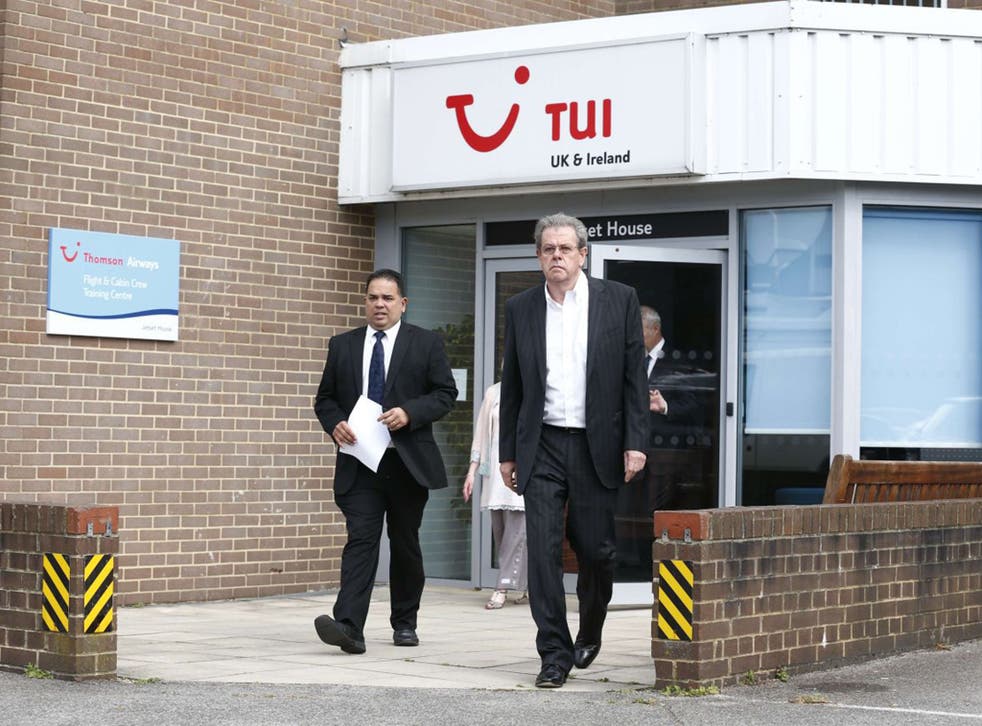 Tunisia beach attack: Anger at tour operator's cancellation policy for British travellers
Tui is imposing normal cancellation conditions for trips from August onwards
As the repatriation of British holidaymakers from Tunisia continues, many travellers with trips booked for the school summer holidays are being told they have no right to cancel, switch or postpone their trips without losing most of their money.
The UK's biggest tour operator, Tui, which owns Thomson and First Choice, is imposing normal cancellation conditions for trips from August onwards. But German tourists booked with the same company are being offered full refunds for bookings up to mid-September.
Following Friday's massacre on the beach in the Tunisian resort of Sousse, most UK tour operators and airlines have offered a refund or the chance to switch alternative destinations to anyone booked to travel imminently to the north African nation.
The two big holiday firms, Thomson and Thomas Cook, have cancelled all departures to Tunisia this week. When operations resume, travellers booked to travel in the coming month can switch destination or cancel without the normal penalties. Thomson says: "Amendments can be made to bookings on holidays to Tunisia until 31 July."
Yet German holidaymakers travelling with the same company at any time in the summer can cancel. Within hours of the attack, Tui told clients of its German operation:"All the guests who had planned a trip to Tunisia until 15 September may rebook for free or cancel".
Between 80,000 and 100,000 British holidaymakers are believed to have holidays booked in Tunisia in August alone. Some have contacted The Independent to express their alarm about travelling to a nation where two groups of tourists have been slain within three months.
Mick Tedman from Princes Risborough said his daughter and family have paid £2,800 for a repeat visit to Tunisia in early August: "We are as saddened and sickened as all normal, sane people with what has happened As you can gather they do not wish to go back there." The standard Thomson fee for cancellations between four and seven weeks before travel is 70 per cent.
A spokeswoman for Thomson said: "The situation in Tunisia is fluid and under constant review. Our current priority is supporting the affected customers and their family and friends in resort at this exceptionally difficult time. TUI Germany has made the decision based on its source market needs."
Emily from Somerset - who did not want her surname used, as she has booked a surprise trip for her four children - is due to travel on 12 August. Her destination is Djerba, close to the Libyan border. She said Thomson had told her she would need to pay to switch to a different destination. She also questioned the latest official travel advice to Tunisia, saying: "How can the Foreign Office say there is a possibility of more attacks but that it's safe to go?"
The government's official advice was revised late on Saturday night. It warns: "Further terrorist attacks in Tunisia, including in tourist resorts, are possible." It suggested the perpetrators could be "individuals who are unknown to the authorities, and whose actions are inspired by terrorist groups via social media."
But the intricately worded official advice stops short of putting Tunisia on the government's holiday blacklist - which would compel tour operators to evacuate existing tourists and not to send anyone else until the advice changes.
Sean Tipton of Abta, the travel association, said holiday companies relied upon Foreign Office advice: "They are the experts in this area, and they haven't advised against travel to Tunisia.
"It's an unfortunate but inescapable fact that there's a high threat of terrorism around the world, including the UK. But that doesn't mean that business grinds to a halt."
Join our new commenting forum
Join thought-provoking conversations, follow other Independent readers and see their replies