UK's biggest-ever: P&O unveils mega-cruise ship Britannia

Show all 2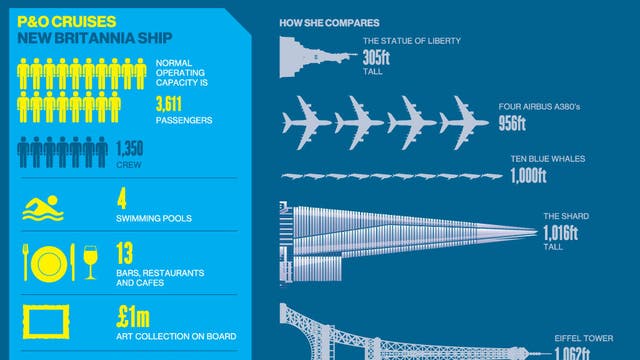 UK's biggest-ever: P&O unveils mega-cruise ship Britannia
66ft longer than the London Shard is tall, the liner enters service next spring
The Costa Concordia tragedy has failed to dampen enthusiasm for large ships, proved by P&O's announcement today that the UK's biggest-ever cruise ship will enter service next spring - called Britannia.
Click graphic above to enlarge image
At 1,082ft long the €559m Britannia is 130ft longer than the Concordia and is even 66ft longer than London's Shard tower is tall. She is 25,000 tons heavier than the fleet's Ventura and Azura sister ships and will boost P&O's capacity by 24 per cent, carrying between 3,600 and 4,300 passengers, plus 1,350 crew.
She is only about 20ft shorter than the world's largest cruise ships.
P&O Cruises & Carnival UK chief executive officer David Dingle said: "The ship will be our greenest yet and will be designed to deliver much greater levels of operational and environmental efficiency. A new hull form will reduce unit fuel consumption by up to 20 per cent."
There will be 13 Bars, 13 restaurants and cafes, 15 passenger decks and four swimming pools. P&O says the engine output is equivalent to the power of 70 Challenger tanks or 86 Bugatti Veyron supercars. On a practical level, changing trends mean there will be more single cabins than on any other cruise ship.
Mr Dingle said: "Britannia is a most fitting name for the newest addition to P&O Cruises, which, with its long and famous heritage, remains Britain's favourite cruise line."
He added: "Today's Britain is a place of increasing style and sophistication, optimism and excitement. Britannia will reflect that feeling and will mark a new era of growth and success for the cruise industry."
The captain will be Paul Brown, currently on the fleet's Ventura.
There have been two previous ships named Britannia connected to the company. The first entered service in 1835 for the General Steam Navigation Company, which went on to become The Peninsular Steam Navigation Company. The second, which entered service in 1887, was one of four ships ordered by the company to mark the Golden Jubilee of both Queen Victoria and P&O itself.
Join our new commenting forum
Join thought-provoking conversations, follow other Independent readers and see their replies